This Valentine's Day, we'll be horsing around! I think at some point in every one of my children's lives, they have wanted demanded they get a horse. Sometimes it was for Christmas; sometimes it was just because. Either way, a horse was not part of our equation. This is not to say we don't all share the same infinite love for horses.
When I was growing up, my grandfather had horses. We would go to the pasture and ride them as long as he'd let us. Sometimes, he'd bring them to his house and we'd ride in the backyard. It was great time and I have many wonderful memories that I know I won't be able to provide for my children.
Stephen Joseph, however, makes it possible to stop the neighing and bring the horse home with themed items like backpacks, bottle holders, tiny towels, sippy cups, placemats, and more. It's a great alternative for kiddos ages one and up to show love for the amazing horse!
I mean if Stephen Joseph is good enough for Ferris Bueller's and Carrie Bradshaw's kiddo in real life, I think my kiddos are worthy:
Of course then there's Sandra Bullock's adorable Louis. If Sandra Bullock looks that great carrying the Horse Diaper Bag, I'm thinking there's hope for me yet!
Still. We are ordinary folks. Stephen Joseph appeals to me like most celebrity items…they're adorable! But even better than that, the items aren't going to break the wallet.
Take the Snack Sac Paint Horse for example. It retails for $16.99. It's fully insulated and has a front zipper pouch. It's uber adorable and comes with "Sweet Notes" to make lunchtime,
snack time
, or gift-giving a celebration.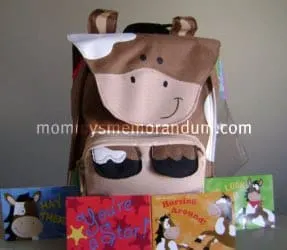 My grandma melted when I showed her the snack sack. She loved the shape and thought it was clever how the front hooves were cut out on the pouch. We both found the horse to be whimsical and detailed with the white spots and face cut out. It had us giddy.
Li'l Man will love when Cupid arrives on Valentine's and delivers the Snack Sac with a special snack for him before school. It's going to be something we both can share in and continue to share long after the holiday.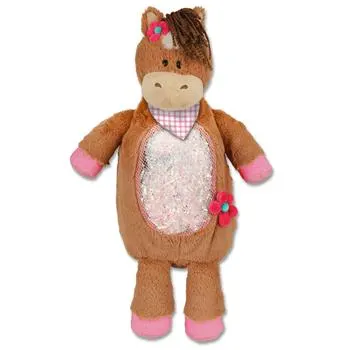 If Snack Sacs aren't for you there's a Silly Sac Horse, perfect for sleepovers, and storing pajamas during daylight hours.
A Melamine Dish Set that will turn
meal time into fun
time. I think it would be uber cute for a first-birthday honoree!
There are so much more horse-themed gifts and fun waiting for you to discover at Stephen Joseph. All of them are unique and all of them will have your children as excited as a frisky filly!
Even if it's not horses you're looking for, Stephen Joseph offers a great selection of unique gifts and it's all in fun, vibrant colors.
About Stephen Joseph:
Since 1981, Stephen Joseph Company has been dedicated to creating fun and unique gifts while delivering service to our customers which exceeds their expectations! Started by a school teacher who decorated frames for gifts- her business has grown and her items are sold in shops all over the country and online. Her secret to success is to focus on adorable details, be colorful, and use the highest quality products….oh, and make sure you include plenty of horsies!
*I received the Snack Sac Paint Horse to facilitate an honest review. The opinions, where expressed, are my own and were in no way influenced by the sponsor.