Turkey day is over and it's time to start planning for Christmas. We have a lot of entertainment on the calendar this year and one thing I learned after our feast of gratitude is that baking from scratch takes time. I like variety but I need ease–hello, Cake Mix Cookies.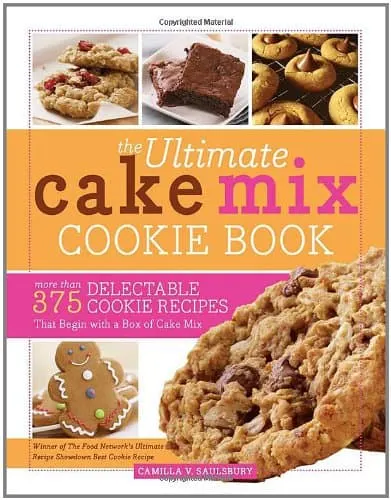 Camilla V. Saulsbury's new book "The Ultimate Cake Mix Cookie Book" offers a variety of 375 delicious cookies, all requiring only a few ingredients, all use just one bowl and plopped on a cookie sheet, into the oven, and voila! Cookies!
I really had no idea a cake mix could be so versatile.
Out of the box is misleading, when used to make cookies the options for customization yield fun, festive cookies.
The author, Camilla Saulsbury, was the winner of The Food Network's Ultimate Recipe Showdown Best Cookie Recipe.
Her cooking achievements don't stop there.
She has also won the National Chicken Cook-Off and the Build a Better Burger Contest.
The Ultimate Cake Mix Cookie Book covers more than just traditional drop cookies.
There are recipes for giant cookies, the hot trend of cake pops, bar cookies, and more!
It's the perfect book for the holiday season with recipes like:
Fruit Cake Jumbles
Eggnog Cookies
Cranberry Cornmeal Cookies
Holiday Fruit & Spice Cookies
Marmalade-Spice Cookies
Cake Mix Pops
Pumpkin Gooey Bars
Crushed Peppermint Snowballs
Maple Whoopies
Gingerbread People
Pistachio-Cherry Biscotti
Santa's Whiskers Cookies
Cream Cheese and Candy Cane Cookies
Snowcapped Chocolate Crinkles
If you enjoy baking, want variety, quality and ease try The Ultimate Cake Mix Cookie Book.
About The Ultimate Cake Mix Cookie Book:
Is there anything better than a plate of homemade cookies? How about homemade cookies that take almost no time or effort? In this revised second edition to her bestselling book Cake Mix Cookies, Camilla Saulsbury is back with The Ultimate Cake Mix Cookie Book: More 375 Delectable Cookie Recipes That Begin with a Box of Cake Mix. More than 200 of the recipes are brand new, and all are even easier and more delicious than ever. All you have to do is stock your pantry with a convenient, affordable cake mix and you can whip up a batch of fantastic cookies that look and taste like they came straight from the pastry shop. Think drop cookies, bar cookies, and shaped cookies (such as biscotti, madeleines, thumbprints, and cookie cut-outs). If those options don't have your mouth watering, just wait until you try the whoopie pies (18 recipes). Think Caramel Latte Whoopies, Maple Whoopies, Cranberry-Orange Whoopies, and Berries and Cream Whoopies. And don't forget the cake balls: Camilla has 18 variations for these sweet sensations, including Cheesecake Balls, Gingerbread Cake Balls, Cinnamon Roll Cake Balls, and Key Lime Cake Balls. So why wait? Don an apron, grab a bowl and a box of cake mix, and start mixing up some delicious fun. Be it ever so humble, there's no taste like a homemade cookie.
Introduction
Smart Cookie Tips
Equipment
Ingredients
Ready, Set, Bake!
Measuring Ingredients
Making, Baking and Storing Cookies
Chapter One: Drop Cookies
Chapter Two: Bar Cookies
Chapter Three: Formed and Shaped Cookies
Appendices
Top 10 Lists
Perfect for Packing
Kids' Favorites
Health-Conscious Cookies
Bakeshop Classics
Bake Sale Bestsellers
Grown-Up Cookies
Trendsetter Cookies
Holiday Cookies
Chocolate-Lovers' Cookies
Summer Cookies
Index by Keywords
Index by Type of Cake Mix (e.g., White, Yellow, Lemon, Chocolate, et
*I received The Ultimate Cake Mix Cookie Book in order to facilitate an honest review. The opinions, where expressed, are my own and were in no way influenced by the sponsor. Others' experiences may vary.