*I received 100 Best Decorated Cookies in order to facilitate an honest review.
Decorated Cookies are a tradition that seems to add magic to the holidays. My children marvel at the blank canvas placed before them–a barren, pale cookie. Sugarplums seem to dance in their head as they find inspiration to transform the cookie canvas into an artistic expression of Christmas.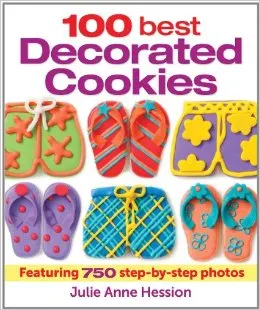 Decorated Cookies Inspired!
This year, they're gearing up with Julie Ann Hession's new book, "100 Best Decorated Cookies". Here, with 750 step-by-step photos featured, they can learn new techniques to make the holiday cookie decorating even more fun and creative!
750 Step-by-Step Instructions for Decorated Cookies that Wow!
Color photographs throughout the book accompany the step-by-step instructions for creating themed sugar cookies beyond Christmas. Create Autumn Leaves, woodland creatures, a Paris theme, circus, farm animals and more. The margins offer the supplies you'll need and tips to make certain of your success!
The spiral binding on this book is perfect, allowing the book to rest flat while following the step-by-step instructions.
I love the resource pages to find cookie baking ingredients and accessories.
Here's a small but sweet sampling of decorating ideas:
Holidays
Christmas: Stockings, Holly Leaf Place Cards
Halloween: Haunted House & Tombstones, Witch and Broom
Valentine's Day: Message Hearts, Stained Glass Hearts
Parties
Wedding: "Just Married" Car, Wedding Dress, Tuxedo
Baby Shower: Baby Blocks, Baby Bottle, Rattle, Teddy Bear
Seasons (customize for your own event/occasion)
Winter: Snowflakes, Snowman, Mittens, Winter Hat
Spring: Honey Bee and Hive, Umbrella and Raindrops, Butterfly
Miscellaneous
Ocean/Water: Starfish, Octopus, Turtle, Lobster, Frog, Whale, Fish
Sports: Baseball Hat, Ice Skates, Tennis Racquet, Football.
From basic techniques to the elaborately frosted and decorated cookie, this whimsical yet comprehensive cookie decorating book will soon find a cherished place in every baker's heart.
About the Author
Julie Anne Hession is also the author of 175 Best Mini Pie Recipes. She's a successful chef, food writer, competitive cook and food blogger. Her sweet creations have been featured in People,O, the Oprah Magazine, Better Homes and Gardens and Food Network Magazine.