Be the hostess with the most when hosting an ugly Christmas Sweater party with these five tips.
You've no doubt thrown your fair share of themed holiday parties, whether you go with a classic like the white elephant gift exchange, tree trimming, a Christmas cookie swap, or a holiday movie marathon ("you'll shoot your eye out!"), or you decide to go off the rails and make everyone dress up as characters from 'White Christmas' (yeah, that one sounded better in my head).
But you may be looking for something a little different this year.
And the most popular holiday theme party to surface in decades has got to be the ugly Christmas sweater party.
Nearly everyone, at some point, has been the recipient of an ugly Christmas sweater from some well-meaning (or secretly sadistic) family member, usually Grandma.
Some of us have even worn these sweaters, publically, to appease said relative, or perhaps in an ironic show of subversion.
But it's safe to say that pretty much everyone has such a garment lurking in the back of the closet, or they're at least familiar with the concept.
So if you're keen to have some fun with your holiday gathering this year, here are a few tips for hosting an epic ugly Christmas sweater party.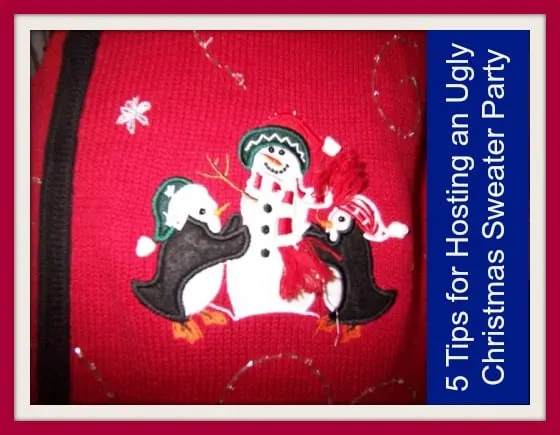 Set some parameters.
The best part of an ugly Christmas sweater party is seeing how creative your guests can get when it comes to ugly-fying their garments.
Although you will no doubt have plenty of people who simply show up in the ugliest sweater they own, the real trick is to make them take it to the next level.
You can do this by setting a spending limit (say $10) so that they have to go to a thrift store to find a sweater.
Or you could demand that they add a traditional holiday element to their sweater, such as tinsel, candy canes, a bow, a wreath, or even a string of lights.
You might be surprised how imaginative some of your guests will get when given guidelines.
Create themed invites.
Hands down, the best invite for this type of theme party includes an old photo of your family wearing matching holiday sweaters.
If you don't have such a photo, make one in Photoshop.
Or take a picture of your current family in ugly holiday sweaters for your invite.
This should help to give your guests ideas and get them into the spirit of the party.
Plan games.
No holiday party is complete without games, but for this themed party you can skip the rousing rounds of charades in favor of some sweater-themed games.
In truth, you could probably create a slew of clues for charades that center on ugly Christmas sweaters, including movies that feature them, just for example.
Or you could play ugly holiday sweater trivia.
You might also hang a plain sweater on the wall and have participants pin stuff on it to make it ugly (like pin the tail on the donkey) or set up a craft table for guests to spruce up sweaters that aren't ugly enough.
Give prizes.
Half the fun of this theme is allowing everyone to judge the ugly sweaters that other guests are wearing.
So host a fashion show and provide ballots for guests to judge contests like overall ugliest sweater, most Christmas-y, most imaginative, best copy of a movie sweater, and so on.
For prizes you can offer ugly holiday sweater notecards, cookie cutters, ornaments, beer cozies, or any number of other themed items.
As the grand prize you should think about picking up an Ugly Christmas Sweater Kit (yes, this is a real thing) that comes complete with glitter, glue, bells, pom poms, and everything needed to make a truly heinous holiday sweater.
Better yet, make your own kit!
A festive feast.
Before you suit up in your Christmas jumpers from uglychristmassweater.com, you might want to get the whole family to help you cook up some tasty treats for your ugly sweater party.
Sweater-shaped cookies are a must (you could even set up a table for guests to decorate their own), as are holiday cocktails (or decorated beer bottles).
If you don't want to do all the cooking yourself, don't hesitate to make it a potluck and challenge guests to bring a food item that goes with your theme.