Introducing Truvía® Natural Sweetener: Sweetness You Can Trust!
Are you looking for a delicious and healthier alternative to sugar? Look no further! Truvía® Natural Sweetener is here to transform your favorite foods and beverages without compromising on taste. With Truvía®, you can enjoy the sweetness you love, guilt-free!
Guilt-Free Truvía® Natural Sweetener
Here's why Truvía® is the sweetener of choice for those seeking a natural, low-calorie option:
Naturally Sourced: Truvía® is derived from the sweet leaves of the stevia plant, known for its natural sweetness. We carefully extract the best part of the stevia leaf to create a pure, clean taste that you can savor.
Calorie-Conscious: Say goodbye to empty calories! Truvía® contains zero calories per serving, making it a fantastic choice for those looking to manage their calorie intake and maintain a healthier lifestyle.
Great Taste: Truvía® believes that sweetness shouldn't be compromised, and we've mastered the art of balancing natural sweetness with a delightful taste. Our unique blend enhances the flavors of your favorite recipes and beverages, providing the perfect touch of sweetness without the bitter aftertaste associated with some other sweeteners.
Versatile Usage: From your morning coffee or tea to your baking adventures, Truvía® is incredibly versatile. It measures cup-for-cup with sugar, allowing you to easily incorporate it into your favorite recipes without any adjustments.
Diabetic-Friendly: Truvía® is a great option for individuals with diabetes or those monitoring their blood sugar levels. It has a low glycemic index, which means it won't cause a rapid spike in blood sugar levels.
Non-GMO: We understand the importance of natural, non-genetically modified ingredients. That's why Truvía® Natural Sweetener is made with non-GMO ingredients, so you can enjoy our product with complete peace of mind.
Sustainable: At Truvía®, we are committed to sustainability. Our stevia is responsibly sourced, and we work closely with farmers to ensure ethical practices and support local communities.
Make the switch to Truvía® Natural Sweetener today and experience a world of sweet possibilities without the guilt. Whether you're sweetening your morning coffee, baking delectable treats, or simply adding a touch of sweetness to your favorite dishes, Truvía® is the perfect partner on your journey to a healthier lifestyle.
Try Truvía® Natural Sweetener and savor the sweetness of nature! Find Truvia in your local grocery store today.
Our Truvia Natural Sweetener Review
If it isn't sugar, it isn't "good" for you, right?!? That has always been my impression, that anything other than pure sugar was artificial, and thus, not truly good for your body. When my sampling of Truvía® arrived in my Love VoxBox from Influenster I was very skeptical about trying it out. To ease my worries I did a little research first.
Truvía's® main ingredient is Erythritol which really sounds like a nasty chemical to me! Actually, Erythritol is a naturally fermented sugar alcohol that is found in grapes and pears. A culture makes it in a process like making yogurt from milk. The culture is then filtered, dried, and crystallized, making it an ingredient that is 99% pure.
My next question was why be concerned about using something other than sugar to sweeten my baked goods, drinks, fruit, etc.??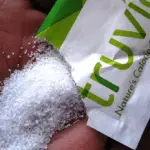 The American Heart Association quickly informed me that women should be getting no more than 6 teaspoons a day (100 calories) and men no more than 9 teaspoons (150 calories) of added sugar – those sweeteners and syrups that we add to our foods during processing or at the table. So, if I can eliminate sugar, I can eliminate calories! Truvia® is a zero-calorie sweetener made with the best tasting part of the stevia plant so it still tastes like natural sugar!
Finally, for me, it came down to taste. I am one of those people who prefer the taste of natural sweeteners as opposed to artificial ones. I also prefer the origin too. Truvia® natural sweetener is natural and versatile, which makes it something I can enjoy. So versatile that it is found in some of my favorite drink products already, including Vitamin Water Zero, Old Orchard Brands' Cranberry Naturals, Powerade Play, and Crystal Light Pure
About Truvía® Natural Sweetener
Truvía® Natural Sweetener is a popular sugar substitute made from the stevia plant. It offers a natural, zero-calorie sweetness without the bitter aftertaste. Truvía® is versatile, measuring cup-for-cup with sugar, making it easy to use in various recipes and beverages. It is a diabetic-friendly option with a low glycemic index. Truvía® is made with non-GMO ingredients and is committed to sustainable sourcing. With Truvía®, you can enjoy the sweet taste you love while making healthier choices.
Where to Buy
Truvia® natural sweetener is available many chain grocery stores, Whole Foods Market and in most WalMart locations.
###
This is a guest post by Laura R.
Disclosure of Material Connection: I received one or more of the products or services mentioned above for free in the hope that I would mention it on my blog. Regardless, I only recommend products or services I use personally and believe will be good for my readers. I am disclosing this in accordance with the Federal Trade Commission's 16 CFR, Part 255: "Guides Concerning the Use of Endorsements and Testimonials in Advertising.".