RYOBI Paint Station: Your Ultimate Painting Buddy
The RYOBI Paint Station is a must-have tool for any DIY enthusiast or professional painter. It's a versatile and portable workstation designed to streamline your painting projects. Whether you're tackling a small touch-up job or a large-scale painting endeavor, this paint station has got you covered. Let's dive into the details:
Key Features:
Portability: The RYOBI Paint Station is built with mobility in mind. It features sturdy, integrated wheels that make it easy to move around your workspace, so you can paint wherever you need to.
Versatile Work Surface: This station boasts a spacious work surface that accommodates various painting tools and accessories, ensuring everything you need is within arm's reach.
Adjustable Height: Customize the height of the station to suit your comfort level. Whether you prefer standing or sitting while painting, you can easily adjust it to your liking.
Paint Bucket Holder: Say goodbye to messy spills. The built-in paint bucket holder keeps your paint cans secure and prevents accidental tipping.
Accessory Hooks: Keep your brushes, rollers, and other tools organized and easily accessible with the handy hooks located on the side of the station.
Easy Cleanup: Cleaning up after your painting project is a breeze. The station's smooth, wipeable surface makes it simple to remove any paint splatters or spills.
Specifications:
Prep Time: Minimal. Simply set up the station and gather your painting supplies.
Servings: Ideal for solo artists or small painting crews.
Assembly Time: Quick and hassle-free.
Storage: When not in use, it can be folded down for compact storage.
Expert Tips:
Paint Organization: Use the accessory hooks to sort your brushes and rollers by size, making it easy to grab the right tool for the job.
Safety First: Always wear appropriate safety gear, such as goggles and a mask, when working with paint.
Our RYOBI Paint Station Review
Of all the projects I have worked on this summer, the one I have dreaded the most is staining the fence. Luckily for me, RYOBI generously provided us with the RYOBI Paint Station to use for this project. I knew the Paint Station would make this job easier, but until I used the sprayer, I had no idea how much time it was actually going to save me.
When the Paint Station arrived, I admit it was intimidating. With a pressure rating of 2800-PSI, its power is comparable to our Pressure Washer. Knowing how much damage I could do with the pressure washer, I was nervous to see what would happen if I applied the same amount of pressure using paint instead of water. My friends and neighbors did little to boost my confidence as they told me all the reasons why they wouldn't use a paint sprayer; They are too messy; They waste paint; You can't use a sprayer if the wind is blowing, etc. They must not have used a RYOBI Paint Station for their projects because using this sprayer was a breeze.
Taking into consideration the advice mentioned above, I waited for the perfect day to begin staining the fence. After familiarizing myself with the different parts of the machine, I was ready. I put down drop clothes on both sides of the fence, primed the pump, and started spraying. The paint station provided smooth even coverage and within a matter of minutes I had covered a six-foot section of the fence. I quickly realized that my biggest problem was a lack of drop cloths, as I had to stop painting every couple of minutes just to move the drop cloths along the fence.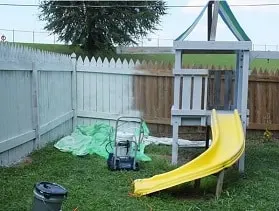 With the RYOBI Paint Station's precision sprayer and variable pressure control, there was very little overspray, which eliminated the need for a drop cloth on the backside of the fence. Without needing to adjust the drop cloths I quickly covered more ground, and within two hours I had disbursed 5 gallons of stain and stained two sides of the fence, both front and back. If I'd had more stain, I could have easily stained the entire fence in one afternoon.
RYOBI Paint Station Features:
2800-PSI Pump
Variable Pressure Control to reduce over spray
515 Reversible Spray Tip to clear clogs quickly
25ft High-Pressure Hose
Pistol-Grip Sprayer that is compatible with standard spray tips, extension poles and high-pressure rollers
The RYOBI Paint Station is the perfect solution for all of your home improvement projects. Don't be intimidated by its power, using this machine is simple and straightforward as long as you follow the instructions.
The RYOBI Paint Station can be purchased at The Home Depot for $199.00.
FAQs:
Can I use the RYOBI Paint Station for outdoor projects? Absolutely! It's suitable for both indoor and outdoor painting.
What's the weight capacity of the work surface? The station can support up to 200 pounds (90 kg), making it sturdy enough for most painting tasks.
Can I use this with any brand of paint cans? Yes, the paint bucket holder is designed to accommodate standard paint cans.
Alternate Names:
RYOBI Painting Workstation
RYOBI Mobile Paint Center
The RYOBI Paint Station is your ticket to smoother, more efficient painting projects. With its thoughtful design and practical features, you'll wonder how you ever painted without it. Say goodbye to messy workspaces and hello to a newfound painting convenience!