Flashy, larger than life, loud, colorful, and green, the casino lifestyle is something everyone should experience at least once in their life.
Admittedly, thousands of people across the globe enjoy it on a more regular basis, and that is why the popularity of casino destinations is ever-increasing.
It doesn't matter whether you are professional or an amateur; casinos have games for everyone.
Moreover, these gambling destinations come with their own set of unique characteristics, having activities that appeal to not just to players but families and children too. For someone wanting to truly immerse themselves in the scene, it also helps to have other gambling options handy, in the form of casino apps so that they can play progressive slots, blackjack, and bingo at odd hours or from the airport even. Skipping over the most famous casino destination in the world, Las Vegas, we instead look at some of the other locations that promise a time full of excitement, lights, and the thrill one gets from making money while having fun.
Baden-Baden
Baden-Baden might only be popular in its native Germany and surrounding countries as a casino destination, but that only makes it a real hidden gem. Also famous for its hot springs, the town's casino, Spielbank, has a 200-year-old heritage and offers a magnificent time to anyone entering its doors. This gorgeous building is intimate, partly due to its small size, but still packs a punch with over 100 slots, close to 20 gaming tables, and poker cash events on select days of the week.
Baden-Baden, a town in Germany's Black Forest region, has become increasingly popular as a gaming destination for several reasons:
Casino Tradition: Baden-Baden has a rich history and tradition of casino gambling. The town is home to one of the oldest and most prestigious casinos in Europe, the Baden-Baden Casino. Established in the 19th century, the casino exudes elegance and grandeur, attracting high rollers and gambling enthusiasts from around the world.
Luxurious Atmosphere: Baden-Baden offers a luxurious and upscale atmosphere, making it an appealing destination for those seeking a glamorous gaming experience. The town boasts magnificent architecture, including the stunning Kurhaus building that houses the casino. The surrounding natural beauty of the Black Forest adds to the overall ambiance and charm.
Variety of Games: The Baden-Baden Casino offers a wide range of games to cater to different preferences. Visitors can enjoy classic table games like roulette, blackjack, and poker, as well as a selection of modern slot machines. The casino provides a comprehensive gaming experience, accommodating both novice and experienced players.
High Stakes and Exclusive Events: Baden-Baden is known for hosting high-stakes games and exclusive events that attract professional players and high-rollers. The casino regularly organizes prestigious poker tournaments and special events, creating an exciting and competitive gaming environment.
Cultural Attractions: Beyond the gaming experience, Baden-Baden offers a wealth of cultural attractions. Visitors can explore the historic town center, visit museums and art galleries, and indulge in spa treatments at renowned wellness resorts. This blend of gaming and cultural offerings makes Baden-Baden an appealing destination for a diverse range of interests.
Convenient Location: Baden-Baden benefits from its central location in Europe. It is easily accessible by road, rail, and air, making it a convenient choice for both domestic and international visitors. The town's proximity to other major European cities further enhances its appeal as a gaming destination.
High-Quality Hospitality: Baden-Baden is renowned for its high-quality hospitality industry. The town offers a range of luxurious hotels, fine dining options, and excellent customer service. Visitors can expect top-notch accommodations and personalized experiences, adding to the overall allure of the gaming destination.
Overall, the combination of a rich casino tradition, luxurious atmosphere, diverse gaming options, cultural attractions, and convenient location make Baden-Baden a top gaming destination for those seeking an unforgettable gambling experience.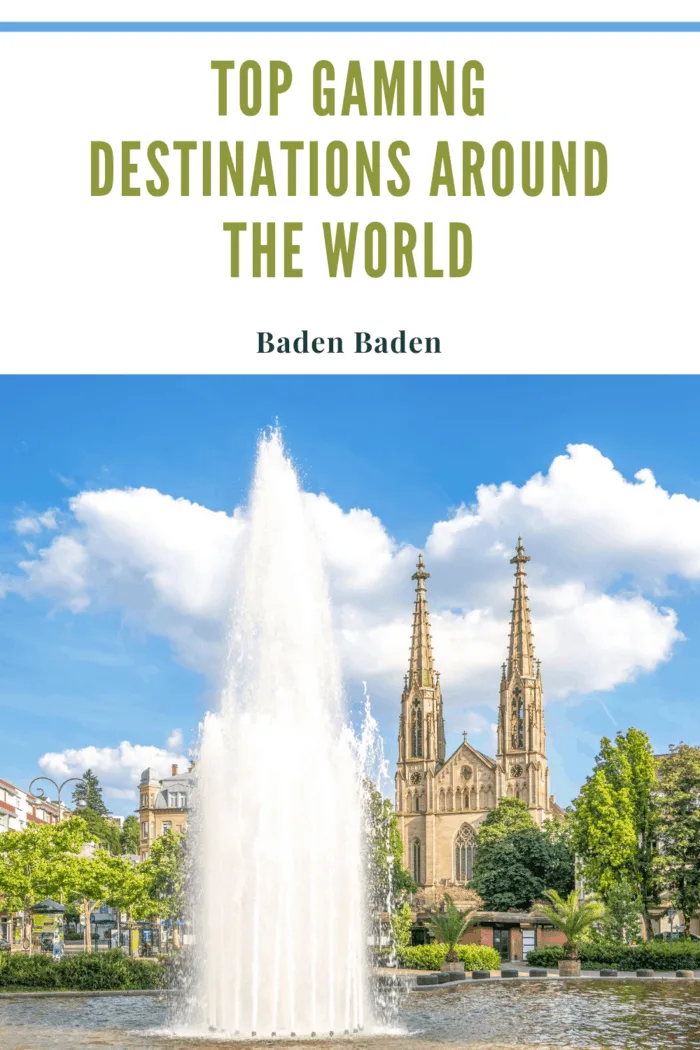 Monaco
More than money, sophistication is the keyword when you travel to Monaco for gambling. Known for hosting one of the most-watched formula one racing events (The Guardian), Monaco is also famous for its casinos that attract the rich and the famous from the far corners of the world. When it comes to choosing a casino, look no further than the legendary Casino de Monte Carlo. This world-renowned establishment requires that you follow their dress code while promising an unforgettable time. Featuring over 1000 slots, blackjack, roulette, craps, and everything else you can imagine, this is one place that should be on every gambling enthusiast's bucket list.
Monaco, a sovereign city-state located on the French Riviera, is renowned as a top gaming destination for several reasons:
Prestigious Casinos: Monaco is home to some of the most prestigious and iconic casinos in the world. The most famous is the Monte Carlo Casino, which has a long and glamorous history dating back to the mid-19th century. The opulent architecture, elegant interiors, and luxurious ambiance make these casinos highly attractive to high rollers, celebrities, and gambling enthusiasts.
Tax Benefits: Monaco is known for its favorable tax laws, including the absence of income tax for residents. This has attracted wealthy individuals and entrepreneurs from around the globe, further contributing to the allure of the city-state as a gaming destination. The tax benefits often lead to high-stakes games and an affluent clientele.
Exclusive Gaming Experience: Monaco offers an exclusive gaming experience that combines sophistication and luxury. The casinos in Monaco provide a wide range of table games, including roulette, blackjack, baccarat, and poker, catering to the preferences of discerning players. The venues often host prestigious events, tournaments, and private gaming rooms, ensuring an exhilarating and glamorous atmosphere.
Glittering Nightlife: Monaco's vibrant nightlife scene adds to its appeal as a gaming destination. The city-state is renowned for its upscale clubs, bars, and entertainment venues that offer a plethora of options for after-hours entertainment. Visitors can enjoy live music, performances by world-class artists, and elegant parties, creating a complete entertainment experience.
Beautiful Setting: Monaco's stunning coastal location on the French Riviera provides a breathtaking backdrop for its casinos. The Mediterranean Sea, picturesque harbors, and scenic landscapes contribute to the overall charm and appeal of the city-state. The combination of natural beauty and luxurious amenities enhances the overall experience for visitors.
Events and Festivals: Monaco hosts a variety of international events and festivals throughout the year, attracting visitors from all over the world. These events often include casino-related activities such as poker tournaments, celebrity appearances, and exclusive parties. The convergence of gaming and entertainment events makes Monaco an exciting and dynamic gaming destination.
High-Quality Hospitality: Monaco is renowned for its world-class hospitality industry. Visitors can expect exceptional service, luxurious accommodations, and fine dining experiences. The city-state boasts a range of high-end hotels, Michelin-starred restaurants, and exclusive resorts that cater to the needs and desires of discerning travelers.
In summary, Monaco's combination of prestigious casinos, tax benefits, exclusive gaming experiences, vibrant nightlife, beautiful setting, events and festivals, and high-quality hospitality make it a top gaming destination for those seeking a luxurious and glamorous gambling experience.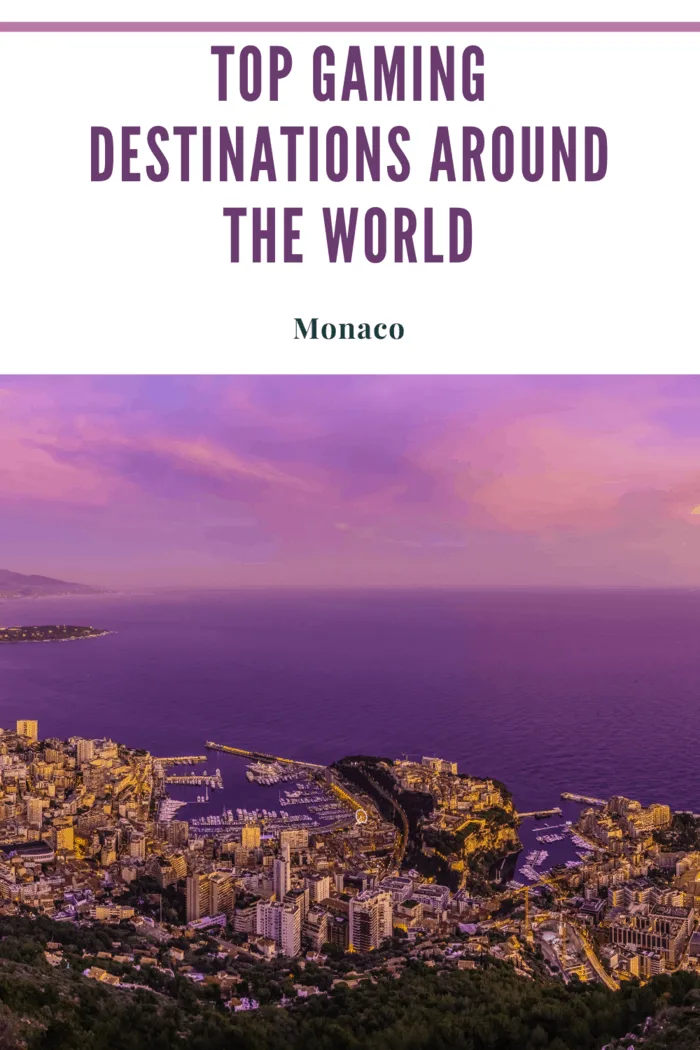 Macau
If there is one destination that can possibly give Las Vegas a run for its money, it is Macau. Oozing an oriental charm, Macau has come up tremendously over the last two decades to become the leading casino hotspot. It offers visitors a choice of 30 casinos, each one different and exclusive in its own way. Boasting of an impressive heritage, and its location near Hong Kong makes it the perfect spot to visit throughout the year. At the top of Macau's gambling institutions is the Venetian with 3000 slots, 750 tables, restaurants, theatres, swimming pools, and spas. Basically, it has something to keep you and the family busy at all times.
Macau, a special administrative region of China, has emerged as one of the world's top gaming destinations for several reasons:
Largest Gambling Market: Macau has the largest gambling market in the world, surpassing even Las Vegas in terms of gaming revenue. This is primarily due to its strategic location as the only place in China where casino gambling is legal. Chinese mainland visitors, who form a significant portion of Macau's clientele, have a strong interest in gambling and are drawn to the city for its gaming offerings.
Integrated Resort Concept: Macau has embraced the concept of integrated resorts, which combine casinos with various non-gaming amenities. These resorts feature luxurious hotels, fine dining establishments, high-end retail outlets, entertainment venues, and convention spaces. This approach has transformed Macau into a destination that caters to a wide range of interests, making it appealing to both avid gamblers and leisure travelers.
World-Class Casinos: Macau is home to a plethora of world-class casinos operated by renowned international gaming companies. These casinos feature opulent designs, state-of-the-art gaming facilities, and a vast array of games, including traditional table games like baccarat, blackjack, and roulette, as well as a wide selection of slot machines. The sheer scale and quality of the casinos in Macau contribute to its reputation as a top gaming destination.
High-Stakes Gaming: Macau is known for its emphasis on high-stakes gambling. The city attracts high rollers and VIP players from around the world, who are enticed by the availability of exclusive gaming salons and private rooms within the casinos. These venues offer elevated betting limits and personalized services to cater to the demands of high-net-worth individuals, contributing significantly to Macau's gaming revenue.
Cultural Fusion: Macau's unique blend of Chinese and Portuguese heritage adds a distinctive cultural flavor to the gaming experience. Visitors can explore historic sites such as the Ruins of St. Paul's and Senado Square, which showcase the city's colonial past. The fusion of Eastern and Western cultures creates an intriguing atmosphere that sets Macau apart from other gaming destinations.
Accessibility: Macau benefits from its proximity to the massive population centers of Hong Kong and mainland China. The region is easily accessible via ferry, helicopter, and an expanding network of transportation infrastructure. The accessibility makes it convenient for both domestic and international visitors to travel to Macau for a gaming getaway.
Entertainment and Events: Macau hosts a wide range of entertainment events, including international concerts, sporting events, and theater productions. The city also hosts major poker tournaments and gaming conventions that attract players and industry professionals from around the world. The entertainment and event offerings enhance the overall experience for visitors to Macau.
In conclusion, Macau's unique combination of being the largest gambling market, its integrated resort concept, world-class casinos, emphasis on high-stakes gaming, cultural fusion, accessibility, and diverse entertainment options make it a top gaming destination for both avid gamblers and leisure travelers.
Goa
Adding a hint of exoticness into your casino destination, Goa in India is unique as it offers offshore casinos on ships and yachts. While there are a few land-based casinos in five-star hotels, the ones floating on the river promise an extra element of entertainment to the gambling experience. Moreover, Goa is India's most popular seaside destination. Therefore, you can rest on the beach during the day and play to your heart's content at night.
Goa, a state located on the western coast of India, is considered a top gaming destination for several reasons:
Casino Industry: Goa has a well-established and regulated casino industry. It is one of the few states in India where gambling is legal, and it offers a range of land-based casinos. These casinos provide a variety of gaming options, including slot machines, poker, blackjack, roulette, and other popular table games. The presence of multiple casinos creates a competitive environment and ensures a diverse gaming experience for visitors.
Unique Coastal Setting: Goa's stunning coastal location along the Arabian Sea adds to its appeal as a gaming destination. The state is known for its beautiful beaches, scenic landscapes, and a relaxed tropical atmosphere. Visitors can enjoy a combination of beachside relaxation and thrilling gaming experiences, making Goa a unique destination that blends leisure and entertainment.
Diverse Casino Experiences: Goa offers a range of casino experiences to cater to different preferences and budgets. Visitors can choose from luxurious floating casinos on the Mandovi River or land-based casinos located in five-star hotels. This diversity allows players to find the atmosphere and gaming options that suit their individual tastes, ensuring a memorable and enjoyable experience.
Tourist Infrastructure: Goa has a well-developed tourist infrastructure, with a wide range of accommodations, restaurants, and entertainment options. Visitors can choose from luxury resorts, boutique hotels, beachside shacks, and budget-friendly guesthouses, catering to different budgets and preferences. The state's infrastructure makes it convenient for travelers to access and enjoy the gaming facilities while also exploring the local attractions and cultural offerings.
Vibrant Nightlife: Goa is renowned for its vibrant and energetic nightlife scene. In addition to the casinos, the state offers a plethora of bars, nightclubs, beach parties, and live music events. Visitors can enjoy a dynamic and lively atmosphere after their gaming sessions, creating a well-rounded entertainment experience.
Cultural and Historical Attractions: Besides its gaming offerings, Goa is known for its rich history and cultural heritage. The state has a mix of Indian and Portuguese influences, evident in its architecture, cuisine, and festivals. Visitors can explore historic churches, temples, and colonial-era buildings, as well as indulge in authentic Goan cuisine. The blend of gaming and cultural experiences makes Goa a compelling destination for travelers seeking a diverse and enriching vacation.
Accessibility: Goa is easily accessible both domestically and internationally. The state has an international airport with regular flights from major Indian cities and select international destinations. It is well-connected by road and rail networks as well. The accessibility factor makes it convenient for travelers to reach Goa and enjoy its gaming and entertainment offerings.
In summary, Goa's legal casino industry, unique coastal setting, diverse casino experiences, tourist infrastructure, vibrant nightlife, cultural attractions, and accessibility contribute to its status as a top gaming destination. It offers a combination of gaming excitement, natural beauty, cultural experiences, and a laid-back tropical atmosphere, attracting visitors from around the world.