About all of us have memories of playing on at least one playground as children. That's where many of us learned how to swing, climb across monkey bars and build something out of sand in a sandbox. And so, since we had so much fun at them, now that we are parents, we want our kids to have some of the same experiences.
So, if your child is old enough to play on the playground, we wanted to give you five playground safety tips for parents to make sure that it's both a fun and safe time. That way, they can enjoy themselves and play outside and you can have peace of mind.
Dress them appropriately.
Even before you and your child leave the house, there is something that you can do that will help to keep them safe on the playground, and that's to dress them appropriately.
Since kids enjoy doing a lot of running, either double-tie their shoelaces or get them the kind with Velcro fasteners.
Also, to prevent things from getting caught up in playground equipment, make sure that their clothes fit well and if you have a little girl, leave her purse, jewelry, and scarf at home.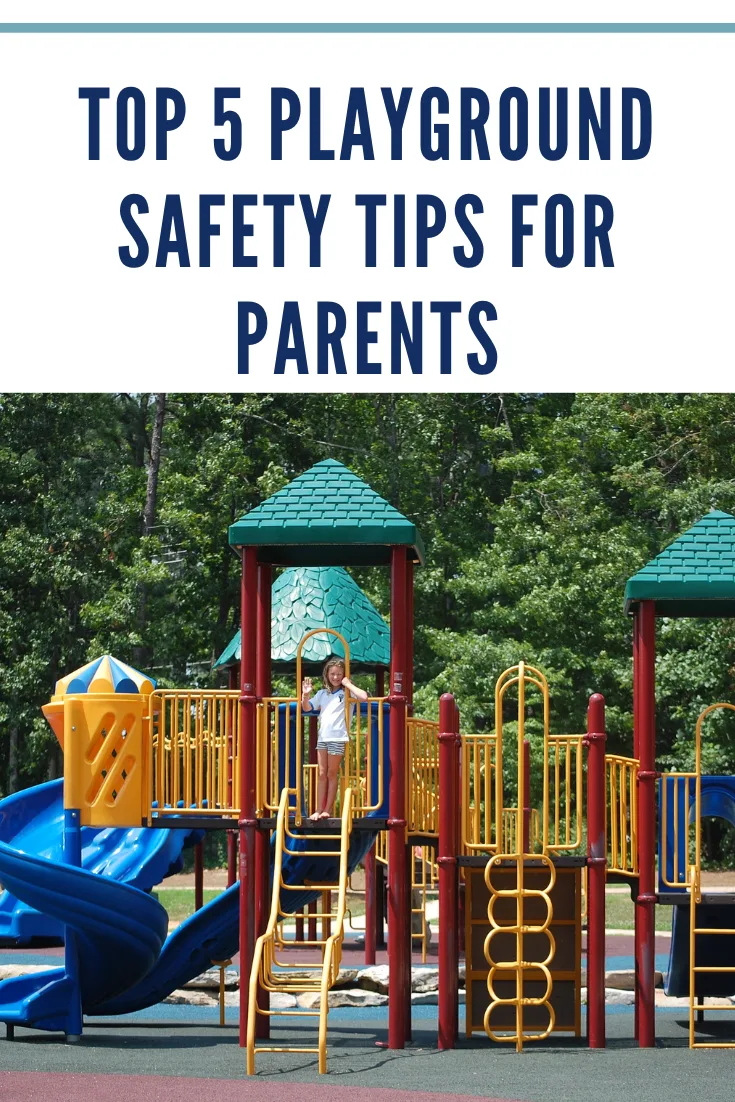 Never leave your child alone.
It only takes a couple of moments for your child to fall and hurt themselves or, even worse, for someone to abduct them.
That's why you should never leave a child unattended no matter how often you've been to a playground or feel comfortable in that space.
If, for instance, you have to run to your car, by all means, take them with you.
What are the three most common playground accidents for children?
Children climbing too high on structures and falling off.
Children getting limbs stuck in playground equipment.
Children bullying or injuring other children.
The most common cause of playground injuries is falling from equipment such as climbers, monkey bars, and slides.
Injuries also result when children are struck by moving objects, such as swings or strangulation, either through clothing caught in equipment or head entrapment in an opening between rails, bars, rungs, and even cargo net ropes–should be less than 3.5-inches or more than 9 inches. (
NSC
)
How can you avoid accidents in the playground?
Use playground equipment properly:
Always swing sitting down.
Allow only one person on a swing at a time.
Wait your turn on the slide.
Sit on the slide, and slide on your bottom only.
Use monkey bars for climbing only — not acrobatics.
Don't jump for a distance from the swings or other equipment.
Avoid overcrowding.
Although there's nothing cuter than seeing many children playing together, that also increases the chances of accidents.
So, if you arrive at a playground and notice several kids on each piece of equipment, consider returning later.
Inspect the surface.
Your child is going to fall down at least once probably.
In fact, nearly 80% of playground accidents are falls.
That's why you should inspect the playground area's surface to ensure that there are no glass bottles or broken glass in the area.
Also, it's a good idea that they play at a playground that has a relatively soft surface.
You can confirm it is soft by looking to see if there is at least a foot of sand shredded rubber, sand, or fiber mulch on top of the grass or soil.
Wipe down the equipment.
If you asked a jungle gym company for a playground safety tip, they would probably tell you that if it's been raining or you're planning to take your child to the playground first thing in the morning, you should take a dry rag along with you.
That's because when equipment is wet, it's slippery; if your child is playing on them, that's a surefire way for them to slip and hurt themselves.
Also, give them some antibacterial gel to put on their hands before and after playing.
Doing both of these things is great for their safety and physical health.