A common misconception has been that bidets are designed for use by just men, but several options fulfill women's needs.
Note that the best choice for women has a feminine cleaning mode with a wider spray setting for a gentler experience. The models with this feature are useful to prevent vaginal infections and help with feminine hygiene. However, there are many more features to look for as per your preferences for an entire coverage cleansing. A self-cleansing spray wand is also helpful to ensure the bidet is hygienic.
SAMODRA Button Bidet
SAMODRA control panel is easy to use since it features buttons and dials, and you don't constantly need to recall which identical dial regulates what. The easy-to-install cold water bidet attachment distinguishes it from other bidets; that's its greatest difference.
It has an option between self-cleansing, posterior, and feminine mode. It has a slim design that is critically essential for preventing the upper toilet lid from covering the toilet seat completely while not in use.
The buttons allow dual cleaning settings for both the rear and front areas while the dials adjust the spray intensity. Also, the best part is its affordability.
Toto s550e
The original bidets are known as Toto washlets. Now, for the s550e, it's the best washlet you could ever get. It has a long spray wand that functions as both a feminine and rear washer.
The brand comes with various cleaning modes, though the most paramount for females is its wide front cleanse with a low-pressure, larger radius spray explicitly made for intimate cleansing.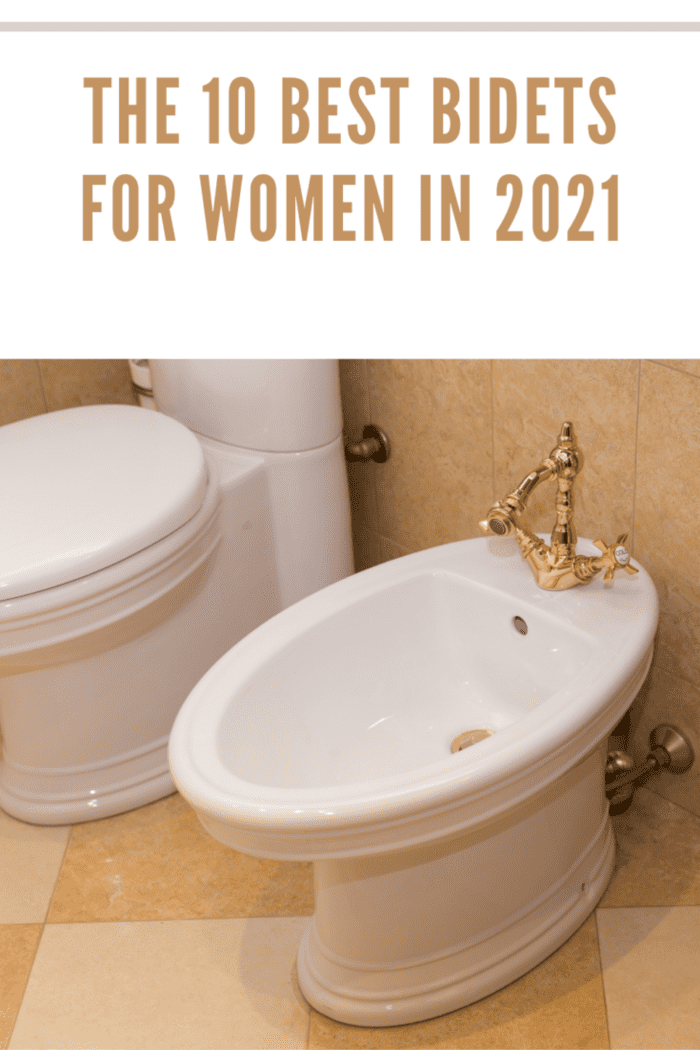 GenieBidet Hand Held Sprayer
Unlike the earlier mentioned bidets, Genie bidet is handheld. Its major advantage is that the stream of water is properly aimed at your nether regions since you get to control the water. For easy use, it has a thumb control and curved nozzle for pressure and a thorough clean-up. Compared to other bidets that are attached to the toilet seat, its nozzle is easier to disinfect.
Brondell Swash 1400
Here come dual stainless nozzles that you can control in seven different angles for a thorough cleaning. Keep in mind that the nozzles have a feature for sterilizing and self-cleaning for women's extra convenience. Aside from that, it has a warm air dryer to help meet your needs.
Its replaceable deodorizer neutralizes odors. The carbon filter used is replaced to ensure the bathroom smells fresh; you don't have to wait for minutes after someone else has used the toilet due to smell.
BioBidet BB-600
BioBidet is yet another device that can cater to women's needs. It has separate nozzles engineered separately to suit your needs, be it rear or front cleaning.
Its back nozzle has a water jet that creates a powerful spray, while the front nozzle has seven water holes for complete coverage but sprays gently. The best thing is the bubble-infused water stream that makes it more gentle. It has two unique modes: massaging and oscillating.
You can store the nozzles in a bidet for hygiene purposes, and it will only appear when using the bidet. The antibacterial material that makes the bidet confirms that the harmful bacteria will not build up on your seat.
Luxe Bidet Neo 320
It offers you two choices depending on what you prefer, either cold or hot water. Luxe bidets are attached to the toilet seat and have two nozzles, each with a temperature control lever.
It has a unique "feminine" nozzle that is made to aim lower. It's also equipped with a softer spray for your feminine use. The sprayers get back to the storage if not in use. It comes with everything you require to install it; no need for a plumber!
Coway Bidet Mega 400
Most people call it "the Cadillac of bidets," and the name fits very well. The Coway has a remote control and every feature that makes a bidet effective and powerful. From nightlight, heated seat, air dryer, back and front wash mode, "gentle" and "active" modes, adjustable temperature settings and water pressure, a self-cleaning mode, and a Braille on its control pad for the visually impaired people to easily operate.
Level up the bathroom experience with this bidet.
Kohler Puretide
Kohler is a crucial and best bet for people on a budget and has no power outlet close to their toilets. Its non-electric seat will not even require batteries and is easy to install. The soft curves make the soft-close seats look a bit sophisticated in the bathroom.
This non-electric bidet has a single, self-rinsing function to help spray water at room temperature. Also, one can control its pressure and adjust its position using a lever positioned on the side of your toilet seat.
Brondell GoSpa Travel Bidet
Finally, here is a traveling bidet for people who are not even interested in installing one in their toilets. It's discreet to carry in your handbag or the traveling bag. Also, for regular home use, tuck it underneath the cabinet.
Most people are taking this toilet device far and wide. Some come with an accompanying bag for easy transportation, especially while on a road trip.
Mini-Boss Electric bidet sprayer
It's yet another traveling toilet device that is motorized and portable. It's discreet, sweet, and excellent to pack while on a weekend getaway or a longer escape from your city. You will insert batteries, fill in some warm water in its reservoir or rather the temperature you prefer, and begin using it.
Choose high or low pressure with a touch of the button. It needs two triple-A batteries and comes in various colors that women like, from pink, white, or green.
Take away
Most people are questioning whether bidets are good for women; the answer is yes. It helps prevent certain infections that affect the vaginal area if not well taken care of.
With the above list of bidets for women, it's time to look for one that suits your nether area needs. You no longer have to use the toilet paper that leaves bits of fecal matter on your behind. Besides, the tissue paper bogs down the sewage system and leads to environmental issues such as deforestation and energy waste.
Note that there's a bathroom revolution going on as innovative bidets try to overthrow the use of toilet paper.