Engaging Exploration: That's Not My Puppy…
Discover the captivating world of "That's Not My Puppy," a touch-and-feel book that adds a playful twist to the classic genre. Delight in sensory exploration as you and your little one embark on an interactive journey through textures, colors, and emotions.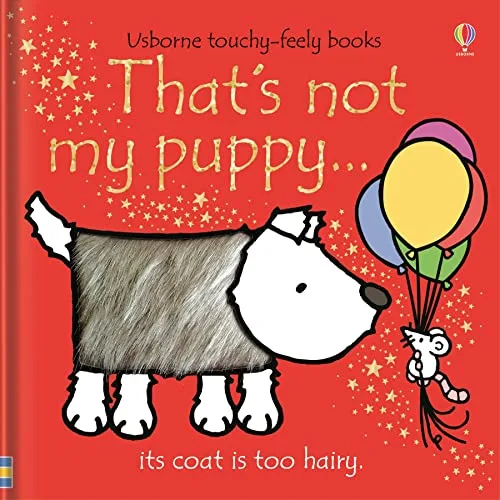 Overview:
"That's Not My Puppy" reimagines touch-and-feel books, inviting young readers to engage with different textures on each page. This hands-on experience fosters sensory development and early cognitive skills while sparking joy in both children and caregivers.
Unveiling the Classic:
With a nod to the timeless appeal of touch-and-feel books, "That's Not My Puppy" takes the concept to new heights. Modern printing techniques allow for realistic textures, vibrant illustrations, and interactive design elements.
Textural Adventures:
Each page introduces a distinctive texture, from fuzzy to smooth, providing a multisensory encounter that encourages children to associate words with tactile experiences.
Educational Delight:
Beyond the giggles and excitement, "That's Not My Puppy" aids in language acquisition, vocabulary expansion, and sensory recognition. Connecting textures to descriptive words enhances cognitive development.
Tips from the Experts:
Enthusiastic Exploration: Infuse your reading sessions with enthusiasm, fostering your child's curiosity and engagement.
Verbal Adventures: Describe the textures using expressive language, helping your child associate feelings and experiences with the tactile elements.
Cycle of Discovery: Revisit the book often. Repetition aids memory formation and allows your child to uncover new aspects with each reading.
A Sparkling 20th Anniversary Celebration: That's Not My Puppy
The "That's Not My…" series by Fiona Watt has enchanted babies and toddlers worldwide for two decades. Embark on a journey of textures, discovery, and joyful learning with this special anniversary edition, "That's Not My Puppy."
Legacy of Delightful Textures:
This series has sold over 5 million copies in the UK alone, and it is celebrated for its innovative use of textures. This glittering 20th-anniversary edition continues the tradition of captivating little ones with sensory explorations.
The Journey Begins:
In "That's Not My Puppy," young readers will join in the quest to find the perfect puppy. As they flip through the pages, they'll feel different textures under their fingers, enhancing their sensory and language awareness.
The Captivating Formula:
Fiona Watt's simple yet engaging text, combined with Rachel Wells' bold illustrations and multi-dimensional textures, creates an immersive experience. The series' success lies in capturing and maintaining even the youngest toddlers' attention.
A Whimsical Surprise:
As an extra delight, a playful white mouse makes appearances throughout the book, inviting young readers to spot its hidden locations on each page.
Preservation Pointers:
To ensure the longevity of the tactile elements, store the book upright in a dry, cool environment. Shield it from direct sunlight to prevent color fading.
FAQs:
Q: Is "That's Not My Puppy" suitable for babies and toddlers? A: Absolutely! This touch-and-feel adventure is crafted to captivate infants, toddlers, and young explorers.
Q: What's the best way to clean the book if it gets soiled? A: Gently cleanse the textured surfaces with a slightly damp cloth. Avoid excessive moisture to protect the tactile features.
Dive into the world of "That's Not My Puppy" and embark on a tactile journey that intertwines learning and laughter. Share precious moments with your child as you unravel textures, emotions, and the joy of reading together.
That's Not My Puppy
Author: Fiona Watt
Illustrator: Rachel Wells
On Sale: September 5, 2023
ISBN: 97808053717180
Price: $10.99
Format: Board Book
Dimensions: 6.5×6.5 inches
Pages: 10
Recommended Age: 3 months +
Series Legacy: Celebrating 20 Years of Sensory Adventure
About the Author: Fiona Watt
Fiona Watt, an Editorial Director and prolific writer at Usborne, embarked on her journey with the publishing house in 1989. She's penned and edited numerous titles spanning genres such as baby and novelty, sticker, art and craft, cookery, science, and activity books. Fiona is the creative genius behind the entire "That's Not My…" series and is the sixth highest-selling US children's author, with an impressive 10 million books sold in the UK alone.