Embark on a journey of whimsy and laughter with "Don't Tickle the Unicorn." Delight in a playful twist on touch-and-feel books, where soft patches reveal magical animal sounds. Sam Taplin's imaginative world awaits curious fingers and delighted giggles.
Ticklish Tidbits: Don't Tickle the Unicorn
Prepare for laughter and whimsy with "Don't Tickle the Unicorn." In this ingenious twist on the touch-and-feel board book, Sam Taplin and Ana Martin Larranaga invite you to explore a magical world where soft patches create delightful animal sounds when touched.
Unleash the Laughter:
From a chuckling dragon to a giggling yeti, this book is a symphony of whimsical noises waiting to be discovered. Touch the patches and hear the creatures come to life with playful sounds that will captivate and amuse young readers.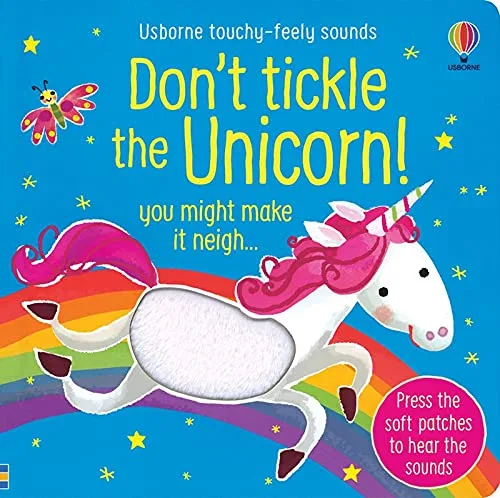 Irresistible Delights: Why Children Adore "Don't Tickle the Unicorn"
Children's hearts will dance with joy over "Don't Tickle the Unicorn." Its enchanting combination of touch-and-feel magic and whimsical sounds creates an irresistible tapestry of entertainment. Little ones will be captivated as they explore textures that tickle the senses and bring playful creatures to life. The hilarious surprise of each page, complete with its own unique sound, guarantees endless smiles and giggles. Through the pages of this delightful book, children will embark on a captivating journey of discovery and delight that's perfect for curious minds and joyful hearts.
Harmonious Finale:
The grand crescendo awaits at the end of the book, where all the creatures join in a delightful cacophony of sounds. A joyous tune accompanies this uproarious symphony, inviting the whole family to dance along.
As you reach the enchanting finale of "Don't Tickle the Unicorn," a delightful surprise awaits your touch. Pressing the designated spot unleashes a harmonious chorus of whimsical animal sounds that will bring an ear-to-ear grin to your child's face. The pages come alive with giggles, neighs, roars, and more, creating a captivating cacophony that's impossible to resist. And that's not all! To add to the enchantment, all the creatures unite their voices in a heartwarming melody, turning the book into a magical orchestra of imagination and joy. This innovative touch-and-feel experience creates an unforgettable auditory journey that will have the whole family tapping their toes and dancing to the delightful tune.
Title: Don't Tickle the Unicorn
Author: Sam Taplin
Illustrator: Ana Martin Larranaga
On Sale: October 3, 2023
ISBN: 9781805317364
Price: $17.99
Format: Board Book
Dimensions: 8.2×8.2 Inches
Pages: 10
Recommended Age: 6 months +
About the Author: Sam Taplin
Sam Taplin's journey as a writer began in the picturesque valleys of Yorkshire, England. After spending university years immersed in others' stories, he embarked on a mission to craft his own tales for Usborne. A skilled writer with a penchant for the imaginative, Sam is not only a wordsmith but also a lover of card tricks, songwriting, and strategic games of chess by the fireside. One of our favorite books by him is Arctic Animal Sounds.