Taco salad is a crowd-pleaser, packed with savory flavors and crunch. This Tex-Mex delight combines seasoned ground beef, fresh veggies, cheese, and a zesty dressing for a fiesta in your mouth. Let's dive into the details, history, and variations of this tasty dish.
The Tale of Taco Salad:
Taco salad has its roots in Tex-Mex cuisine, where the combination of tortilla chips, seasoned beef, and fresh veggies created a tasty and satisfying meal. It's a versatile dish that's perfect for gatherings and weeknight dinners.
Eat this as a salad, smother tortilla chips for Taco Salad Nachos, open a snack bag of fritos and scoops salad in for a walking taco. So many options.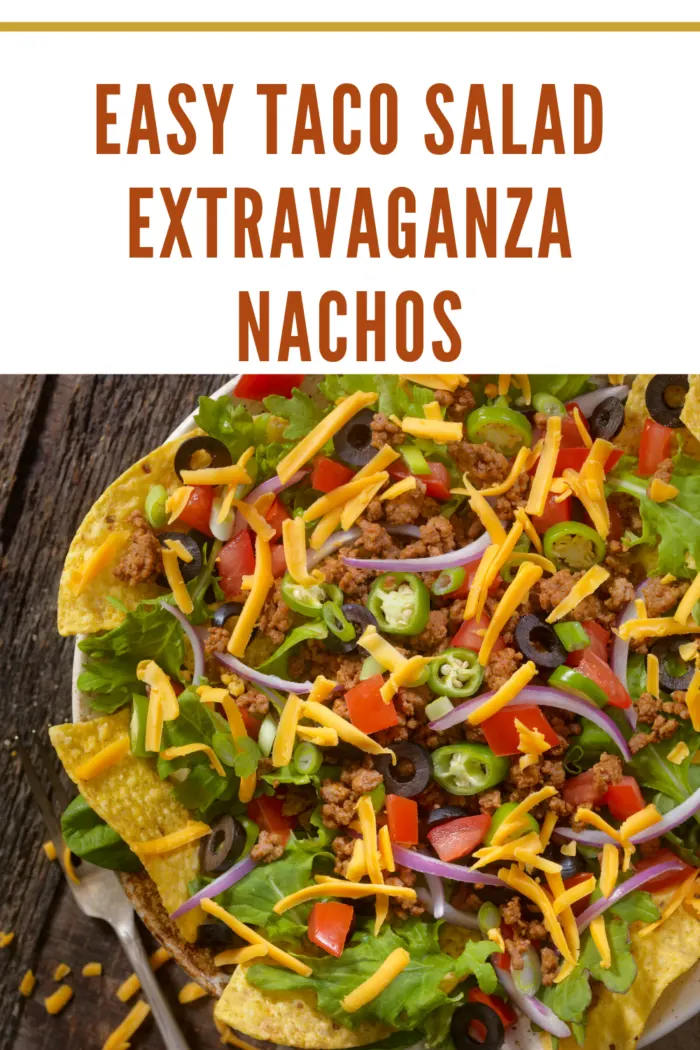 Taco Salad Extravaganza
Prep Time: 10 minutes
Cooking Time: 20 minutes
Servings: 4-6
Ingredients:
1 pound (450g) ground beef
1 (1-ounce) packet reduced-sodium taco seasoning
3/4 cup (180ml) water
1 medium head iceberg lettuce, torn
2 cups (200g) cheddar cheese, shredded
2 cups (50g) nacho-flavored tortilla chips, broken
1/4 cup (60ml) Catalina salad dressing
How to Make Taco Salad Extravaganza:
Step 1 – Brown the Beef:
In a large skillet over medium heat, cook the ground beef, breaking it into crumbles, until it's no longer pink, which usually takes about 6-8 minutes. Remember to drain any excess grease.
Step 2 – Season the Beef:
Stir in the taco seasoning and water, letting it blend with the beef. Bring this flavorful mixture to a boil.
Step 3 – Simmer the Magic:
Reduce the heat and let the beef simmer. Stir occasionally as it thickens, which should take around 4-6 minutes.
Step 4 – Cool It Down:
Remove the beef mixture from the heat and allow it to cool slightly. This ensures the salad stays crisp and refreshing.
Step 5 – Lettuce and Cheese Harmony:
In a large bowl, toss the torn iceberg lettuce with the delicious cheddar cheese. The combination of textures and flavors is key to this salad's success.
Step 6 – Layer It Up:
Now, let's assemble the masterpiece. Place the beef mixture and the broken tortilla chips on top of the lettuce-cheese layer. The contrast between hot and cold, soft and crunchy, is the charm of this salad.
Step 7 – Dress to Impress:
Serve your taco salad drizzled with Catalina salad dressing. The dressing's sweet and tangy notes add a delightful finishing touch.
Expert Tips:
For a leaner option, you can use ground turkey or chicken instead of beef.
Feel free to customize your toppings, adding items like diced tomatoes, black olives, or jalapeños for extra flavor.
If you prefer a spicier kick, opt for a spicier taco seasoning or hot sauce in the dressing.
Storage and Leftovers:
Taco salad is best served fresh, as the chips can get soggy over time. However, you can store individual components separately in airtight containers for up to 2-3 days.
FAQs for Taco Salad:
Q1: Can I make this salad in advance for a party? A1: While it's best served fresh, you can prepare the components in advance and assemble the salad just before serving.
Q2: What can I use instead of Catalina dressing? A2: Ranch dressing or a simple vinaigrette with lime juice and olive oil make great alternatives.
Q3: How can I make this salad vegetarian? A3: Substitute the ground beef with plant-based crumbles or black beans for a hearty veggie version.
Q4: Can I make a smaller or larger batch of taco salad? A4: Absolutely! Adjust the quantities to suit your needs, but maintain the delicious balance of flavors.
Alternate Names for Taco Salad:
Tex-Mex Salad
Southwestern Salad
Mexican Beef Salad