As a ShareaSale Associate, I may earn from qualifying purchases.
Get ready for an epic caffeine journey with Wandering Bear Cold Brew! Bold flavor, pure energy – all in a single sip.
Wandering Bear Coffee: A Journey Through Coffee Excellence
History:
Wandering Bear Coffee is a beloved brand that has captured the hearts of coffee enthusiasts with its commitment to quality and sustainability. Founded in 2014 by Ben Gordon and Matt Bachmann, this company embarked on a mission to redefine ready-to-drink coffee. Their passion for coffee and desire to make it accessible to all led to the creation of a brand that stands out in a crowded coffee market.
Get FREE SHIPPING on all orders over $25 NO CODE NEEDED.
Variety and Excellence:
Wandering Bear Coffee offers a wide range of coffee products, each carefully crafted to deliver a premium coffee experience. From cold brews to coffee pods, their selection caters to diverse tastes. They take pride in sourcing the finest coffee beans from sustainable farms, ensuring a fresh and authentic taste.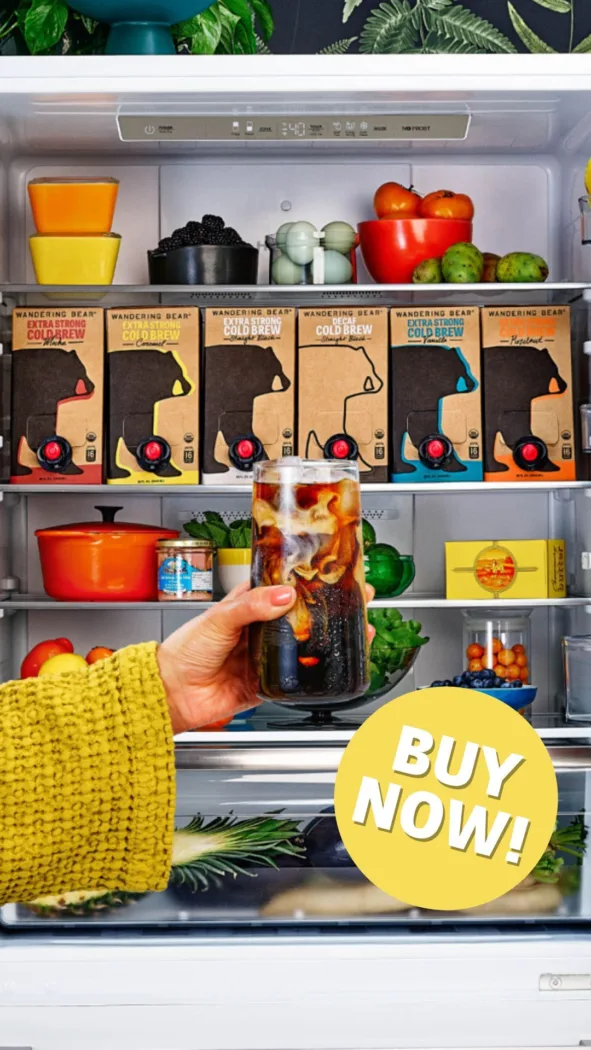 Wandering Bear Coffee: The STRONG, SURPRISINGLY SMOOTH, and 100% ORGANIC Brew
The Bold Flavor Frontier: STRONG Coffee
At Wandering Bear Coffee, they proudly take "strong" to the next level. Their commitment to delivering an intense and robust coffee experience is unwavering. Whether you're sipping their cold brew or enjoying a pod, expect an extra strong cup of coffee every single time. They use more coffee in every batch, ensuring that the flavor is nothing short of powerful.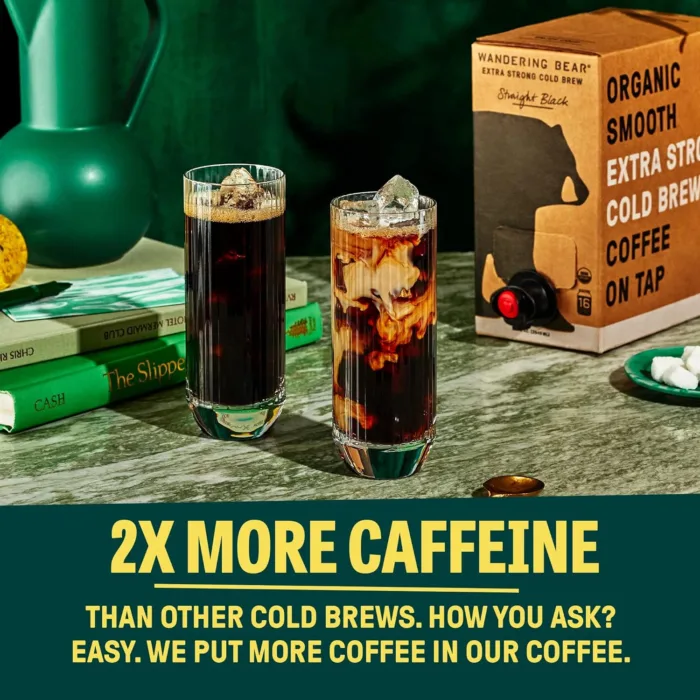 Unveiling the Magic: SURPRISINGLY SMOOTH Coffee
You might expect big paws to bring a rough touch, but they're here to surprise your taste buds pleasantly. At Wandering Bear Coffee, they've mastered the art of roasting and brewing, making each batch surprisingly smooth, rich, and velvety. It's a delicate balance they achieve in every cup, inviting you to customize your coffee experience according to your preferences.
The Earth's Finest: 100% ORGANIC Coffee
In their quest for excellence, they've chosen to use only the best – 100% organic coffee. Sourced from the lush regions of Peru, Mexico, and Nicaragua, their coffee beans are handpicked and sun-kissed to perfection. They use a lot of it, ensuring that every sip is not just delightful but also respectful of the environment.
10% off site wide at Wandering Bear with code WANDERING1O
Storage:
Store the coffee concentrate in the refrigerator for up to two weeks.
Leftover Love:
Use any leftover concentrate for cooking, baking, or making coffee-flavored cocktails.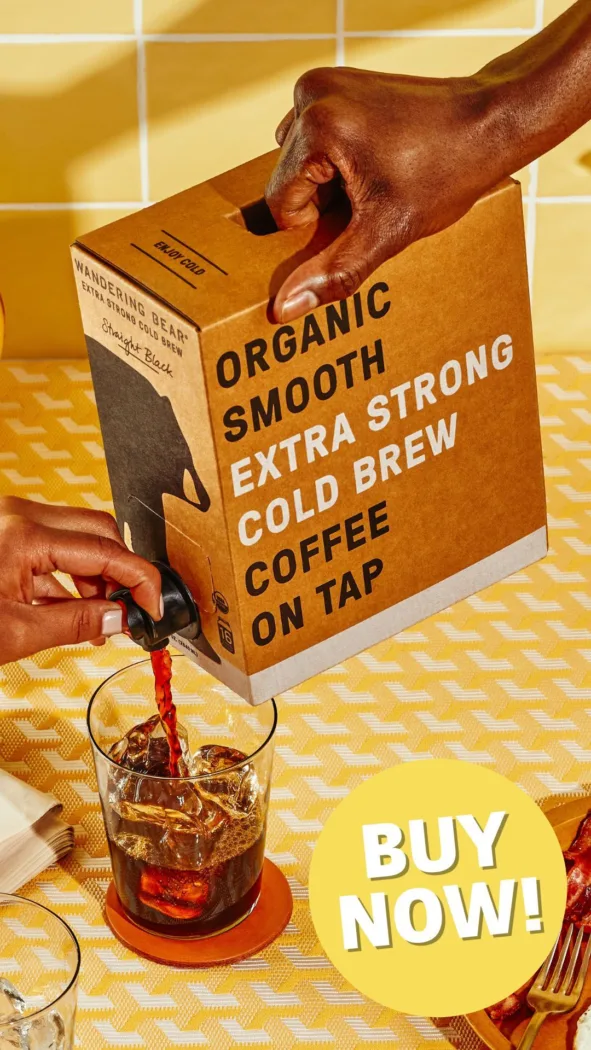 Expertly Crafted Pods: A World of Convenience
Wandering Bear Coffee Pods are a marvel of convenience. Just pop one into your machine, and within moments, you'll have a steaming cup of our strong, smooth, and 100% organic brew. Customize it to your heart's content with cream, sugar, or any other favorite additions.
Storage:
Keep your Wandering Bear Coffee Pods in a cool, dry place to preserve their freshness.
FAQs:
What makes Wandering Bear Coffee's coffee so strong? They use an extra amount of coffee in their brews to ensure a bold, robust flavor profile.
Is the smoothness achieved through a specific roasting process? Absolutely! Their meticulous roasting process is what brings that surprising smoothness to every cup.
Are all the coffee varieties used in your products organic? Yes, they exclusively use 100% organic coffee from Peru, Mexico, and Nicaragua.
Where can I purchase Wandering Bear Coffee Pods? Their coffee pods are available for purchase on the Wandering Bear website and through select retailers. $5 off all orders $50+ with code 50OFF50 at Wandering Bear
Wandering Bear Coffee is more than a coffee; it's an experience that celebrates strength, smoothness, and the planet's finest organic beans. Join us on this flavorful journey, one strong and surprisingly smooth cup at a time.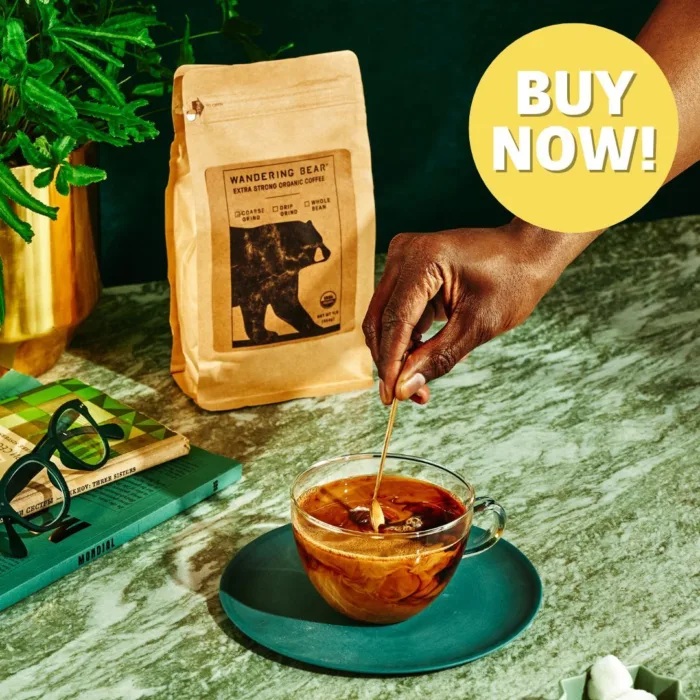 FAQs about Wandering Bear Coffee:
What makes Wandering Bear Coffee stand out? Wandering Bear is known for its exceptional taste, quality ingredients, and commitment to sustainable sourcing.
Can I customize the strength of the cold brew? Absolutely! Adjust the dilution to make it as strong or mild as you prefer.
Where can I purchase Wandering Bear Coffee? You can find their products in select grocery stores or order online through their official website.
Are there any other coffee varieties by Wandering Bear? Yes, they also offer coffee pods, which provide a convenient way to enjoy their coffee at home.
Alternate Names:
Cold Brew Concentrate
Chilled Coffee Elixir
Wandering Bear Coffee is not just a coffee brand; it's a testament to the passion for excellent coffee, sustainability, and innovation. With their range of delightful coffee products, they continue to enchant coffee lovers around the world.