Introducing Sweet and Salty Sparklers! 🎇
Looking for a dazzling treat to ignite your Fourth of July celebration? Look no further than FamilyFun magazine's latest creation: Sweet & Salty Sparklers! For two decades, this beloved magazine has been a constant companion in our family, and now they're here to elevate your holiday spread with this amazing recipe.
Get ready for a burst of flavors and textures that will light up your taste buds. Sweet & Salty Sparklers are the perfect combination of white chocolate, sprinkles, M&M's, and pretzel rods. They'll add a touch of flair to any party and create unforgettable moments with your loved ones.
FamilyFun magazine is one of my most favorite. I have subscribed since Jake was four–which makes it a magazine I've been reading for twenty years! The magazine, like my family, has grown and changed through the years, however, it has continued to provide ideas for parenting, travel and recipes. Every page has given me a new opportunity for some quality time with my kiddos.
This Fourth of July, they're at it again with Sweet & salty sparklers! Layered with white chocolate and studded with sprinkles and M&M's, these pretzel treats add flare to any party spread.
Sweet and Salty Sparklers Recipe
To whip up these sensational treats, gather your ingredients: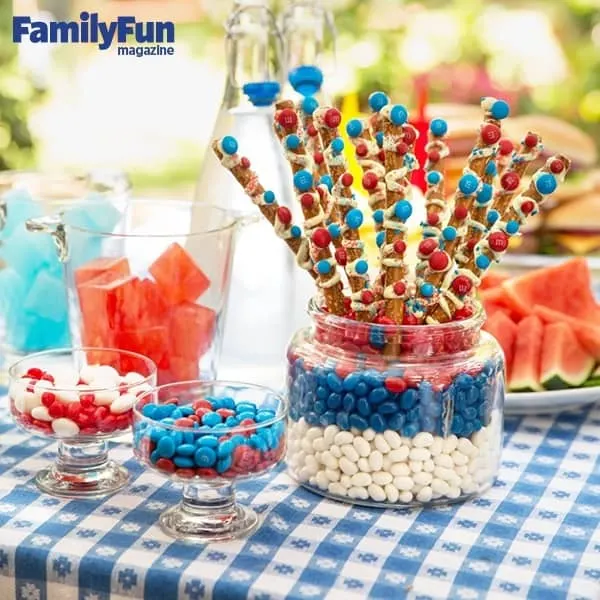 Sweet and Salty Recipe Ingredients:
1 cup white chocolate chips

12 Pretzel rods

Red and Blue Sprinkles

M&M candies

Someone to share these with!
How to Make Sweet and Salty Sparklers:
1️⃣ Start by covering a baking sheet with waxed paper to ensure easy cleanup.
2️⃣ Melt 1 cup of white chocolate chips in a medium, heat-safe bowl according to the package directions. The smooth, creamy white chocolate will be the base of your sparklers.
3️⃣ Take one pretzel rod at a time and use a spoon to drizzle it with the melted white chocolate. Lay the coated rod on the prepared sheet, creating a delightful blend of sweet and salty.
4️⃣ Sprinkle each pretzel rod generously with red and blue sprinkles and colorful M&M's. This will add a festive touch that will make your sparklers truly shine.
5️⃣ Place the pretzel rods in the refrigerator to chill until the chocolate sets, usually around 15 minutes. This will ensure that your sparklers hold their shape and maintain their irresistible crunch.
6️⃣ Once chilled and set, it's time to indulge! Grab your loved ones and enjoy these delectable Sweet & Salty Sparklers. The combination of the smooth white chocolate, crunchy pretzel, and bursts of sweetness from the sprinkles and M&M's will make every bite a delightful explosion of flavors.
Make this Fourth of July an extraordinary celebration with Sweet and Salty Sparklers. FamilyFun magazine has done it again, providing you with an opportunity to create cherished memories and enjoy quality time with your kiddos. So, gather around, savor the moment, and let the sparks fly!
Get your copy of FamilyFun magazine today and discover more amazing ideas for parenting, travel, and recipes that will keep your family smiling for years to come!
Enjoy!
Why Your Guests will love these Sweet and Salty Sparklers:
Your guests will absolutely love Sweet and Salty Sparklers for several reasons:
Irresistible Combination: The blend of sweet and salty flavors in Sweet and Salty Sparklers is a winning combination that appeals to a wide range of taste preferences. The creamy white chocolate pairs perfectly with the crunchy pretzel rods, creating a delightful contrast that keeps everyone coming back for more.
Festive Appeal: The vibrant colors of the red and blue sprinkles, as well as the playful addition of M&M's, add a festive touch to these treats. They will catch the eye of your guests and create a sense of excitement and anticipation. Sweet and Salty Sparklers are not only delicious but also visually appealing, making them a standout addition to any party spread.
Interactive and Shareable: These sparklers are not only tasty but also fun to eat! The individual pretzel rods make them easy to grab and enjoy, encouraging interaction among your guests. The shared experience of indulging in these treats fosters a sense of togetherness and creates memorable moments for everyone.
Versatility: Sweet and Salty Sparklers are incredibly versatile and can be enjoyed at various occasions, not just on the Fourth of July. Whether it's a birthday party, a movie night, or a casual gathering with friends, these sparklers are a fantastic choice. Their universal appeal ensures that everyone, regardless of age or preference, can find joy in these delectable treats.
FamilyFun Approved: FamilyFun magazine has been a trusted source of inspiration for parenting, travel, and recipes for years. Their dedication to providing ideas for quality time with family shines through in this recipe. By serving Sweet and Salty Sparklers, you're not just sharing a delicious treat but also a piece of FamilyFun's legacy, adding an extra layer of warmth and nostalgia to your gathering.
With their enticing flavors, festive appearance, interactive nature, versatility, and the endorsement of FamilyFun magazine, your guests are guaranteed to fall in love with Sweet and Salty Sparklers. Brace yourself for compliments, smiles, and requests for the recipe, as these treats will undoubtedly become the highlight of your event!
Recipe and photo from FamilyFun magazine with permission!