Introducing Red, White, and Cool Cubes Recipe!
Beat the summer heat with a burst of patriotic flavors! Our Red, White, and Cool Cubes Recipe is the perfect way to add a dash of red, white, and blue to your refreshing beverages. Whether you're hosting a Fourth of July barbecue, a poolside party, or simply looking for a fun and flavorful drink, this recipe is guaranteed to impress your guests!
Summer's a scorcher. Already we're hitting temperatures near 100 degrees in the South. FamilyFun magazine has the perfect solution for cooling down and celebrating summer with a bang!
These Red, White and Cool Cubes are easy to make and the tri-colored spritzers offer a spark of color to your glass and a refreshing way to celebrate the Fourth and summer!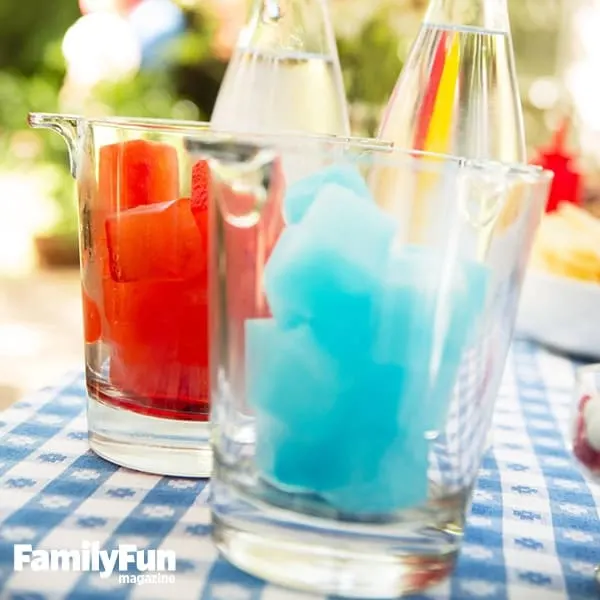 Red, White and Cool Cubes Recipe
Ingredients:
cranberry juice
Powerade Mountain Berry Blast
seltzer
But wait, the fun doesn't stop there! Feel free to get creative and substitute either or both of the beverages with your favorite drinks that come in vibrant shades of red, white, and blue. Let your imagination run wild and customize this recipe to suit your taste buds.
Now, let's dive into the simple directions:
Red, White, and Cool Cubes Recipe Directions:
Pour colored beverage into ice-cube trays and freeze until set.
To serve, place the cubes in separate buckets and let guests make their own drinks with plain seltzer.
Picture this: vibrant red, white, and blue cubes swirling in a glass, fizzing and releasing a burst of flavor with each sip. It's a feast for the eyes and the taste buds!
The Red, White, and Cool Cubes Recipe is a crowd-pleaser that brings joy and a patriotic spirit to any gathering. Impress your friends, dazzle your family, and make your celebration truly memorable with this refreshing treat.
Don't miss out on this delightful recipe, as featured in FamilyFun magazine! We have their permission to share it with you, ensuring that your summer festivities will be filled with deliciousness.
So, what are you waiting for? Embrace the spirit of summer and patriotism with our Red, White, and Cool Cubes Recipe. It's time to chill, sip, and celebrate in style!
Note: Please remember always to enjoy beverages responsibly and ensure that they are suitable for all your guests.
Why Your Guests Will Love This Recipe:
Your guests will absolutely love the Red, White, and Cool Cubes Recipe for several reasons:
Refreshing and Flavorful: The combination of cranberry juice, Powerade Mountain Berry Blast, and seltzer creates a refreshing and invigorating flavor profile. The cool cubes infuse their vibrant colors and delicious taste into the drinks, making every sip a delightful experience.
Customization Options: This recipe allows your guests to be part of the creative process. By offering a variety of colored beverages to choose from, you empower your guests to personalize their drinks according to their preferences. It adds an interactive element to the gathering and lets everyone feel like a mixologist.
Eye-Catching Presentation: The visually striking red, white, and blue cubes floating in the glass create a captivating display. It adds a festive touch to any occasion, especially patriotic celebrations like the Fourth of July. Your guests will be impressed by the aesthetic appeal and Instagram-worthy moments these colorful cubes provide.
Versatile and Adaptable: The Red, White, and Cool Cubes Recipe can be easily customized to suit various dietary preferences and restrictions. Whether your guests prefer non-alcoholic options or have specific beverage choices in mind, this recipe allows for substitutions, making it inclusive for all.
Fun and Engaging: This recipe brings an element of fun and excitement to your gathering. Guests can enjoy experimenting with different combinations of cubes and seltzer, creating their own unique concoctions. It encourages social interaction, laughter, and a sense of camaraderie among your guests.
Featured in FamilyFun Magazine: The fact that this recipe comes with the endorsement and permission of FamilyFun magazine adds a level of credibility and assurance. Your guests will appreciate that you're offering them a tried-and-tested recipe from a reputable source, enhancing their confidence in its deliciousness.
Overall, the Red, White, and Cool Cubes Recipe provides a refreshing, interactive, and visually appealing experience that is sure to leave a lasting impression on your guests. It's a recipe that embodies the spirit of celebration, making it a hit at any gathering or party.
Recipe and photo from FamilyFun magazine with permission!