I received Neocell Biotin Chews and Hair Volumizer in order to facilitate an honest review.
My hair has always been one of my favorite features. Then I hit the decade called "Forty" and everything is just going downhill, including my hair!
Since I was a sophomore in high school, I had the same hairdresser. I never had to tell her what to do. I just sat down, talked to her about her kids, my kids, and left the chair looking amazing. She colored my hair in shades of brown that were rich and vibrant. She highlighted my hair, and it had all the compliments. She was affordable, and I could ALWAYS get an appointment.
Then I moved.
My hairdresser did not move with me…she stayed.
I have watched my hair's flair fizzle in a little more than a year. I've had three crappy haircuts….one so bad I cried for days. I was going to have my hair colored by at $160 a visit, that didn't last long. I've resorted to boxed colors and am getting used to the fact that, thanks to my grey, my hair will either be vibrant red or mossy green when I rinse.
Stress from trying to keep up has had my hair coming out by the handfuls. I once struggled to get a hair band in my hair with two wraps…now, I can pull it into a ponytail and do three, maybe four twists with the hair band. It's sad.
Then Neocell Biotin Bursts and Neocell Hair Volumizer arrived, and my hair is on a healthy wave!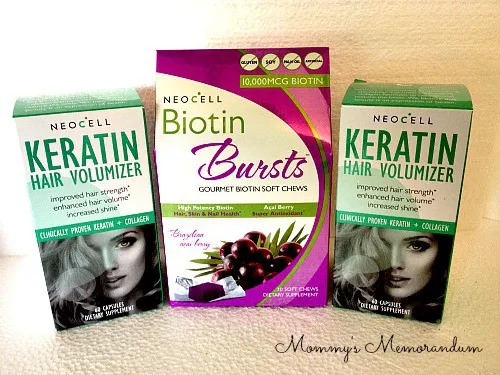 Let's talk about the Biotin Bursts. They remind me very much of a Starburst Candy. They are very good. I have to remind myself they are NOT candy, and I should only eat 2-4 daily. Some days are much harder than others. I love these!
Each Biotin Burst tastes delicious and contains Collagen 1&3 for healthy skin, Hylauronic Acid to hydrate, and Vitamin C.
Did I mention they taste good?
The Biotin Bursts from Neocell have a suggested retail price of $19.95
The Neocell Hair Volumizer is awesome. The suggested serving is two capsules per day. They are a little smaller in length than a quarter. There are 60 tablets in a bottle.
These capsules are an all-natural solution for strong, lustrous, thick, healthy hair. They fortify hair from the inside out. My hair is changing from dry, brittle to stronger, more resilient hair.
Cynatine HNS Solubilized Keratin improves the hair's luster. Hydrolyzed Super Collagen for skin, hair, and nail strength. Amla Extract provides high concentrations of Vitamin C and is a powerful antioxidant.
They are pretty amazing.
Neocell products, including the Hair Volumizer and Biotin Bursts, can be found in GNC, Whole Foods, and other retailers nationwide.
Neocell was started in 1998 by founder and fearless leader Al Quadri after an extraordinary personal experience. NeoCell is the #1 collagen brand globally and a leader in the field of nutritional science. While we have grown considerably over the years, one thing has never changed – our commitment to finding the most innovative and effective nutraceutical supplements.