Indulge in the comforting flavors of our classic Green Bean Casserole, a beloved side dish that brings warmth to any table. This recipe combines the richness of creamy mushroom soup, the savory crunch of bacon, and the delightful blend of cheddar cheese, creating a dish that is sure to be a hit at family gatherings or holiday feasts.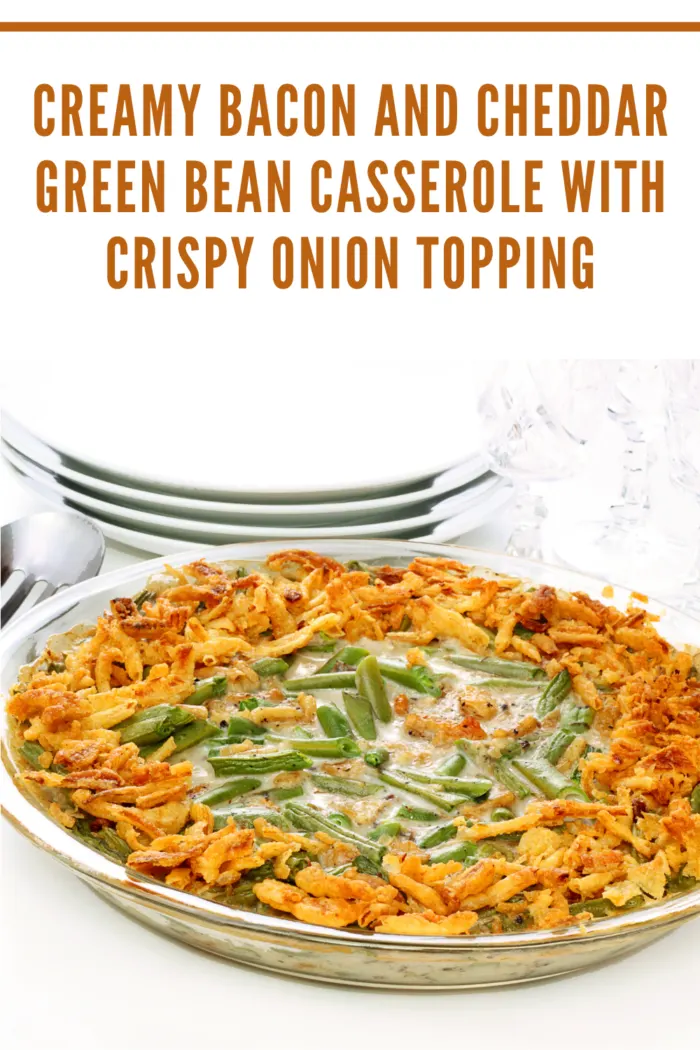 Creamy Bacon and Cheddar Green Bean Casserole with Crispy Onion Topping
Cooking Time: 25-30 minutes
Servings: 8-10
Ingredients:
6 ounces (170g) bacon
1/2 cup (120g) chopped onion
3 medium cloves garlic, minced (optional)
2 cans (10.5 ounces or 295g each) condensed cream of mushroom soup
4 cans (14.5 ounces or 411g each) cut green beans, drained, or 1 1/2 pounds (680g) fresh green beans, cooked
1 cup (120g) cheddar cheese, shredded and divided
3/4 cup (180ml) milk
1/2 teaspoon kosher salt
1/4 teaspoon freshly ground black pepper
1 1/2 cups (90g) crispy fried onions
How to Make Creamy Bacon and Cheddar Green Bean Casserole with Crispy Onion Topping
Step 1: Preheat and Grease Preheat the oven to 350 degrees F (175 degrees C) and position a rack in the center of the oven. Lightly grease a 2 1/2-3-quart casserole dish.
Step 2: Cook Bacon In a large skillet or Dutch oven over medium-low heat, fry the bacon until crisp, about 8-10 minutes. Drain the crisp bacon on paper towels to cool. Crumble the bacon and set aside.
Step 3: Saute Onions and Garlic Discard all but 2 tablespoons of the bacon drippings from the pan and increase the heat to medium. Add the onions to the bacon drippings and cook until softened, about 3 minutes. Add the garlic to the onions and cook until fragrant, about 1 minute.
Step 4: Combine Ingredients Add the cream of mushroom soup, green beans, 1/2 of the cheddar cheese, milk, and all but 2 tablespoons of the crumbled bacon to the onion mixture. Season the green bean mixture with salt and pepper. Stir to combine.
Step 5: Assemble and Bake Transfer the green bean mixture into the prepared casserole dish. Evenly top the casserole with the remaining cheese, remaining bacon, and fried onions. Bake until the fried onions are golden brown and the filling is bubbling, about 25-30 minutes.
Step 6: Serve Serve this classic Green Bean Casserole and enjoy the delightful combination of flavors and textures.
Expert Tips:
For added freshness, use fresh green beans when in season.
Experiment with different cheese varieties to customize the flavor profile.
Recipe FAQs:
Q1: Can I make this Green Bean Casserole ahead of time? A1: Yes, you can assemble the casserole ahead of time and refrigerate it. Bake it just before serving.
Q2: Can I use low-fat milk to reduce the calorie content? A2: Yes, you can use low-fat milk without compromising the overall taste and texture of the dish.