Is it possible to do Balayage at home? Yes! This super-easy guide will walk you through how to DIY Balayage your hair at home.
Lovely locks are always in style.
Having a killer hairstyle in a gorgeous color can make us feel like we're unstoppable.
Luckily for us, there are always new and upcoming hair trends that can be found all over the internet.
Social media has made it easy to stay updated on the current hair color trends, with Pinterest being one of the best examples out there.
If you're wondering what balayage is, it's a form of highlighting the hair in a way that appears more natural.
Balayage a French word that means to sweep or to paint.
It gives hair a beach-inspired hairstyle to keep summer alive.
The idea of a balayage is to blend lighter pieces of hair (you'll want a shade two or three shades lighter than the rest of your hair) with other strands of your hair.
This will be blended more than a harsh line.
The brighter colors start further down the strands of hair and blend flawlessly.
This means no fancy upkeep and you can grow it out easily with no need for more maintenance.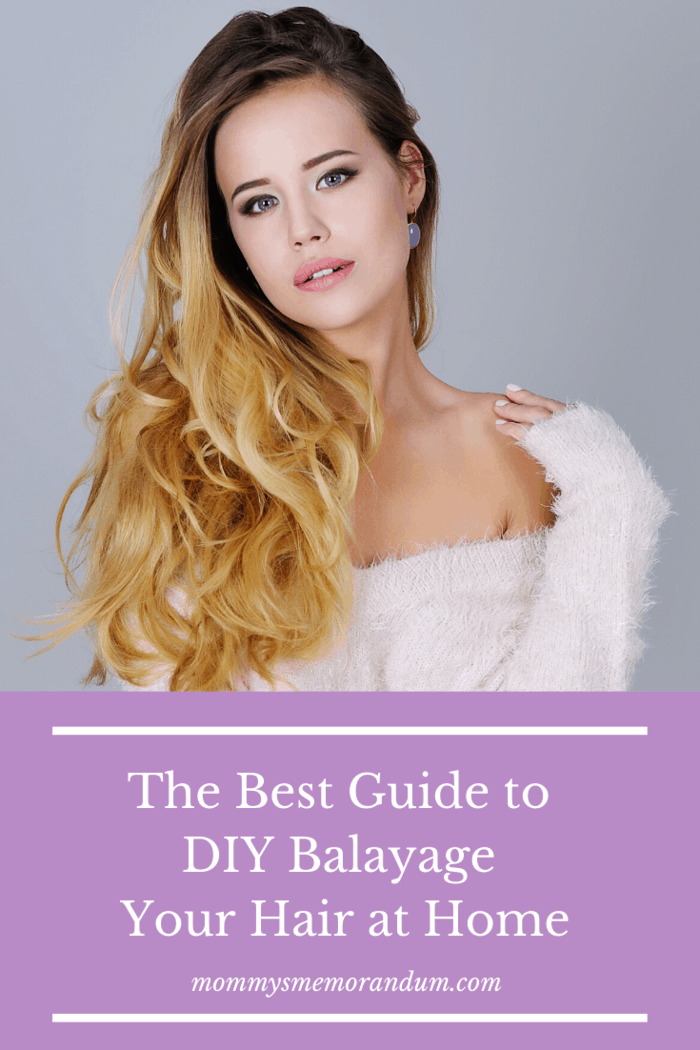 Elle Magazine has described balayage as a game-changer in the world of hair.
That's because it not only highlights the hair, but it does so without the use of bleach or foils.
If you've decided that it's time for a new 'do, then you should definitely consider getting a balayage!
Although balayage is beautiful, the price can leave your wallet a few pounds lighter.
Depending on where you go, a balayage color can cost up to $150.
If you don't have that extra cash to dish out – and really, who does? – Then your best bet is a DIY balayage.
Here's a super easy balayage hair color guide that you can complete at home.
What is the Difference Between Ombre and Balayage?
Ombre, which also borrowed its name from the French language, means shading or shaded.
Ombre Hair goes from lighter hair at the ends into a darker shade at the roots.
While balayage is a technique, ombre is the effect or the result.
You can achieve the ombre effect using the balayage technique.
Some salons achieve the ombre look simply by dip-dyeing your ends a few shades lighter.
How to Balayage Your Hair At Home:
First, Get the Right Tools
Before you venture out to give yourself a gorgeous balayage color, you'll need the necessary tools to complete the task.
We're talking about hair clips, a pair of gloves, and a towel.
You should also plan on wearing a shirt you don't mind having stained by hair color.
To apply the hair dye, you'll need an applicator brush.
When teasing the hair for a balayage, you'll also need a hair comb.
Don't forget Vaseline, either – when this is applied to your hairline, it will help to prevent staining the skin.
You'll also need the box of hair color you've chosen for your balayage as well.
Please note that your hair color choice should be at least three times lighter than your natural hair color–or base color.
This is what creates the dimension.
You can also use a balayage board or a piece of cardboard as a backer, which you'd place behind the sections of hair as you apply the bleach.
You'll also want a toner to finalize the color and take out any brassy tones.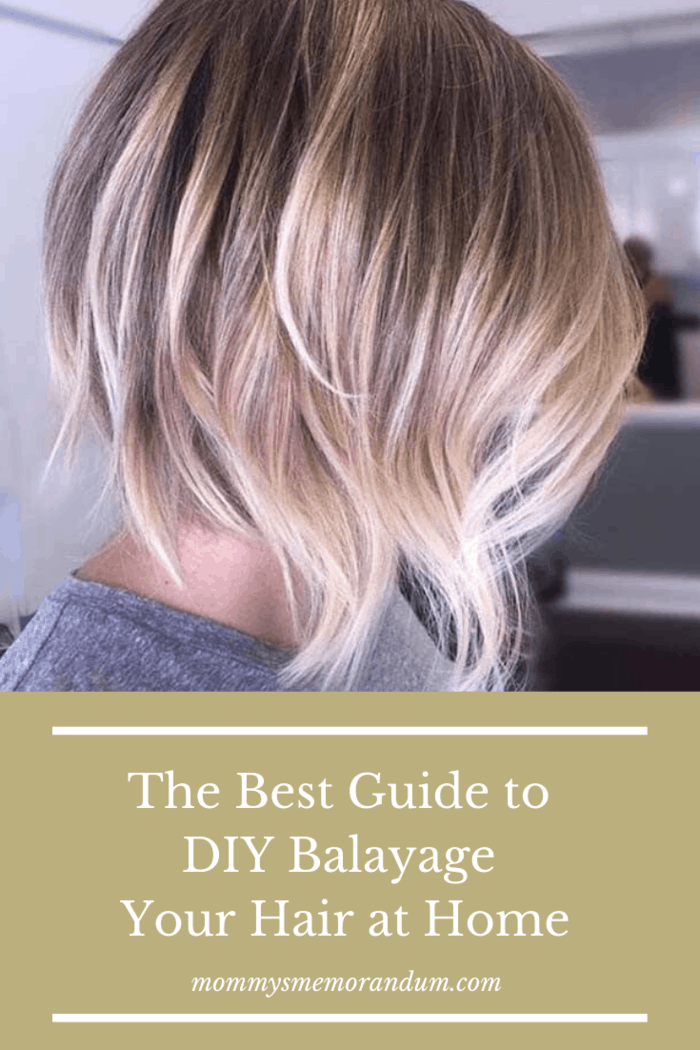 Go Through an Allergy Test
On the box of hair dye that you've chosen for your balayage, there's a gigantic chance that they'll recommend you do an allergy test or strand test before your application.
It's a good idea to follow the instructions written on your hair dye box to ensure that you don't have an allergy.
You'll want to do the allergy test at least 48 hours before balayage.
Once you've completed the allergy test, you can begin the balayage!
DIY Balayage
Step 1 – Section
Clip Your Hair Up
With your hair completely dry, pull one section of your hair up and clip it securely.
You could also opt for the hot cross bun method to clip up your hair when preparing to apply a balayage color.
This is essentially dividing your hair into four workable sections by starting with a mid-part at first.
For center parts, try dividing the hair into three sections.
Start at the bottom of your hair (from the nape up to the top of the ears, then two sections clipped off from the top of the ears to the middle part.
Balayage each section starting from the bottom.
For parts that aren't centered, create a horseshoe shape of sections.
Start about two inches above your temples and sections around the crown.
Next, divide the hair into a second horseshoe shape from right below the temples.
The final section is the bottom, where you begin the application.
For a visual of these, take a peek at this how-to video from esalon for help.
After your hair has been clipped up accordingly, you'll want to twist your hair from the mid-length to the end.
Tease your hair out using a comb starting from the beginning of the mid-length section.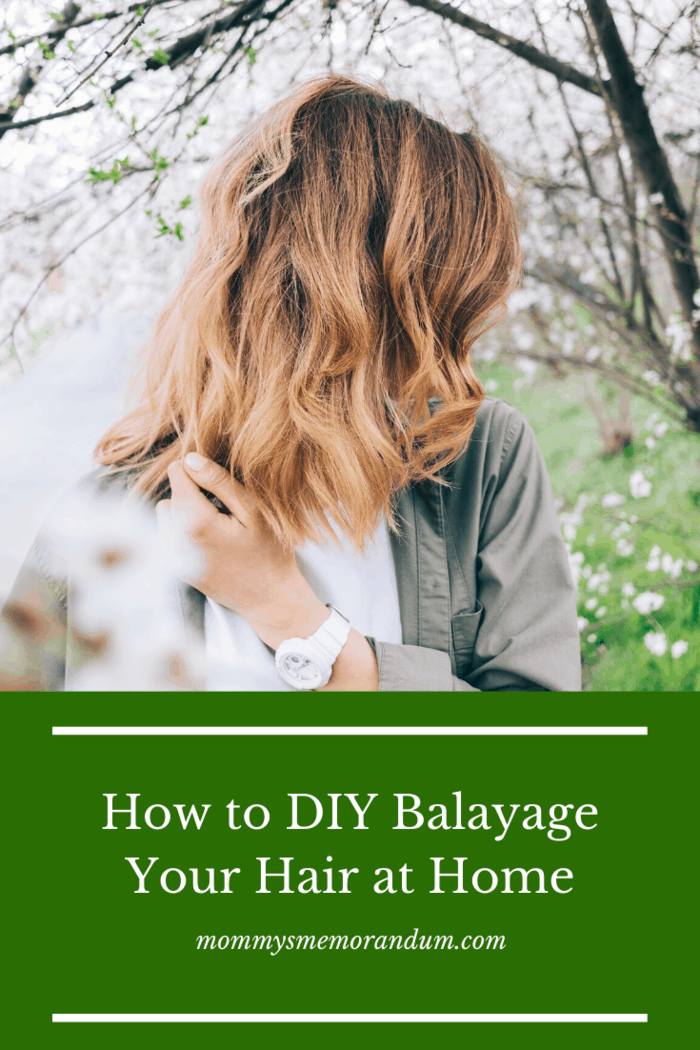 Step 2 – Prep
After you've teased your hair, you'll want to apply the hair dye you've chosen to the mid-length area to one section of your hair.
Keep in mind the best balayage begins by using your tint brush to zigzag/weave through the hair and create thin, small sections.
Once you have the weave, backcomb the section gently to smooth out the hair section, preventing any harsh lines or chunky blocks of hair.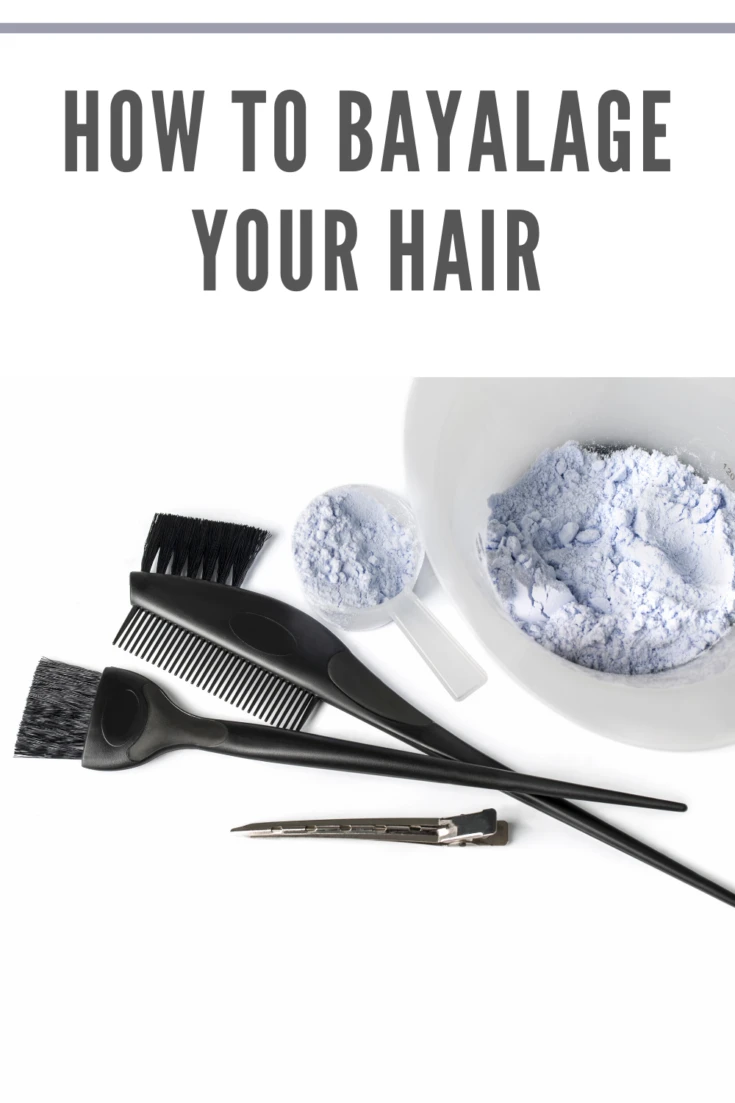 Step 3 – Apply that Dye and Start to Balayage
Place the hair strands on the board, if using, and apply the bleach, softly smoothing it up with the tint brush to where the backcomb hair sits.
Don't go any further than this–just halfway up the strand.
Unlike traditional highlights, Balayage is a more subtle highlighting technique.
Make sure that you don't touch the roots of your hair when applying your hair color so that you can achieve a natural sun-kissed glow.
Once you've finished with one section of your hair, it's time to wrap it up, clip it back up, and start on a completely new section.
As long as you don't get confused about which part of your hair has been dyed, you'll be on your way to a beautiful balayage with subtle highlights.
If you want to avoid having the hair dye bleed into your roots, then you can further secure a section of your hair with bobby pins.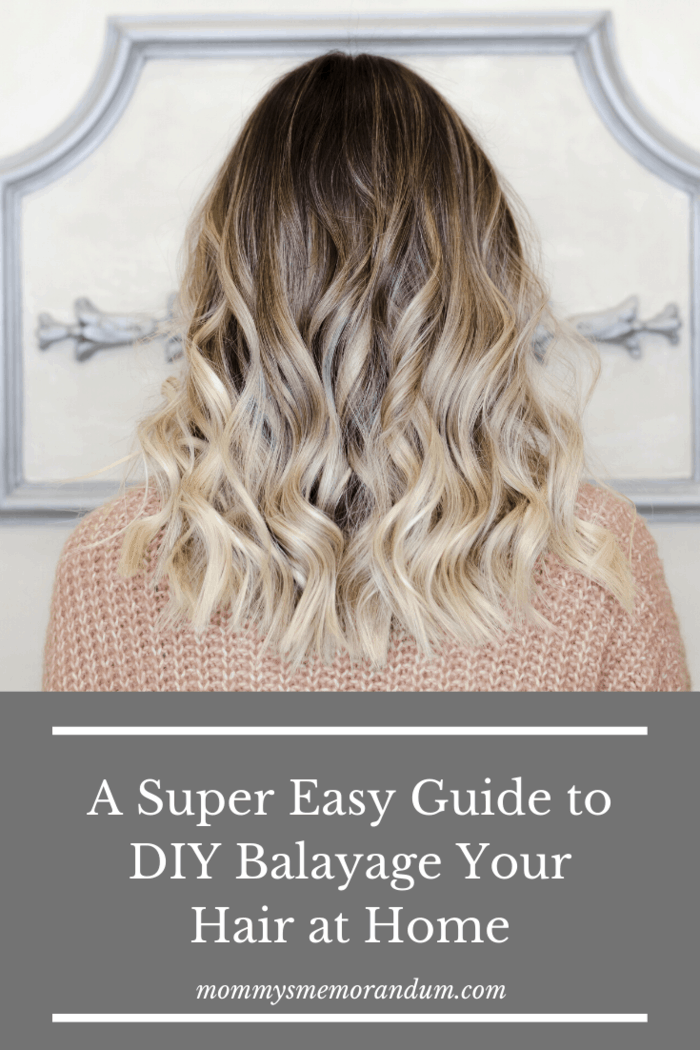 Look Out for Opportunities to Add Any Finishing Touches
If you feel there's too much product on a strand or two, simply rub it out with your hand.
If you want some sections to be brighter, use the mixing brush within the balayage kit and use that to apply hair dye instead.
Once you've applied your hair dye completely, make sure to look out for any areas that need a bit of perfecting.
For example, maybe you applied some dye a little too far down from the mid-section.
If that's the case, then you'd benefit from applying a little bit more dye to the mid-area of your hair.
Don't forget to follow the instructions listed on the box.
Leave the hair dye in for as long as it recommends.
Once you're finished, you can rinse it out, wash your hair, blow-dry, use an anti-static hairbrush, and style your hair to reveal your end result–beautiful self-made balayage!
You can get advice on hair straighteners from the experts at Hair Straightener Studio.
That was simple.
Pro Tip: if You Have Dark Brown Hair
If your hair is really dark and you see that the color developed into a brassy shade, generously apply hair toner over the dyed hair and keep it on for 20-25 minutes.
Rinse and style as normal.
Maintaining a DIY Balayage Hairstyle:
A balayage look is easy to maintain and because it's a gradually lighter shade, growing out roots aren't an issue.
It's one of the best low-maintenance hairstyles ever!
For best results when maintaining your balayage, follow these easy steps:
Use a shampoo for balayage hair.
When you wash your hair, you're stripping it of its natural oils and dulling the balayage color.
Try reducing your washes to 2-3 times a week.
Use a shower cap in between washes.
It's important to use the right products for maintenance; use a purple shampoo to keep balayage highlights bright, and dry shampoo in between washes if needed.
Use a hair mask, focusing on the ends of the hair, to moisturize your locks once a week.
Feel free to use hair repairing oils and don't forget a heat-protective spray
This will extend the life of your color
Touch up your balayage every 12-14 weeks to keep it red carpet-worthy.
DIY couldn't be easier when it comes to balayage!
Luckily, this DIY Balayage technique can be reasonably effortless since it mimics natural highlighting.
Because it doesn't require bleach or foils, maintaining your color will be a breeze.
Style as you normally do or try one of these quick and easy hairstyling tips.
It's a good thing that balayage is now a popular hair trend because it's easy to do yourself, and it's a much healthier option for highlighting.
A Super Easy Guide to DIY Balayage Your Hair at Home
Here's a super easy balayage hair color guide that you can complete at home.
First, Get the Right Tools
Go Through an Allergy Test
Clip Your Hair Up
Apply that Dye!
Look Out for Opportunities to Add Any Finishing Touches