This #studygram for #middleschool is brought to you by @workmanpub #ad.
This is Miss M's first year of middle school and she is cracking the books to meet her goals. She's striving for the "BIG M" award at the end of the year.
We just got report cards and she's on track. Straight A's for the first quarter!
She's naturally brilliant, of course, but we're locking it in with Big Fat Notebooks to give her better understanding and an upper edge on her studies. Paired with smart snacks, it's a winning combination!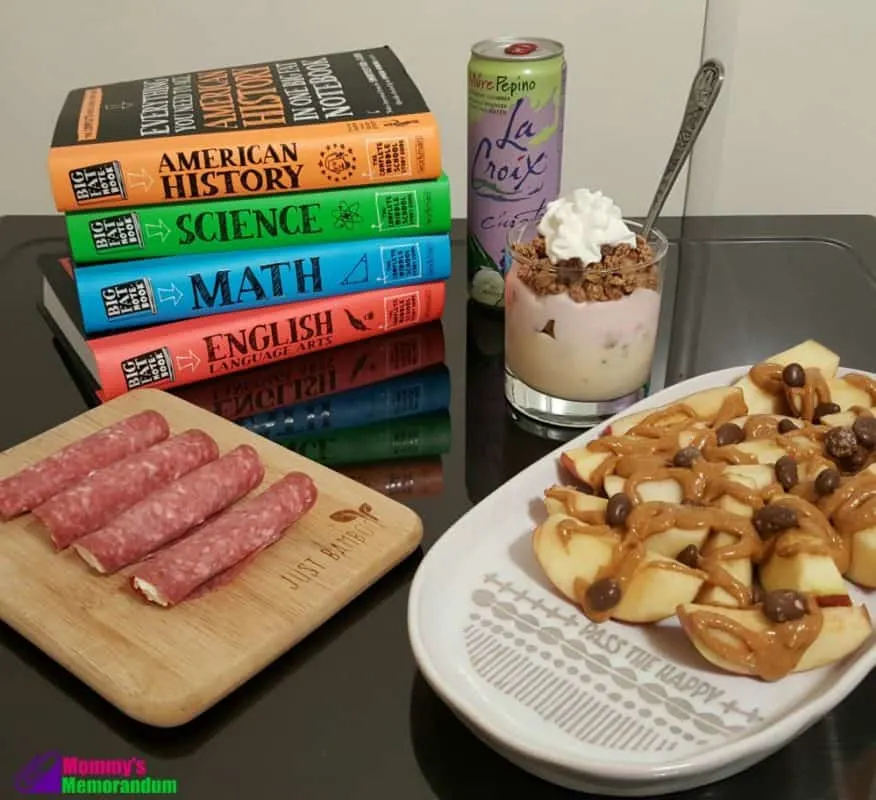 Those first few minutes she walks through the door, we're listening to her share her day. The friends, the fun, the drama, and what she learned. It all happens while we make snacks.
I like healthy to fuel her brain.
Tough teachers, tests are on her mind and healthy snacks that give her brain added oomph to stay sharp and alert. Slowly absorbed carbs like whole grains, and fruit give her longer-lasting mental energy.
Some days, it's a cup of warm chicken broth. It's light and helps her wind down and get settled.
How about Apple Nachos?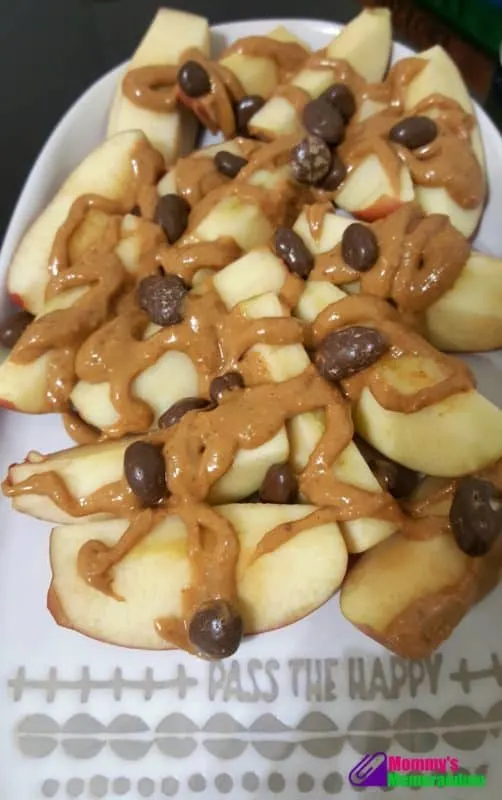 Apple wedges drizzled with Smucker's 100% All-Natural and we top with something fun, like Raisinets. We like to mix the peanut butter with Heavenly Organics honey, it comes in flavors that add a little flair.
Yogurt and Granola Parfait:
This is one of my kiddos favorite snacks. I simply layer yogurt with granola and top with a dollop of whipped cream.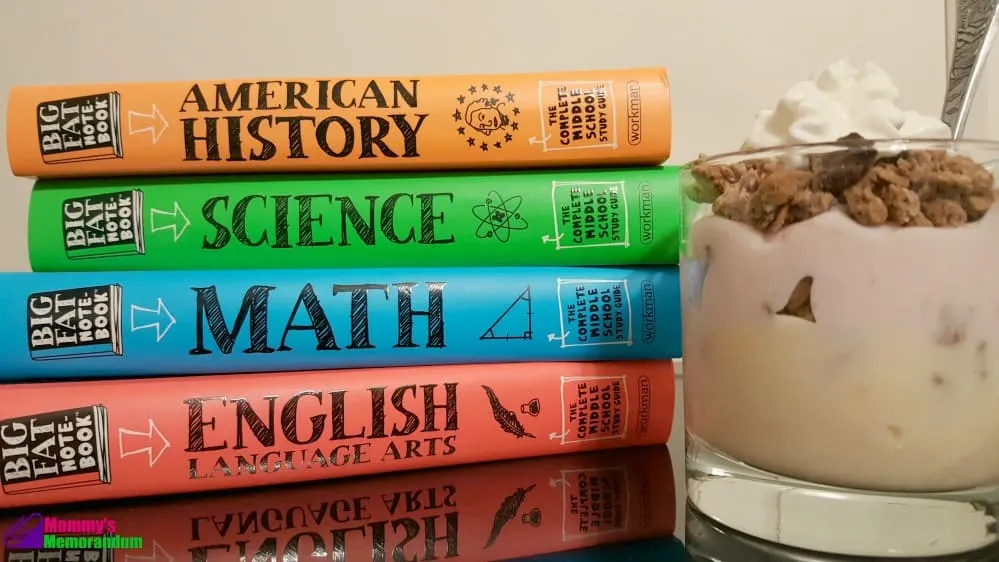 Salami and Cream Cheese Rolls: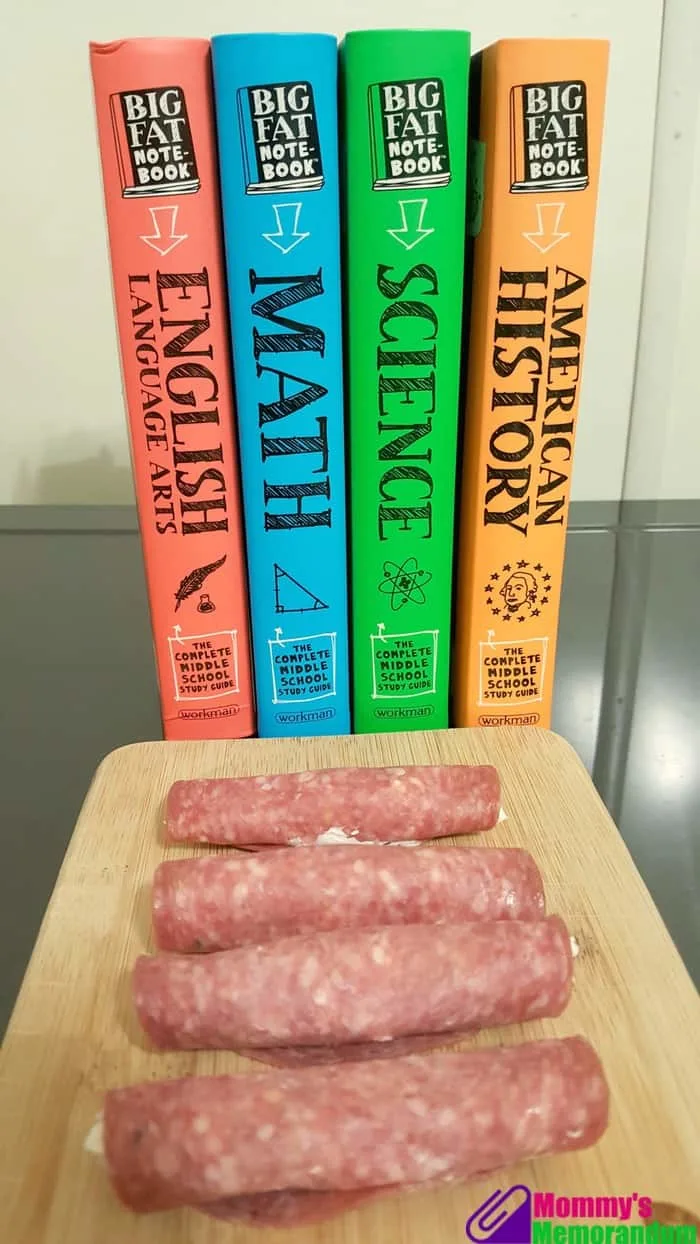 We simply spread cream cheese on a piece of salami and roll it up. It's loaded with healthy fats and protein. Plus, Miss M really likes salami!
There's even more fun with these four printouts from Big Fat Notebooks!
Thinking Like a Scientist
How to Take Great Notes
Displaying Data
Ancient Egypt Timeline
My #BigFatNotebooks Descriptions
Everything You Need to Ace Math . . . covers fractions, decimals, and how to multiply and divide them; ratios, proportions, and percentages; geometry; statistics and probability; expressions and equations; and the coordinate plane and functions.
Everything You Need to Ace Science . . . starts with scientific investigation and moves on to the engineering design process to the Periodic Table; forces and motion; forms of energy; outer space and the solar system; to earth sciences, biology, body systems, ecology, and more.
Everything You Need to Ace American History . . . begins with Native Americans and goes through the war in Iraq with units on Colonial America, the Revolutionary War, Jefferson and the expansion west, the Civil War and Reconstruction, and notable events of the 20th century—World Wars, the Depression, the Civil Rights movement, and much more.
Get more than good grades on the table.
Pair your child's study with Big Fat Notebooks and healthy snacks.