The Story of the Great Pumpkin Man
Authors: Kirk and Sofia Rossiter
"The Story of the Great Pumpkin Man" is a heartwarming tale of friendship and the magic of Halloween. Written by Kirk and Sofia Rossiter, this enchanting children's book takes young readers on an adventure filled with pumpkins, spooky fun, and valuable life lessons.
History:
The book was first published in 2018 and quickly gained popularity among parents, teachers, and children for its engaging storyline and vibrant illustrations. It has since become a beloved Halloween classic, cherished by families around the world.
Plot:
In this delightful story, readers follow the journey of a young boy named Jack, who stumbles upon a magical pumpkin patch. There, he meets the Great Pumpkin Man, a jolly character with the power to bring smiles and laughter to everyone he meets. Jack and the Great Pumpkin Man embark on an unforgettable adventure, spreading joy and happiness throughout their town, and teaching the importance of kindness and friendship.
Why Kids Love It:
Vibrant illustrations that capture the spirit of Halloween.
Relatable characters and life lessons.
The perfect read for the Halloween season.
Expert Tips:
Use this book to start a discussion with your child about the values of kindness, friendship, and spreading happiness.
Encourage young readers to create their own pumpkin-themed art and crafts inspired by the story.
FAQs:
Q1: Is this book suitable for all ages? A1: Yes, "The Story of the Great Pumpkin Man" is perfect for children of all ages, especially those who love the magic of Halloween.
Q2: How long is the book? A2: The book is approximately 32 pages long, making it a great bedtime story.
Q3: Are there other books by Kirk and Sofia Rossiter? A3: As of now, this is one of their most well-known works.
The Story of the Great Pumpkin Man Book Review
My kiddos are like me and love all the festivities and fun of fall. They're marking the days off until Halloween and we're filling the time with reading. One of their recent discoveries is The Story of the Great Pumpkin Man, by Dr. Kirck Rossiter and his wife Sofia. It's a book that keeps them engaged and isn't too frightful for them to really enjoy.
We all know Halloween is a time of sugar as piles of candy pour out of pillowcases. It's something to think about considering 17 percent of children ages 2 to 19 are considered obese. The Story of the Great Pumpkin Man doesn't take the fun out of Halloween. There are costumes and trick-or-treating, but it all leads up to the arrival of the Great Pumpkin Man.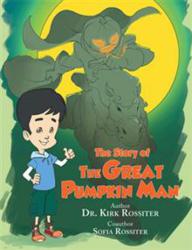 The story is told from the perspective of a nine-year-old boy named Kirk and his three-year-old sister, Elenda. Kirk is sharing the magic of Halloween with his little sister. He tells her they will dress up as their favorite characters, and collect as much candy as they can hold without their arms falling off in the trick or treat, but not eat the candy. Of course, Elena wants to know why they can't eat the candy.
It begins an engaging story with fun illustrations as Kirk explains it's for the Great Pumpkin Man. The candy will be eaten by pumpkins that can grow to 1,800 pounds. By giving their trick-or-treat candy to the Great Pumpkin Man, he will reward them with a gift.
My kiddos enjoy this book night after night. I think it is a great story, however, in the end the Great Pumpkin Man leaves gifts that I felt were setting false expectations. I prefer to teach my children "all good things in moderation" rather than build their expectations falsely. SPOILER ALERT: Kirk and Elena are left a bike and a scooter in exchange for their Halloween candy. This book has such a great message, but the costly "reward" at the end take away from the story. My thoughts are it should have been left a mystery for each child to discover on his own what the Great Pumpkin Man leaves for him in exchange for the candy.
Disclosure of Material Connection: I received one or more of the products or services mentioned above for free in the hope that I would mention it on my blog. Regardless, I only recommend products or services I use personally and believe will be good for my readers. I am disclosing this in accordance with the Federal Trade Commission's 16 CFR, Part 255: "Guides Concerning the Use of Endorsements and Testimonials in Advertising.".