"Lula's Brew" by Elizabeth O. Dulemba is a delightful children's book that captures the spirit of Halloween and offers a year-round appeal. The story revolves around Lula, a young witch who harbors a passion for cooking rather than traditional witchcraft. While her aunties encourage her to embrace their magical ways, Lula's true dream is to become a renowned chef.
Her aunties persuade her to concoct one final potion in a last-ditch effort to bring out Lula's witchy side. Seizing the opportunity, Lula adds her unique cooking flair to the brew, resulting in a potion that enchants the entire town, including her aunties. The story is told in a rhyming format, which adds to its engaging and playful nature.
According to the recommendation, "Lula's Brew" is a book that readers return to repeatedly, even beyond the Halloween season. Its charm lies in transforming Halloween's familiar themes into a story that captivates and endears readers throughout the year. The book's vibrant illustrations and the author's narration make it an engaging experience for young readers.
Additionally, it is mentioned that "Lula's Brew" is also available as an app through iTunes. This digital version offers brightly colored images and the added bonus of being narrated by the author herself, further enhancing the reading experience.
In conclusion, "Lula's Brew" by Elizabeth O. Dulemba is a recommended children's book that combines the fun of Halloween with a charming rhyming tale. It celebrates Lula's unique passion for cooking while enchanting readers with its delightful story and captivating illustrations.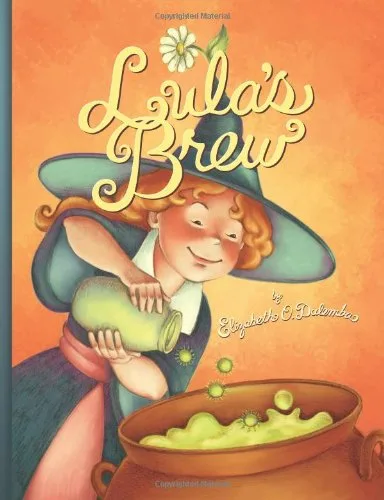 About Elizabeth O. Dulemba
Elizabeth O. Dulemba is a talented author and illustrator known for her contributions to children's literature. She has a passion for creating engaging stories and vibrant illustrations that captivate young readers.
Dulemba's works often explore themes of imagination, creativity, and the power of self-expression. Her books frequently feature strong, relatable characters who follow their dreams and embrace their unique qualities. Through her storytelling, she aims to inspire children to explore their own passions and celebrate their individuality.
In addition to writing and illustrating books, Dulemba has also worked as an illustrator for other authors' works. Her illustrations are characterized by their vivid colors, expressive characters, and attention to detail, bringing the stories to life on the pages.
Dulemba's books cover a range of topics and genres, including picture books, early readers, and educational titles. Some of her well-known works include "Soap, Soap, Soap (Jabón, Jabón, Jabón)," "Paco and the Giant Chile Plant," and "Lula's Brew," as mentioned earlier.
Apart from her print books, Dulemba has embraced technology and digital platforms to expand the reach of her stories. She has created interactive apps and e-books, making her stories more accessible to young readers in various formats.
Elizabeth O. Dulemba's contributions to children's literature have garnered recognition and praise. Her books have received awards and honors, and she is highly regarded for her ability to engage young readers with her imaginative storytelling and vibrant artwork.
Overall, Elizabeth O. Dulemba is a talented and versatile author and illustrator who continues to enchant children with her imaginative stories, vibrant illustrations, and messages of self-discovery and creativity.
Disclosure of Material Connection: I received one or more of the products or services mentioned above for free in the hope that I would mention it on my blog. Regardless, I only recommend products or services I use personally and believe will be good for my readers. I am disclosing this in accordance with the Federal Trade Commission's 16 CFR, Part 255: "Guides Concerning the Use of Endorsements and Testimonials in Advertising.".