A steam cleaner has changed my idea of cleaning. Let's face it, we all want a clean house. I spend my weekends cleaning, disinfecting, sanitizing, degreasing, deodorizing, and trying to keep on top of it throughout the week. I'm telling you, I've been doing it all wrong.
It wasn't until I partnered with Dupray ONE™, a whole home steam cleaner, that I learned my cleaning ways were, well. Archaic! It takes on our tile floors, carpets, bathroom tiles, toilet, sinks, couch, mattresses, oven, countertops, and more. It gets the dirt gone and sanitizes all in one.
Dupray ONE™ Plus Steam Cleaner- One Tool To Clean It All
The mops, buckets, scrubbers, and Weekend Warrior arsenal are gone for clean. Dupray ONE is a superhero that does it all better.
Steaming is an effective way to get wrinkles out of almost any fabric; it requires less space to use a steam iron.
But Steam also does more than press out wrinkles.
Dupray ONE heats the water to the perfect temperature to quickly blast away dirt, grime and at the same time disinfects.
With a stainless steel boiler pressurized to four times the atmospheric pressure, Dupray ONE increases the boiling point of water from 121 degrees to 293-degrees Fahrenheit.
Combine this with the high-density heating elements that heat the Steam to 320-degrees, producing dry vapor steam, with only 5% water content and 65 psi of pressure, and you've got a superhero machine.
Dupray ONE Plus Steam Cleaner: What's Included:
When my Dupray ONE Plus Steam Cleaner arrived, I loved that it was fully assembled, so all I had to do what pick an accessory and attach it to the unit.
Here is the machine.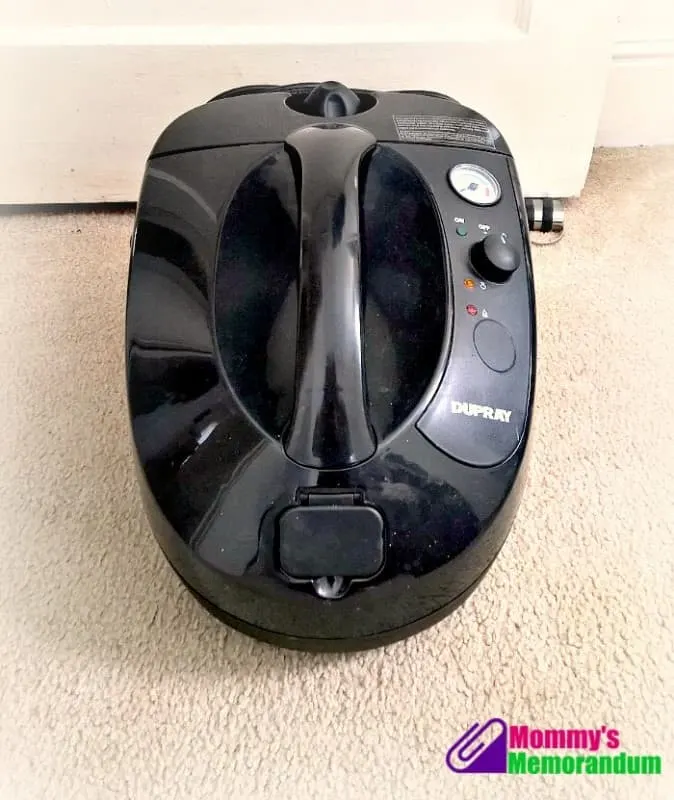 Here are the steam cleaner accessories: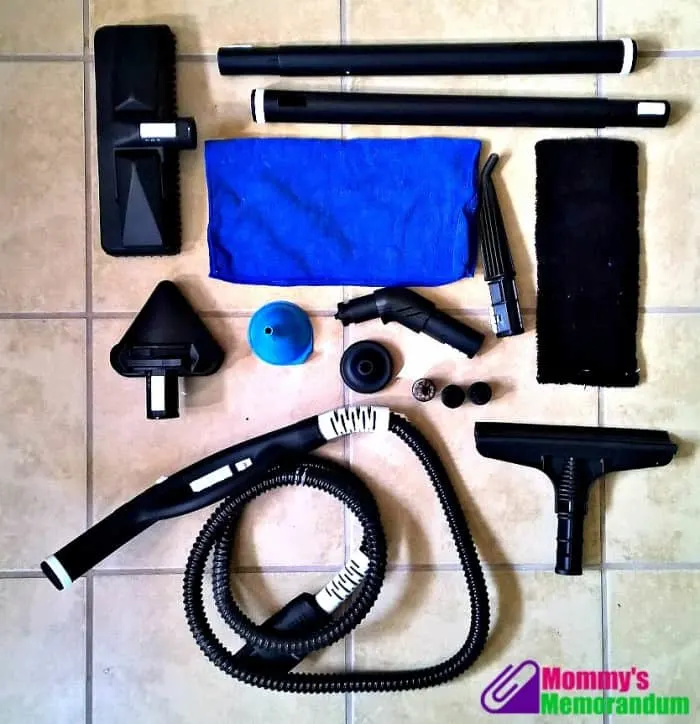 With 16 different high-quality, durable accessories, you can easily tackle a wide variety of cleaning tasks with total efficiency. You'll always have the right tool for the job.
Regardless of what you are cleaning with the Dupray ONE Plus steam cleaner, you will always use the power hose. It operates with a trigger to release the Steam.
With the power-hose as your foundation, you can attach an extension tube for higher-to-reach areas or simply connect your choice of the cleaning head.
The cleaning head then allows customization with a floor glider, microfiber cloth, or cleaning brush.
Once you have built your machine to your needs, use the intuitive controls to turn the machine on. There are user-friendly icons to help you navigate the controls.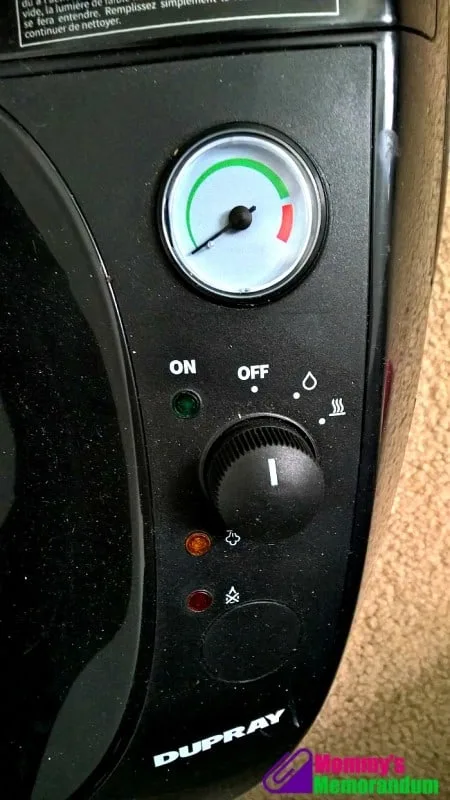 It will take about 5 minutes to build pressure, and then a light comes on, letting you know it's ready to clean!
The set-up was easy, less than 5-minutes to attach the items and fill the 0.64-gallon tank with water.
Weighing only 15 pounds, the ONE Plus™ is portable and easy to use all around the house.
Using the Dupray ONE Plus Steam Cleaner
Let's start with our floors.
Our kitchen is tiled, and that five-second rule. Do you know what I'm talking about? Scientific America gives the low-down.
Five seconds to pick something up, you dropped on the floor.
Yeah, while some will quickly pick up the item, blow it off and eat it without much thought, our floors are disgusting, and we do not practice the five-second rule.
I knew this before using the Dupray ONE Plus Steam Cleaner, but allow me to show it to you to clarify why you might want to reconsider that rule.
The grout between the tiles. I used the Steam Lance with a metal brush tip.
I placed the brush gently on the grout and scrubbed it back and forth while pulling the trigger on the power hose handle.
It doesn't take long to see the dirt come out and change our dark grout to the light color it once was.
Here are two before and after pictures to show you the incredible difference.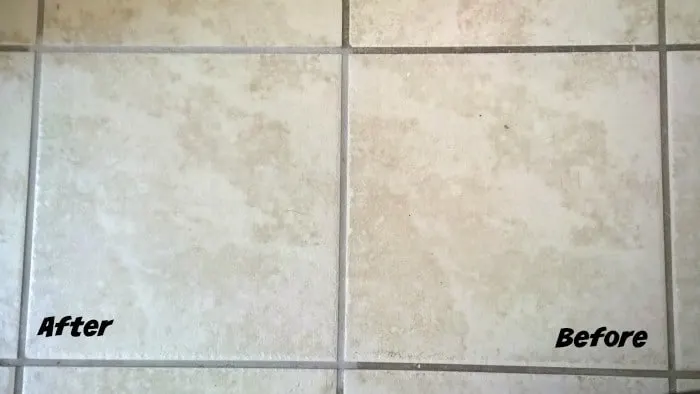 And a close-up…I did the line up-and-down with the Dupray ONE Steam Cleaner; the line across is the grout before cleaning.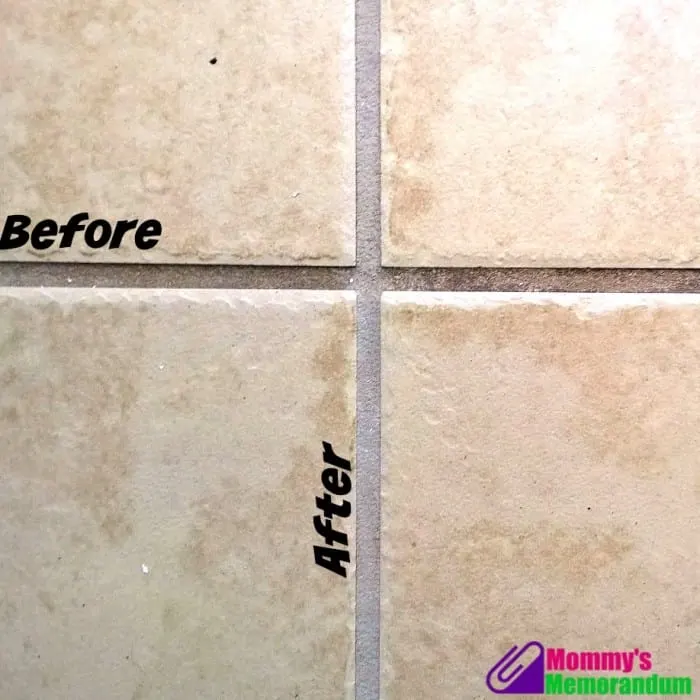 While in the kitchen, I used the Dupray ONE Plus Steam Cleaner on my oven.
Whoever lived here prior cooked like a true Southerner.
I've been scraping and scrubbing grease from it for more than a year.
The steam cleaner took the brown film off the glass panel, so it now will show a reflection.
I found cleaning the oven a little more challenging than cleaning the grout from the tile.
There are a lot of little cubbies for grease on this oven, but with the Steam Lance and nylon brush tip, I found it more effective and faster than the elbow grease I had to put into it.
I love the Steam Cleaner for my kitchen faucets.
It gets into the places I can't always get to quickly.
Disinfect countertops, appliances, and more with the triangle tool.
Use the Steam Lance to get into the cracks and crevices. Add a brush tip to the Steam Lance for those areas that need a little scrubbing.
We have boys at our house, and sitting on the toilet seat after a night of sleepy boys isn't appealing.
We both know toilets are gross and a breeding ground for bacteria and viruses.
The Dupray One Plus Steamer delivers dry Steam and instantly disinfects 99.9% of bacteria and viruses–something my household cleaners don't do.
I used the Dupray One Plus on our couch.
The poor thing is worn out.
The kiddos eat on it. I used the Triangle Tool with a microfiber cloth and released Steam as I glided it back and forth on the cushions.
I love how richer the brown is, and my back cushions perked up.
Learn more or order a whole house steam cleaner at dupray.com