Finally! Washable nail polish for kids. Snails Nail Polish for kids, a revolutionary new product that does not require smelly nail polish, loaded with chemicals. Simply washing with soap and water can remove this water-soluble nail polish. It does not stain carpets, floors, furniture, or clothing!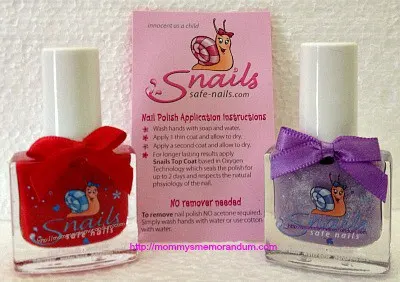 Snails washable nail polish comprises just three ingredients: water, acrylic polymer, and non-toxic colorants. You read it right! NO toluene. NO formaldehyde. NO dibutyl phthalate (DBP). No bisphenol A (BPA). Just simply three ingredients.
Miss M thinks it's fantastic. Snails nail polish is 100 percent European made, manufactured in France, and packaged in beautiful lead-free, Italian glass bottles.
I'm not afraid to turn Miss M loose within the house.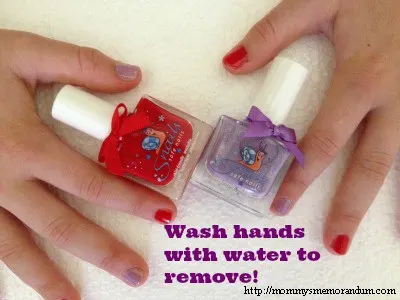 I was astonished how easily Snails nail polish goes on.
Wash hands with soap and water.
Apply one thin coat and allow to dry.
Apply a second coat and allow to dry.
Even more impressive was how easy it was to remove!
To remove nail polish, NO acetone is required.
Wash hands with water or use a cotton ball with water.
Miss M Loves the packaging. The bottles are gorgeous and have an adorable little bow tied around the neck, adding girly flair! Snails nail polish has a variety of bright, sparkly, and girly colors for fun fingers any day of the year!
Snails also offer "remover wipes" for added fun in the dress-up department.
Something else you'll love about Snails Nail Polish: