Carpet CPR Spot and Stain Remover Review
The tidiness of my home is very important to me.
One of the areas that drives me bonkers is my carpet.
While we are the family that does NOT wear shoes in the house, we still accumulate a lot of stains underneath our dining room table and high-traffic areas.
Recently I had the opportunity to review Carpet CPR Spot and Stain Remover.
It's a product I really like.
Carpet CPR says it "removes stains left by red wine, pets, food, fruit juice, dirt, grease, coffee, tea, lipstick, ink, and much more."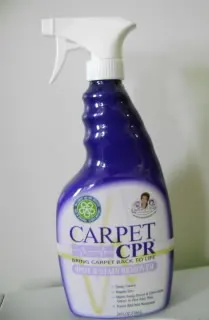 We're a big family, so we put it to the test.
I treated a spaghetti sauce stain under my table.
It was set, as it's been there for a while.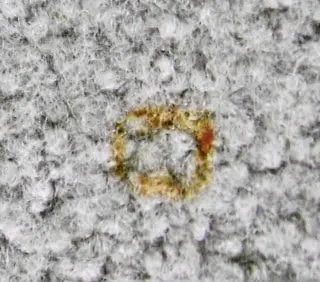 First off, I found this product extremely easy to use.
I sprayed the soiled area with the Carpet CPR Spot and Stain Remover and walked away.
I returned within 4-minutes and blotted and rubbed gently with a cleaning rag.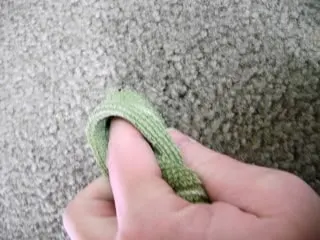 Voila! The stain disappeared.
I also treated a stain in the central walking area of our living room.
I have no idea what this stain was but can state that I have tried numerous products to remove the stain.
I failed with the other cleaners.
Four minutes after treating this stubborn stain with Carpet CPR, the stain was gone.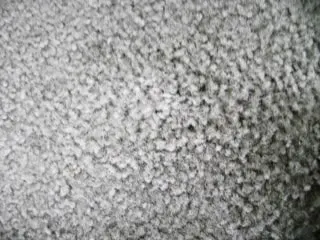 Typically, the residue from detergents attracts dirt like old trash attracts bugs.
It's been one week since I removed the stain, and there is no trace of it.
Carpet CPR Spot and Stain Remover repels dirt and really does prevent re-soiling!
I treated various stains on our carpet: spaghetti sauce, magic marker, paint, gum, and red Kool-Aid.
Carpet CPR Spot and Stain Remover removed all of them, with the exception of the red kool-aide.
It did diminish the redness, and I'm sure if I keep at it and treat it each week, it will eventually fade away.
Another great benefit of this product is that it doesn't bow you over from the smell.
It has a light scent that's not overly perfumey!
The sensitive noses in my household were grateful!
Carpet CPR Spot and Stain Remover deliver what it says.
It eliminates stains and odors in one step.
It deep cleans to remove both new and old stains.
It repels dirt and prevents re-soiling.
These are all the wonderful reasons why this Spot and Stain remover has been Awarded the Carpet and Run Institute Seal of Approval as well as the Queen of Clean Seal of Approval.
The Carpet CPR Spot and Stain Remover can be found nationwide at Bed Bath and Beyond or online at LeatherCPR.
A 24 oz. Bottle retails for $8.95. CPR Carpet and Stain Remover know you'll love their product; if not, they have a 100% Satisfaction Money Back Guarantee.
Happy Cleaning!
We appreciate your subscription to Mommy's Memorandum