🌟 Unleash Your Radiant Smile with SmileBrilliant Teeth Whitening Kit! 🌟
Are you longing for a dazzling, confident smile that lights up the room? Look no further than the SmileBrilliant Teeth Whitening Kit! Say goodbye to dull, stained teeth and hello to a brighter, more beautiful smile that will leave you feeling unstoppable.
✨ Professional-Grade Teeth Whitening at Home: Experience the power of professional teeth whitening from the comfort of your own home. SmileBrilliant's innovative kit brings you dentist-quality results without the hassle and expense of multiple appointments. It's time to reveal your true smile potential!
💎 Customized Whitening Trays: This kit includes custom-fitted trays created just for you. With their easy-to-use impression kit, you can achieve a precise fit that ensures maximum comfort and optimal whitening results. The trays are designed to evenly distribute our powerful whitening gel, reaching every nook and cranny of your smile.
⚡ Advanced Whitening Technology: Powered by advanced LED light technology, this kit accelerates the whitening process, giving you noticeable results in as little as one week. The LED light enhances the whitening gel's effectiveness, targeting and eliminating stubborn stains caused by coffee, tea, wine, and other common culprits.
🌿 Safe and Sensitivity-Free Formula: SmileBrilliant understands that sensitivity can be a concern when it comes to teeth whitening. That's why their kit includes desensitizing gel to minimize any potential discomfort. Their gentle yet effective formula ensures a pain-free experience, so you can achieve a stunning smile without any worries.
✅ Easy to Use, Anytime: This kit is designed with your convenience in mind. Simply apply the whitening gel to your custom trays, insert them into your mouth, and let the magic happen. You can whiten your teeth while catching up on your favorite TV show, reading a book, or even during your daily skincare routine. It's that easy!
💪 Trusted by Thousands of Smiles: Join the thousands of satisfied customers who have transformed their smiles with SmileBrilliant. This kit has garnered rave reviews for its incredible results, simplicity, and affordability. See the difference for yourself and become the next success story!
🌟 Your Journey to a Brilliant Smile Begins Now! 🌟
Don't let stained teeth hold you back from smiling with confidence. It's time to embrace your brightest, most captivating smile with SmileBrilliant Teeth Whitening Kit. Say goodbye to yellowing and hello to a brilliant, radiant smile that will make heads turn.
Visit SmileBrilliant's website at www.smilebrilliant.com to discover more about this amazing kit and start your journey to a more confident you. Unlock the secret to a stunning smile with SmileBrilliant today!
✨ SmileBrilliant Teeth Whitening Kit: Your Path to a Brilliant Smile! ✨
Our Smile Brilliant Teeth Whitening Kit Review
I'm a serious girl, and my smile probably isn't shown as often as it should be. I curse my parents for not getting me braces as a child, and the whole snaggle tooth thing has made me even less of a smiler through the years.
Here I am in the best sandwich ever back in 2009 with my two boys, Zac and Jake.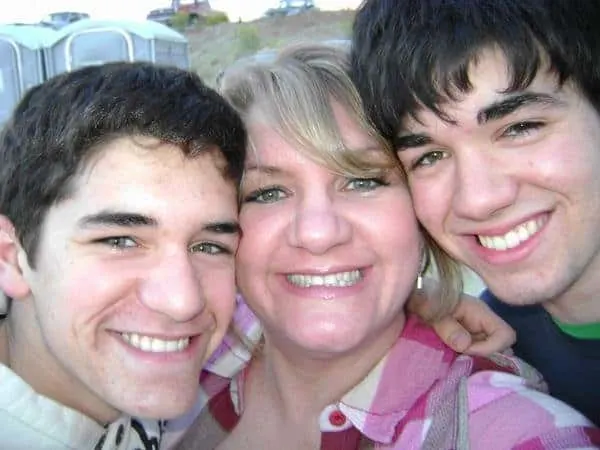 My smile is okay but not as white as I would love it to be!
I was sent Smile Brilliant teeth whitening trays. I was the perfect candidate: coffee, red wine, dark soda…they're all among my favorites!
When the kit arrived, I mixed some silly putty textured stuff together, stuck it in what looked like a mouthguard and bit down.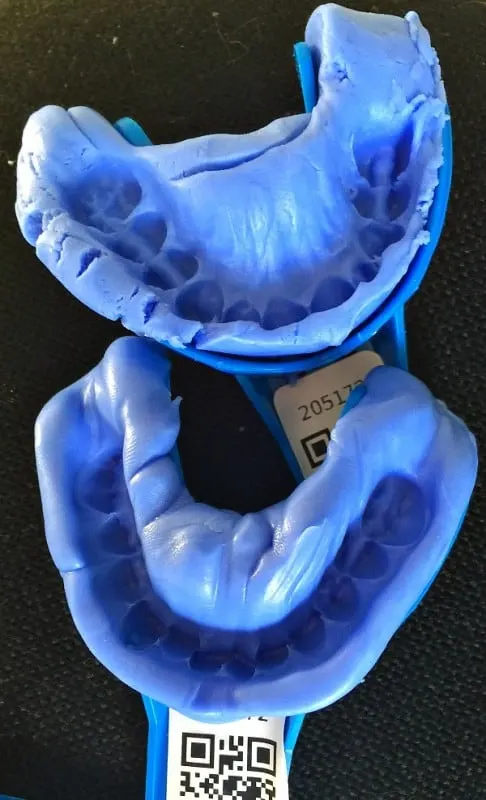 I let it dry, shoved it in an envelope, and sent it off to Smile Brilliant.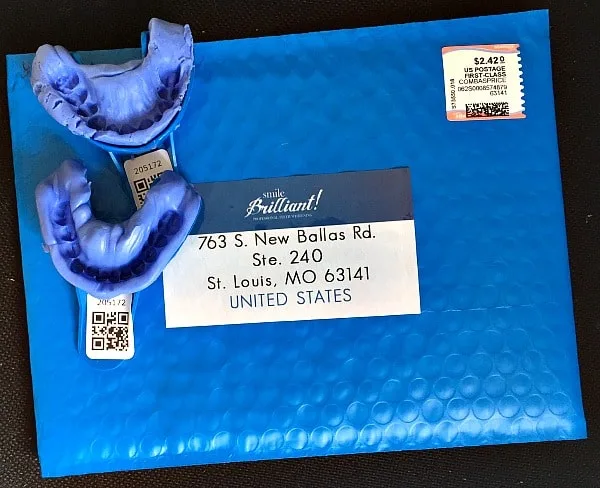 Once Smile Bright received the molds, they created a cast of my teeth.
Without any time to forget about having mailed off my molds, the custom trays were back in my mailbox.
Years ago I spoke to my dentist about teeth whitening and JUST the trays were going to cost me more than $300. The Smile Bright Kit includes the customized trays and a desensitizing and whitening gel.
My teeth aren't really sensitive, so I skipped that gel and applied the whitening gel to the inside front of each tray per the instructions.
The trays fit over my teeth perfectly.
For whitening, you can start at 20 minutes and work up to as much as 3 hours. I went for the gold!
I love the trays because I could still talk, though I had sort of a Drew Barrymore lisp.
I did a couple of times, with a minimum of 20 minutes for each session.
My smile is so much whiter. Here I am in Los Angeles with Rachel Mouton.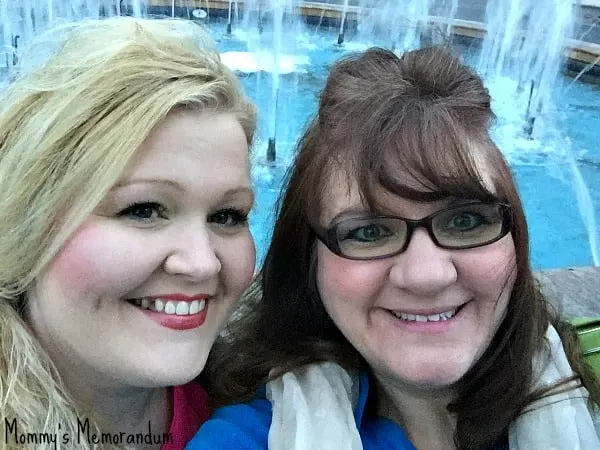 I am loving my smile more since Smile Bright.
The process is one of the easiest I have used. I love that the trays fit snugly around my teeth and I can really go about my business while my smile whitens.
Note: Not everyone's teeth are destined to be a bright white, but with a few uses, Smile Bright will whiten your teeth to the whitest your teeth were intended to be.
Who is a Candidate for SmileBrilliant Teeth Whitening?
SmileBrilliant Teeth Whitening Kit is suitable for a wide range of individuals who desire a brighter, more vibrant smile.
Here are some ideal candidates for using SmileBrilliant:
Those with Stained or Discolored Teeth: If your teeth have been affected by stains caused by coffee, tea, wine, tobacco, or other factors, SmileBrilliant can help restore the natural whiteness of your teeth.
Individuals with Aging Teeth: As we age, our teeth may naturally lose their brightness and appear more yellow or dull. SmileBrilliant can effectively combat the effects of aging, rejuvenating your smile and giving you a more youthful appearance.
Coffee or Tea Drinkers: Regular consumption of coffee, tea, or other dark beverages can lead to stubborn stains on teeth. SmileBrilliant can help remove these stains and bring back the natural brightness of your smile.
Wine Enthusiasts: Red wine, known for its staining properties, can leave unwanted marks on teeth over time. SmileBrilliant offers a solution to effectively remove these stains and help you maintain a radiant smile.
Tobacco Users: Smoking or using other tobacco products can cause teeth to become yellow or brownish in appearance. SmileBrilliant can help diminish these stains and restore the whiteness of your teeth.
Individuals with Special Occasions: If you have a special event coming up, such as a wedding, graduation, or job interview, and you want to look your best, SmileBrilliant can help you achieve a stunning, confident smile for the occasion.
It is important to note that it is always recommended to consult with a dentist or dental professional before starting any teeth whitening treatment, especially if you have dental restorations, tooth sensitivity, or any oral health concerns. They can provide personalized advice and guidance based on your specific needs and oral health condition.
Remember, a beautiful smile can positively impact your self-esteem and overall confidence. With SmileBrilliant, you can transform your smile and shine bright in any situation!
Final Thoughts:
People love SmileBrilliant Teeth Whitening Kit for several reasons:
Professional-Quality Results: SmileBrilliant offers professional-grade teeth whitening results from the comfort of your own home. Users have experienced noticeable improvements in the whiteness and brightness of their teeth, giving them a more radiant smile.
Customized Trays: The kit includes custom-fitted trays that are created specifically for each individual. This personalized approach ensures a comfortable fit and even distribution of the whitening gel, maximizing effectiveness and minimizing any potential mess.
Advanced Whitening Technology: SmileBrilliant incorporates advanced LED light technology into their kit, which accelerates the whitening process. The LED light enhances the whitening gel's effectiveness, helping to eliminate stubborn stains and discoloration caused by various factors.
Convenience: The kit is designed to fit seamlessly into busy lifestyles. It offers an easy-to-use application process that can be done at home at a time that suits you best. Users can whiten their teeth while engaging in other activities, making it a hassle-free experience.
Sensitivity-Free Formula: SmileBrilliant understands the concerns regarding tooth sensitivity during whitening. Their kit includes desensitizing gel, which helps minimize any potential discomfort. This ensures a gentle and pain-free experience for users.
Positive Reviews and Testimonials: SmileBrilliant has garnered numerous positive reviews and testimonials from satisfied customers. Many individuals have shared their success stories, expressing their delight with the results achieved through using the kit.
Cost-Effective: Compared to professional in-office teeth whitening treatments, SmileBrilliant offers a cost-effective alternative that doesn't compromise on quality. Users can achieve professional-level results at a fraction of the cost.
Overall, people love SmileBrilliant Teeth Whitening Kit for its ability to deliver professional-grade results, its convenience, personalized approach, and the positive impact it has on their self-confidence. With SmileBrilliant, users can confidently showcase a brighter, more dazzling smile that leaves a lasting impression.