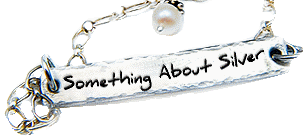 I will have a tween in my house as of February, but I think the tween-ness started this summer. She loves everything ACCESSORIZED! She wears my old clip-on earrings; she wears scarves and belts that match her outfit; she has even asked for CLOTHES for Christmas! YIKES! When I visited the website of Something About Silver, I knew I had hit a gold (err, I mean SILVER) mine! I could find the perfect Christmas gift for my Ballerina.
I also have to add that Ballerina is going through some *stuff* being the oldest – and being expected to be the *responsible one*. She loves to hear about when she was born and when she was a toddler. I think she thinks we let wolves raise her until she was five!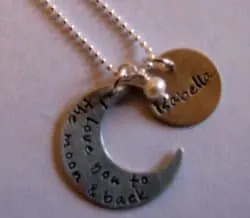 Something About Silver Review
So, there it was, the perfect necklace for my Ballerina. It was a beautiful 1″ sterling silver crescent moon shaped necklace; hand stamped with the phrase "I love you to the moon and back." It comes with a freshwater pearl. PERFECT because when Ballerina was just a little tike, Papa Bear used to tell her that he loved her to the moon and back. She would say, "I love you to the moon and back and to the moon and back again." He would reply, "Well, I love you to the moon and back and to the moon and back 100 times." This would go on and on with her making up super big numbers like "200 kajillion fifty-nine, thirty-seven times"! This was a nightly ritual until Ballerina got smart and would abruptly end the game by saying, "I love you to the moon and back INFINITY times." How can one argue with that?
I also added a circular name tag with Isabella's name on it because what tween doesn't want things that are personalized?
It arrived. I was thrilled, but I couldn't open it immediately. The biggest plus and biggest drawback of homeschool are that my kiddos are with me most of the time. It's hard to do *secret* stuff for Christmas or birthdays. The good thing is that they did finally go to bed so that I could open the package. Inside, I found the prettiest box. It's just a simple cardboard box tied with a beautiful ribbon, but I could tell that the jewelers at Something About Silver are proud of their product and want it presented beautifully. After sliding the ribbon off the box, I saw that inside, they had the necklace wrapped in a drawstring bag (that you should store your handmade silver creation in when not in use).
The necklace was just lovely! I know she will love it, and I hope she can add her kiddos' names on nametags to her necklace when she is a mom. The silver chain is durable, and the little freshwater pearl is simply the final perfect detail to add a touch of elegance and whimsy to the necklace.
A gift from Something About Silver would be perfect for a new mom as a baby shower gift, or what about the Gold Grandmother necklace for a grandmother with all of her children or grandchildren's birthstones.
I think the Stacking Rings are so fun; I would love them with all four of the kiddos' names so I could think of them on the rare occasion that they are not with me!
They have gifts for bridesmaids. Wouldn't a personalized, hand-stamped piece of jewelry be a thoughtful gift for your closest friends standing up in your ceremony?
Another neat feature is that you don't have to personalize with a name; you can use one of their inspirational quote or phrases to help you with ideas for your jewelry.
Since the jewelry is all handmade, production times vary. Certain styles are ready to ship if there is no personalization, but it is worth waiting to have an item personalized for the recipient.
Enter to win a $40 Gift Certificate to Something About Silver below:
You need javascript enabled to see this giveaway.
###
Lauralee Saad loves homeschooling her three kiddos: Ballerina, age 8, Big Boy, age 6, and MESS, age 3. She enjoys sewing when she can find a spare corner to set up her machine and dig out fabrics, cooking and baking – especially if the kiddos are helping, and enjoying a good book after the kiddos have gone to bed. She is thrilled to be welcoming a baby girl into the family in March of 2012.
*I received a Something About Silver product in order to facilitate an honest review. All opinions, where expressed, are my own and were in no way influenced by the sponsor. Others experiences may vary.