Looking for inspiration to launch your own business? Here are ten business ideas that have translated into highly successful Shopify stores.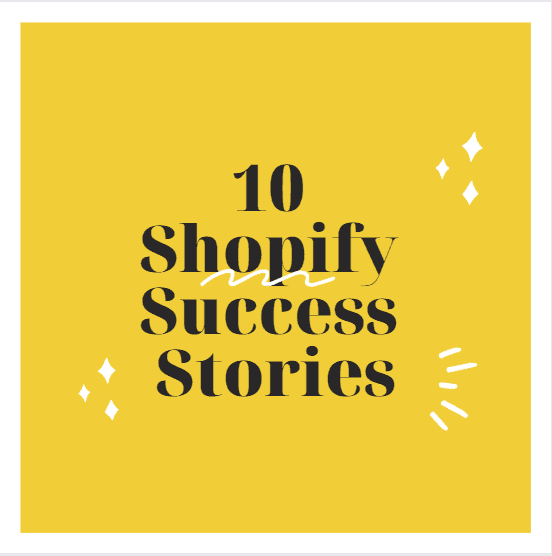 Get Inspired – 10 Shopify Success Stories
Here are ten amazing Shopify stores that have done everything right – a business idea, planning, execution, site design, marketing, and customer experience:
Haus
Haus offers curated Furniture and homeware

The Haus London store sells Furniture, lighting, and homeware. They present a carefully curated selection of products for their customers. Their website is attractive and easy to use, they present their products well, using high-quality images. They're also ready with expert guidance on how to select the best products for each customer's needs.
Quad-Lock
Quad-Lock sells smartphone mounts.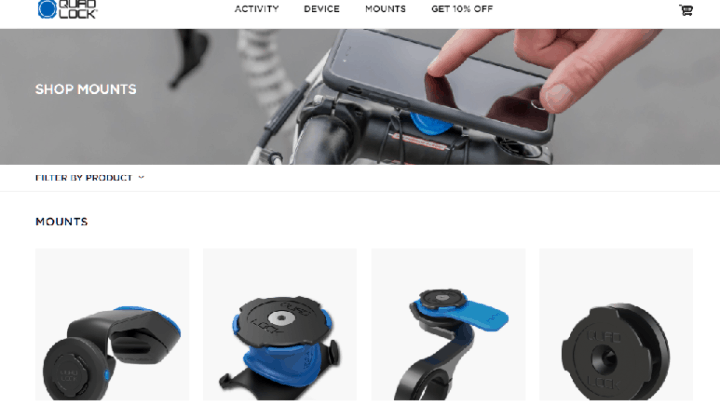 You can't live without your cell phone, but do you have problems taking it out of your pocket or your bag when you're running, cycling, driving? Live an active lifestyle but love to stay connected wherever you go? Well, Quad-Lock provides safe smartphone mounts and armbands. So, when you're running, driving, or cycling, use their perfect stand or band for your phone. Their top banner gif runs through their products, and below, you're invited to shop for armbands, bike mounts, motor mounts, car mounts, etc.
Luxy Hair
Luxy Hair offers stylish hair extensions.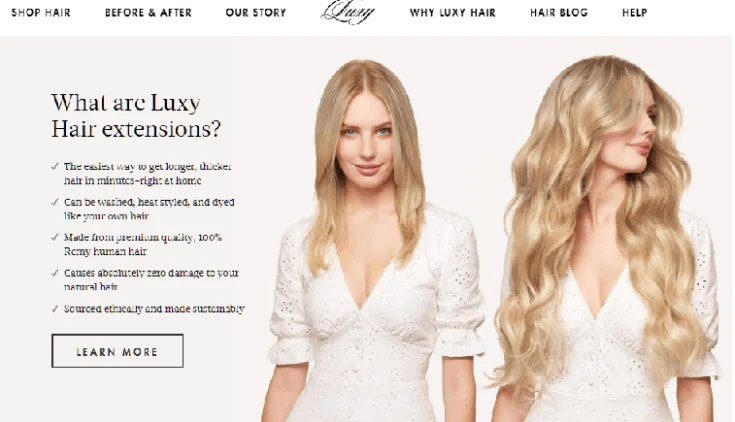 They sell hair extensions and are one of the most successful businesses on Shopify. They started with a loan that they had to repay quickly. So, they began using content marketing effectively. They created youtube tutorials showing how effective their products were in creating different hairstyles. This tactic proved highly successful. Their website focuses on a blog, helpful hairstyling videos, good product information, and more.
Pipcorn
Pipcorn sells flavorful Mini Popcorn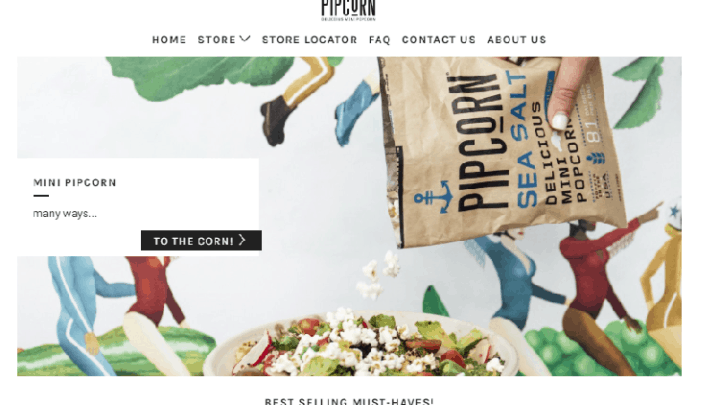 A snack food company, PipSnacks, was launched with a Shark Tank investment of $200k in 2013. Within one year, they grew to record $800k in revenue. Founded by siblings Jeff and Jen Martin, they are now Pipcorn. It's popcorn reimagined, mini popcorns, GMO-free, whole grain, and Gluten-free. Available in different flavors
Tattly provides a wide selection of tattoos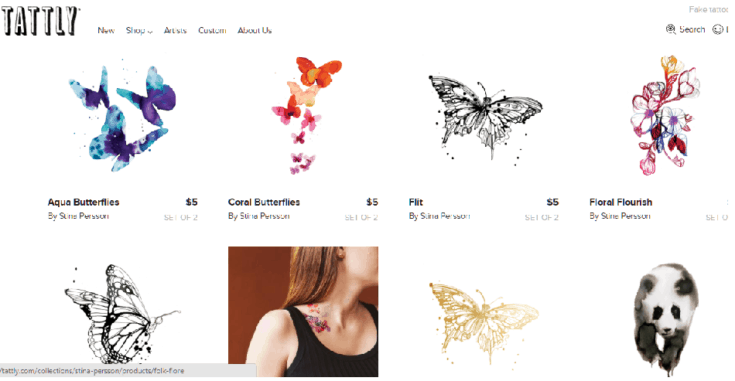 Tina Roth Eisenberg spotted a niche that needed to be filled while looking for good temporary tattoos for her child. She realized that there was a need for good, safe, temporary tattoos with attractive designs. So, she began to build a network of artists who contributed to tattoo designs. These tattoos are made of safe materials, the designs printed using non-toxic, vegetable-based inks. The store has a vast collection of temporary tattoos, and the artists get a percentage of each sale, so everybody benefits.
Happiness Abscissa
Happiness Abscissa harnesses the power of scents to enhance well-being.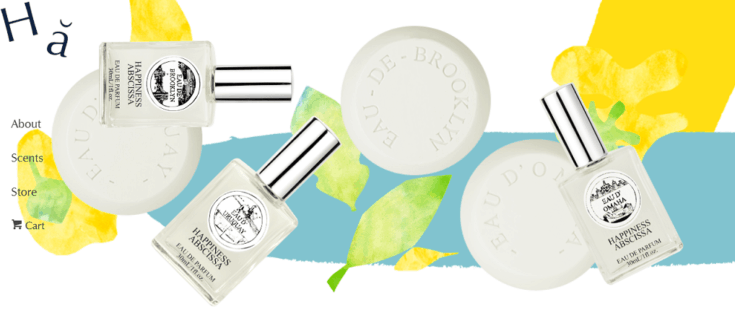 The power of scents to influence our emotions and invoke memories has been proven. This store sells soaps and perfumes that incorporate special blends of scents that promise to increase your sense of happiness and well-being. Started as a collaboration between Emilio (Neurologist) and Ann (Psychiatrist), it has been one of Shopify's top success stories. The website itself conveys a sense of happiness with perfume bottles, cakes of soaps, and yellow petals strewn across a white background.
MVMT
MVMT offers trendy watches at affordable prices

Launched in 2013 with a hugely successful Indiegogo fundraising campaign, MVMT has recorded over $90 million in sales. What do they sell? High-quality, stylish watches are aimed at the Millenials at an affordable price tag. They have made good use of social media and influencers to attract customers and grow their business.
Factory 43
Factory 43 sells printed shirts and gifts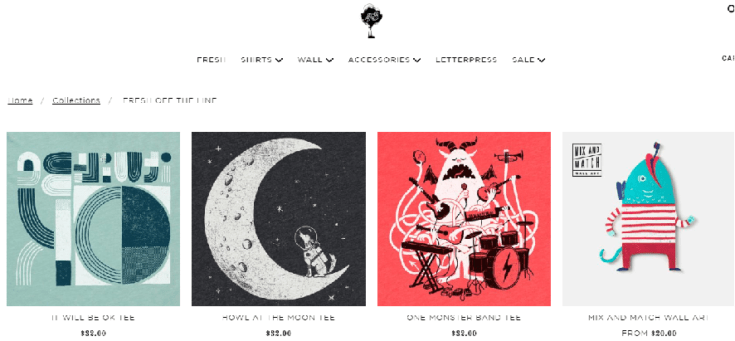 Andrew Seeger and Veronica Velasco, colleagues at the Seattle Post Intelligencer, became close friends and then business partners. They decided to start a business using their passion and talent for design and screen printing. So, Factory 43 was launched, selling t-shirts, posters, art prints, mugs, and other items featuring their own unique illustrations. The name? Andrew's great-great-grandfather ran a cigar factory. It was factory number 43, located on the corner of Fourth and Main Street in Fremont, Nebraska. The number 43 was featured on the cigar labels.
Karton
Karton offers innovative cardboard furniture.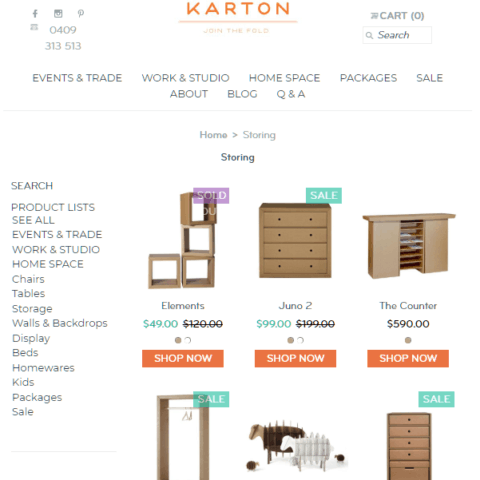 You use cardboard for packing, but recycled cardboard cartons reborn as Furniture? Real, durable, lasting Furniture? Yes, that is what Karton is about. They use tough corrugated cardboard to create real Furniture. Using cardboard, they make tables, chairs, stools, wall shelves, chest-of-drawers, and more. The Furniture is easy to assemble has no tools, screws, or glue. Each package comes with full assembly instructions.
Twelve Saturdays
Twelve Saturday is a fashion wear brand for football fans.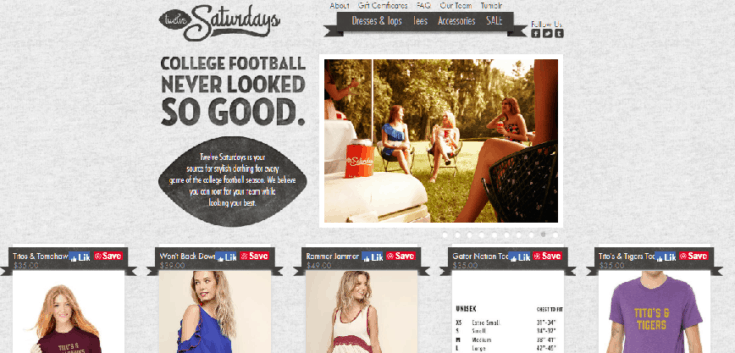 The store's founder, Liz Thomas, decided to combine her passion for fashion and college football to develop an innovative idea. Fashionwear that resonates with the team you love. Dresses for watching football? Why not, says Twelve Saturdays. As the site puts it, "You can root for your team while looking your best." They have a wide selection of beautiful dresses, and the product page not only contains details about the dress but you are also told which teams this dress would ideally match up with.
Conventional, unusual, innovative – These businesses have been built on varied visions, yet they are all success stories. So, derive inspiration from these business ideas, and don't be afraid to dream, and start acting on those dreams. Ready to set up shop? Shopify is always on hand to showcase your products online.