Introducing Seagram's Ginger Ale – The Perfect Blend of Zing and Refreshment!
Are you searching for a beverage that tantalizes your taste buds with a delightful kick and leaves you feeling refreshed? Look no further! Seagram's Ginger Ale is here to elevate your sipping experience to new heights.
Sip on Nature's Finest: Crafted from the finest ginger extracts, Seagram's Ginger Ale offers an authentic taste that comes straight from nature's bounty. Each bottle encapsulates the essence of handpicked ginger, delivering a crisp and invigorating flavor that will leave you craving for more.
Zest up Your Life: Need a little excitement in your daily routine? Seagram's Ginger Ale adds a zing of excitement to any occasion! Whether you're hosting a party, celebrating a milestone, or simply unwinding after a long day, Seagram's Ginger Ale is the perfect companion for every moment.
Ice-Cold Refreshment: Picture yourself on a scorching summer day, seeking solace from the heat. A chilled bottle of Seagram's Ginger Ale will become your oasis! Enjoy the tingling bubbles dancing on your tongue as you quench your thirst and experience a rush of revitalizing coolness.
Elevate Your Mixology Game: Looking to unleash your inner mixologist? Seagram's Ginger Ale blends splendidly with various spirits, making it an ideal choice for creating sensational cocktails. Upgrade your classic Moscow Mule, Dark 'n' Stormy, or even a mocktail with a splash of Seagram's Ginger Ale.
Choose Seagram's – Choose Quality: With a legacy of excellence, Seagram's has been a trusted name in the beverage industry for generations. 'Seagram's Ginger Ale is no exception, made with love and care to ensure each bottle delivers the same outstanding quality you deserve.
Embrace the Ginger Ale Bliss: Join the ranks of ginger ale enthusiasts who have made Seagram's their go-to choice. Indulge in the harmonious blend of zesty ginger and sparkling effervescence that brings joy to every sip.
Grab Your Seagram's Ginger Ale Now! Don't miss out on the ginger ale sensation that everyone's talking about. Head to your nearest store and quench your thirst with Seagram's Ginger Ale today! Embrace the joy of a perfect balance of zest and refreshment in every bottle.
Experience the difference with Seagram's Ginger Ale – Simply Irresistible!
Seagram's Ginger Ale Review
All opinions expressed in the post are my own and not those of The Coca-Cola Company."
Ginger Ale and I go way back. I remember as a little girl, playing at my grandparent's house with my cousin. In the fruit room (the room under the porch where Grandma stored her canning) under the bottom shelf, Grandpa had a stash of Ginger Ale. It was forbidden. Still, my cousin and I would sneak into the fruit room and guzzle the deliciousness.
My kiddos LOVE ginger ale. It's my go-to for belly aches. It's our choice with a little grenadine for a "Shirley Temple". It tastes awesome!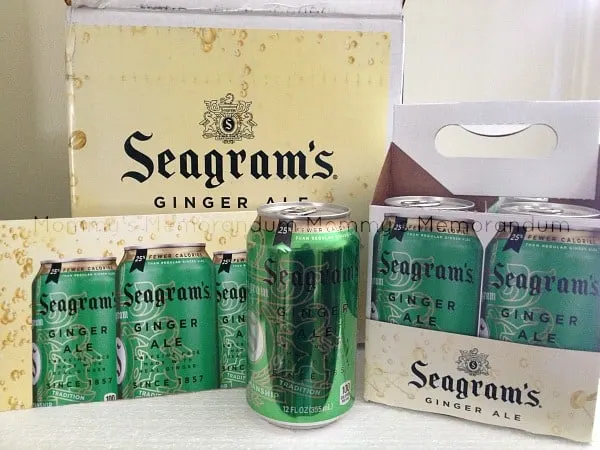 My kiddos can read, so when they read on the Seagram's can they've redeveloped their formula and the new version contains 25% fewer calories than before, they turned their noses up. I suggested we give it a try. Perhaps a blind taste test?
The kiddos rallied around, and I blindfolded them. They tried Seagram's Ginger Ale and Schweppes. After a few gulps and swiggs, they decided on the better flavor. Both of them thought Seagram's Ginger Ale was better. They couldn't believe it had less sugar! They, in fact, declared it the sweeter of the two. That's when I took a gulp…oh, man! Do I love the carbonated heat at the back of my throat and that mild, sweet burn on the sides of my tongue that soothes and refreshes? Yes!
Since it was Shark Week, we made our Shark Attack Punch Recipe using the Seagram's: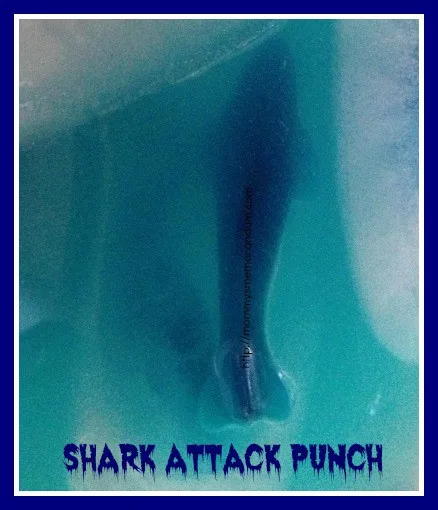 I haven't found the new Seagrams here in Winston-Salem yet, but it should be available nationwide.
If you enjoy beverages, I discovered this Fruit Punch Recipe made with Ginger Ale at Everywhere You Go. It combines tea, orange juice, lemonade, and ginger ale with fruit and apple juice.
It's summer, and Seagram offers a great variety of recipes for those that don't want to drink their Ginger Ale straight up. Discover a twist on your Seagram's Ginger Ale with these Seagram recipes.
We are very fond of Seagram's Ginger Ale. It's refreshing, and 25 percent less sugar is a bonus–especially when it doesn't taste like less sugar!