Mother's Day is around the corner and it's the perfect time to give mom some well-deserved "Me Time". Sanctuary Day Spa is the perfect get-away to give a mom a day of massage, facial, pedicure, or new hairstyle.
Friday I was able to experience Sanctuary Day Spa myself.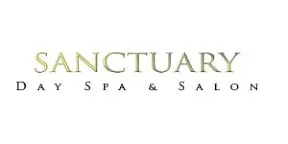 From the moment I walked through the doors, it was tranquility.
The lobby was clean and I was immediately greeted by Shanna who took me through the doors where paradise awaited.
She showed me to the locker room.
It was here I realized that Sanctuary Day Spa is no chain spa; they pay attention to the little things that make the experience about the person.
Things like, my name on my locker: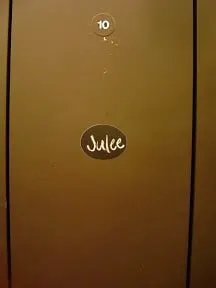 Inside the locker, a robe and sandals, both in my perfect size, awaited along with a towel.
I changed and sat in the waiting area.
The ambiance was perfect! Candles flickering, soft music that just seemed to soften the room.
Amberlynn greeted me and started my feet soaking.
The water was a delightful temperature.
After a few minutes, my feet were being treated to an amazing sugar scrub!
Feet dried off, Amberlynn lead me upstairs where I got cozy on the table and then the facial began!
It was so relaxing, so calming and so rejuvenating.
It's difficult to determine what part was my favorite.
Amberlynn started the pampering off with a Detox Mud treatment, a warm mud that bubbled beneath me as I rested on it.
It was unlike anything I had ever experienced and I couldn't believe it remained warm and bubbly through the entire session!
The facial was wonderful with facial massage, cleansing, and even a consultation to make the facial about me and my skin.
I have combination skin and Amberlynn worked in my T-zone to help tighten my pores and bring out all over beauty.
In between the steps of the facial, Amberlynn did an extremity massage.
The hand and foot massage were stellar.
At one point, she even used warm towels to wrap my feet and shins and it was heaven!
I left feeling awesome!
It was incredible how much detail was given during my session.
There was nothing overlooked.
Amberlynn made wonderful conversation and answered my questions about keeping my skin luminous and healthy.
About Sanctuary Day Spa & Salon:
Sanctuary Day Spa & Salon, a full-service wellness spa and salon serving the Salt Lake community for fifteen years, will be celebrating Utah moms by offering a special 2011 Mother's Day package. The package will feature two of Sanctuary's signature services, along with a special skincare kit that will leave moms feeling appreciated and rejuvenated.
Currently, Sanctuary Day Spa & Salon is offering Mother's Day packages that make gift giving easy and will leave Mom feeling beautiful and ready to take on the world!
2011 Mother's Day Packages:
Signature Facial (60 minutes) — This refreshing facial caters to specific skin types, including dry, oily, sensitive, aging, or acne-prone skin.
This treatment also includes:
Relaxation Massage (60 minutes) — This massage combines classic Swedish and modern-day techniques to relax the entire body by releasing tension and stress.
Image Skincare Starter Kit — Even after the pampering ends, moms can continue the spa experience at home with Image Skincare's popular skin cleanser and SPF moisturizer.
This year's Mother's Day package, originally valued at $190, is available now until May 8 at the Gateway, Fashion Place, and South Towne locations for a special price of $150. Package services are redeemable one year from the date purchased.
Sanctuary Day Spa at The Gateway
42 South Rio Grande Street
Gateway Plaza
Salt Lake City, UT
801.456.2375
Sanctuary Day Spa at the Fashion Place Mall
6191 South State Street,
Murray, UT
801.747.3801
Sanctuary Day Spa at the South Towne Mall
10450 South State Street
Sandy, UT
801.495.9252