As the mother of six, I care about my children's safety. I've had my share of panic attacks when I've turned around to find a child has ventured off on their own. My four-year-old has brought me more panic than any of my other children. He is wild. He is head-strong and fears nothing. He is the reason we don't have seven children!
He has "disappeared" and I've resorted to calling 9-1-1. He has wandered off and I've been beside myself in fear trying to find him. His favorite game last summer was "Hide-n-Go Seek" and there was even a time when we were separated and HE was afraid!
These things happen.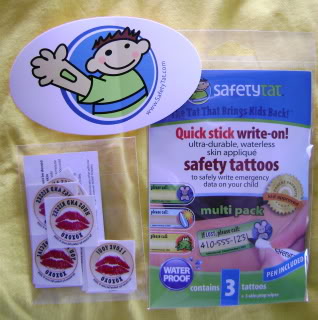 I was recently sent a product called Safety Tat. From the get-go, I love it. It is a temporary tattoo that you put on your child. It can be personalized with your number, or they offer a "write-on" tattoo.
We tried the Multi-Design which came with an Adorable Mouse, Frog, and Surf Board" design. The Winner of the iParenting Media Greatest Products Award, Mr. Dad Seal of Approval and the National Parenting Seal of Approval.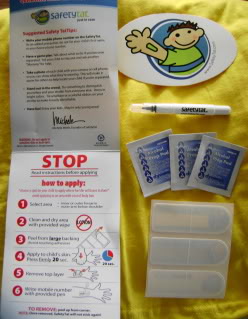 When they arrived, we took our time to review the kit. It included easy-to-follow instructions. A bumper sticker to show our commitment to our children's safety. A compact, waterproof pen, 2 alcohol wipes, and three Write-On! Safety Tats.
Within a couple of days we were headed out and felt it was a great opportunity to try out the Safety Tats.
I was impressed at how EASY they were to apply. There was no sponge, no water…just peel and stick! The pen was precise and didn't smudge.
Here's the application process:
1.)Select an area. Safety Tat recommends the inner or outer forearm or outer arm below the shoulder.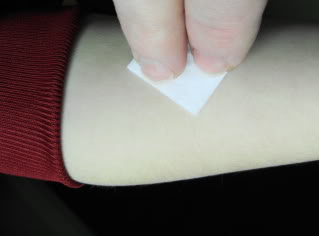 2.) Clean and dry the area with the provided wipe.
3.) Peel the tattoo from the large backing, avoiding touch to the adhesive.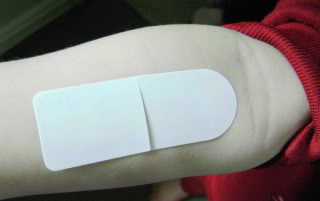 4.) Apply to the child's skin. Press firmly for 20 seconds.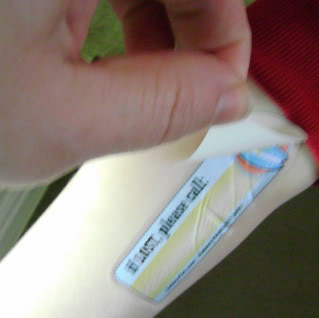 5.) Remove the Top Layer from the tattoo.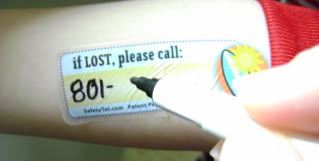 6.) Write a mobile number with the provided pen.
TO REMOVE:
Peel up from the corner. (Once removed Safety Tat will NOT stick again)
It was incredibly easy! My son thought it was great and was excited to get to "have a tattoo"!
I was concerned because he was wearing a sweatshirt and he gets "hot". We went out and ran around doing errands. When we got home from our uneventful afternoon, I pulled up his sleeve and the Safety Tat was still there and looking just like it did when we left!
The ink on the tattoo was still vivid and did not smudge.
The tattoo held up through a bath (though the corners did lift a tad).
Before bed, we removed the tattoo and there was no tugging of the skin and no adhesive marks or redness.
While we stayed together and there was no need to exercise our practice of "what to do if you don't see Mommy" plan, I believe these tattoos are necessities in the toolbox of
keeping my child safe
. My son is four and knows our phone number–but what if something happened and he "forgot" or was injured and couldn't speak?
Safety Tat doesn't waste precious time in aiding my child. He pulls up his sleeve and lets an adult know he needs help.
I love that they are waterproof and require NO water to apply. You just peel and stick. The "write-on" tattoos include a marker that's compact and precise. I love this!
Safety Tats start at just $7.99 for 4 tattoos and $9.99 for 6 Each includes a FREE tattoo marking pen. They come in a variety of designs and colors so your child will enjoy wearing these!
As a Mommy's Memorandum Reader, Safety Tat is offering a 10% discount off any order of $15 or more just use the code
MommyMemorandum at the checkout.
Disclosure: No monetary compensation was offered or accepted for this post. I was sent a sample kit from Safety Tat for review purposes. The opinions above are my own and were not in any way influenced by the sponsor. Other's experience may vary.