Fruit2O Essentials Review
One of my 2010 New Year's Resolutions was to make healthier choices. For me, this included cutting back on carbonated drinks and drinking more water. I am a woman who likes options, and let's face it, water lacks luster. Mother Nature created all these delicious flavors, and it seems like a waste of her efforts if I am only going to drink clear, tasteless water. Right?
That's what I thought, and then I had the opportunity to try Fruit2O Essentials.
Mother Nature is proud of this water!
Like typical water, Fruit2O Essentials is clear.
It has Zero calories and ZERO sugar.
UNLIKE your typical water, Fruit2O Essentials is packed with flavor!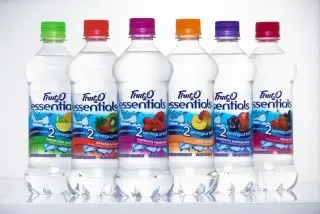 Six flavors to be exact:
Cranberry Raspberry • Strawberry Kiwi • Peach Mango • Citrus • Blueberry Pomegranate • Cherry Acai
Fruit2O Essentials takes water to a whole new level of refreshing.
The flavors really taste like fruit.
My absolute favorite was the Cherry Acai with the Cranberry Raspberry running a close second.
It was like sitting in the orchard.
I loved that they were subtle.
My least favorite flavor was the Citrus.
I'm not really a "Citrus" gal to begin with–I thought it tasted a lot like Diet Squirt.
The caps on the bottles are color-coordinated to their flavor to make grabbing your favorite easy!
The bottle is also clear, like the water, and easy to manage–even for my four year old.
Another great reason to drink Fruit2O Essentials is that, like their fruit counterparts, this water provides something unique…nutrients.
No.
We aren't talking about the horrible taste of that vitamin-enriched Coca-Cola Plus…we're talking about the same nutrients REAL Fruit provides.
At first, I thought each of the flavors had the same nutrients, but at a second glance, I realized they were all different.
My favorite, Cherry Acai, has "4-key nutrients found in 2 servings of Cherries and Acai Berries" these would be Manganese, Phosphorus, Vitamin B%, and Vitamin B6.
My second favorite, Cranberry Raspberry, is "specially formulated to provide 5 key nutrients found in 2 servings of Cranberries and Raspberries".
Manganese is listed as an "Excellent Source" while, Zinc, Vitamin #, Phosphorous, and Potassium are a "Good Source".
You can learn more about the nutrients in this fun and interactive Fruit2O Essentials Nutrient Explorer.
How awesome is that…drink water and get the benefits of 2 servings of fruit!
I love this concept.
It gets even better. Fruit2O Essentials also has 1 gram of fiber per serving.
That's something I truly appreciate!
Whether it was your 2010 Resolution or you're already drinking your recommended 8-glasses of water each day, Fruit2O Essentials is worth keeping in your refrigerator.
I found it refreshing and flavorful.
It was convenient to grab and take with me on the go, and the added fiber and nutrients are really something my "healthier choices" can appreciate.
Fruit2O Essentials is manufactured by the Sunny Delight Beverage Company and can be found in local grocery stores across the nation.
Singles retail for typically less than a soda pop– $1.50, or you can purchase through wholesale stores like Sam's Club or Costco in Fifteen pack and 20-pack between $9.99 to $12.99–though prices may vary.
Their website has coupons for $1.00 of two singles or 55 cents off a six-pack.
Next time you are looking to quench your thirst, grab a Fruit2O Essentials, experience real hydration, and fortify your body with some great nutrients, with ZERO calories and ZERO sugar added.

Disclosure: No monetary compensation was offered or accepted for this post. I did receive samples from Fruit2O Essentials for review purposes. The opinions above are my own and were not in any way influenced by the sponsor. Other's experience may vary.
We appreciate your subscription to Mommy's Memorandum