I received a Rubbermaid Party Platter in exchange for this post. All opinions are my own.
Elevate your hosting game with the Rubbermaid Party Platter. Versatile, stylish, and practical, it's the ultimate culinary companion. Taste perfection!
Here's how I imagine Martha Stewart talking about this great entertaining accessory.
Welcome, esteemed guests, to a world of culinary delight and artistic presentation! I am thrilled to introduce a remarkable creation that will elevate your hosting prowess to new heights: the Rubbermaid Party Platter. Prepare to be captivated by its ingenious design and unparalleled functionality, for this exquisite serving masterpiece is truly a game-changer in the realm of entertaining.
Crafted with utmost precision and an unwavering commitment to quality, the Rubbermaid Party Platter transcends the ordinary, transforming any gathering into a celebration of taste and elegance. Imagine a meticulously arranged assortment of delectable treats nestled within a pristine, yet practical, vessel that seamlessly blends style and convenience. It is a sight to behold, dear friends, as it effortlessly harmonizes the culinary masterpiece and the aesthetic allure.
Versatility lies at the core of this magnificent creation. Whether you are hosting a soirée of delectable hors d'oeuvres, an array of finger foods, or even an assortment of dainty desserts, the Rubbermaid Party Platter accommodates your every need with grace and ease. Its modular design allows for seamless customization, enabling you to curate a presentation that reflects your own unique flair. An ensemble of culinary delights has never been more alluring!
But let us not forget the practicality of this remarkable invention. The Rubbermaid Party Platter, with its durable construction and meticulously engineered dividers, ensures that flavors remain distinct and textures preserved. No longer will your guests contend with the dreaded mingling of tastes or the fumbling for elusive toothpicks. With this ingeniously designed platter, your epicurean creations are safeguarded and admired, as they should be.
Dear hosts and hostesses, the Rubbermaid Party Platter transcend the ordinary, unveiling a realm where functionality dances with elegance and presentation weaves a tapestry of culinary delight. Prepare to dazzle your guests with an artistic array of delicacies meticulously showcased within this culinary masterpiece. Let your creativity flow and your guests' taste buds rejoice, for the Rubbermaid Party Platter has arrived to transform your entertaining aspirations into a resplendent reality.
Our Rubbermaid Party Platter Review
It's the season of tailgating, football–or at our house–snack trays and movies. No matter what you're putting it together, Rubbermaid has a solution for all your food and snacking needs. We have enjoyed the Rubbermaid Party Platter.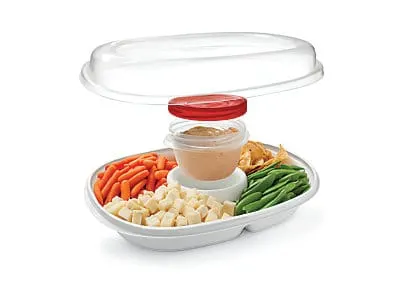 This lightweight party platter is a two-in-one food container created for those who entertain at home, and those who have plants to travel to bring their dish to the social event. Rubbermaid Party Platter is designed to keep food separated and a smaller leak-proof container fits into the center to hold dip. It all gets topped off with a secure lid that seals tightly, making transportation easy and safe.
We recently used our Rubbermaid Party Platter for chicken wings and veggies; the kiddos loved it!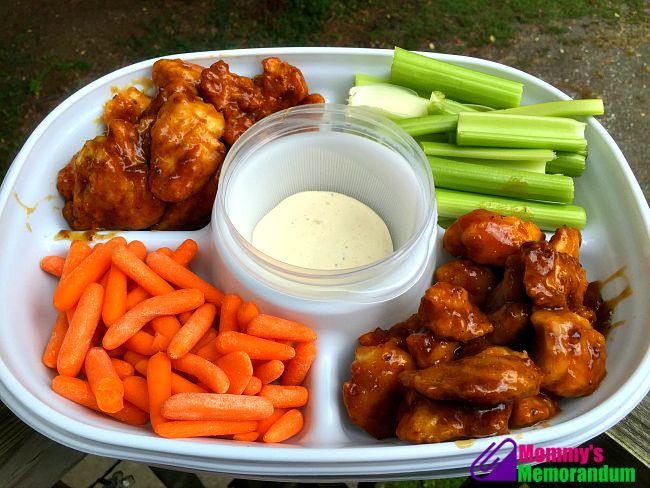 There's plenty to love about this Rubbermaid Party Platter:
Large outer container with a secure lid to hold chips, veggies, and other snacks
Removable Twist & Seal™ dip container nests snugly into the base
Leak-proof Twist & Seal™ lid secures the dip and prevents spills
Divided platter base keeps different foods and snacks separated
Outer lid snaps onto platter base for a tight seal and secure transportation
All components are BPA-free
Microwave, dishwasher, and freezer safe
Get more leak-proof Twist & Seal™ containers (#7J00) to serve more dip options at your party!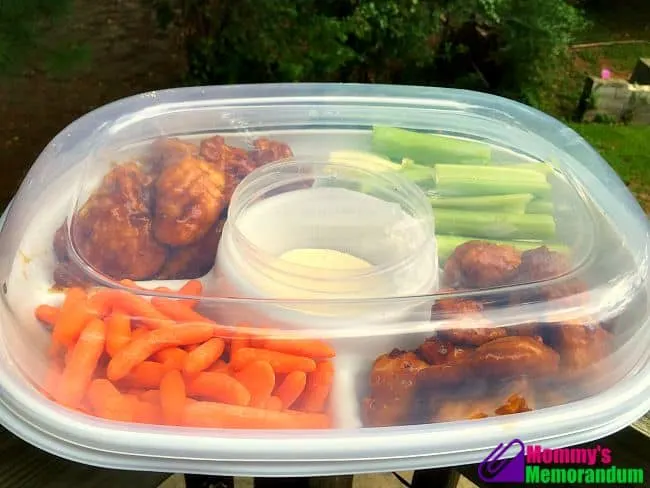 The four compartments are a good size. I managed to put an entire package of celery, a medium bag of baby carrots, and three pounds of boneless chicken wings in the platter, along with ranch dressing (note: I did not put the lid on the dip container in the picture).
This Rubbermaid party platter would be awesome for a holiday cookie decorating station, a vegetable tray, a cheese and meat tray, and more.
I love that it's priced at $8.99 and available nationwide at the stores I shop at Kroger, Publix, and Meijer.