Weeds overtaking your yard? Fido by your side. Can you use Roundup if you have pets?
You want your lawn to be the most impressive one on the block, but pesky weeds are getting in your way.
So, you head to the lawn and garden section at your local hardware store and see Roundup on the shelf. "Where there's a weed, there's a way," the packaging says. Is it too good to be true?
Roundup is the most common pesticide used in gardens. It kills a variety of plants, shrubs, and grasses. It's the first choice among home gardeners because it is effective, but it is also controversial.
Glyphosate, Roundup's active ingredient, is now considered a carcinogen for humans, and research links it to antibiotic resistance and hormone disruption. Still, it's used in more than 160 countries and is ranked second among U.S. lawn and garden weed killers.
So, what exactly is glyphosate, and is Roundup safe for pets?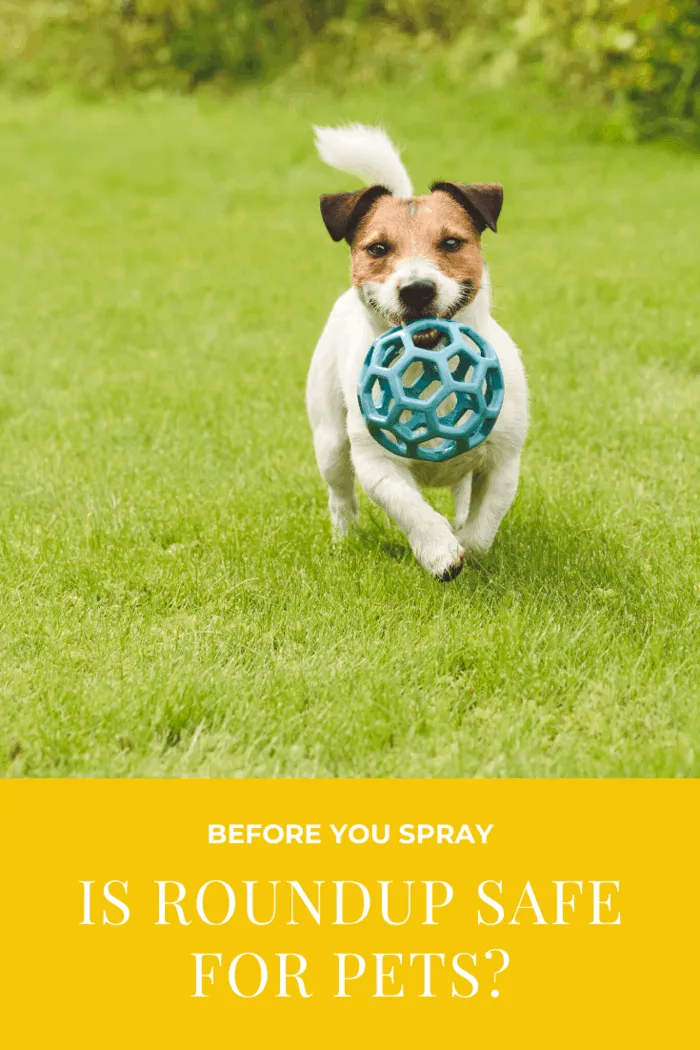 Before You Spray: Is Roundup Safe for Pets?
What is Roundup?
Monsanto introduced Roundup commercially in 1974 as an easy-to-use, effective killer of poison ivy, dandelions, kudzu, and other weeds.
When the company's patent expired in 2000, other companies began producing herbicides that contain glyphosate.
According to NPIC, more than 750 products containing glyphosate are available for purchase in the United States.
Glyphosate will kill most plants as it is a "non-selective herbicide."
It prevents them from producing proteins required for plant growth to kill plants.
The chemical stops the shikimic acid enzyme pathway, which is necessary for plants and some microorganisms to grow.
After treatment, annual plants die within two to four days, while perennials take up to ten.
The process may take longer if the environment is cool and sun exposure to the plants is limited.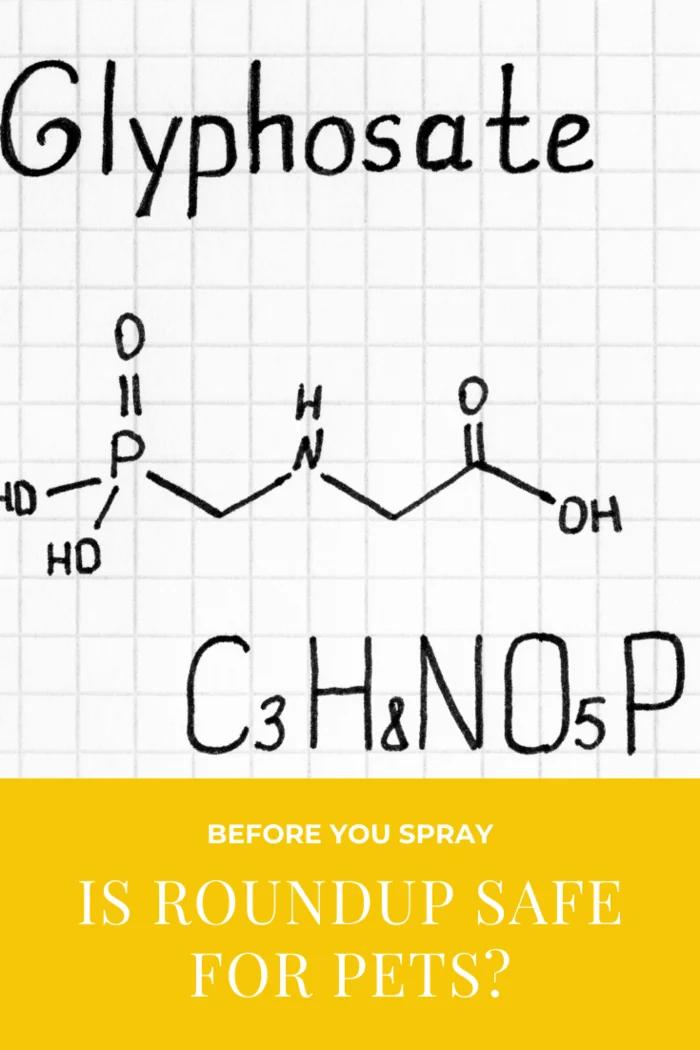 How Does Round-Up Affect the Environment?
While glyphosate use is widespread, there is little information on what happens to the environment once we introduce it.
When applied to plants, glyphosate binds tightly to the soil around it for up to 6 months.
The time depends on the environment and the type of soil it's deposited in.
Eventually, bacteria breaks down the chemical in the soil.
The United States government doesn't include glyphosate in its' testing of food for pesticides or monitor the chemicals that end up in human tissues.
There is no direct data on how much chemical exposure people experience from using it in their yards or living near farms or treating areas.
Researchers found that Glyphosate is in the majority of the rivers, streams, ditches, and other waterways in 38 states.
They also found it in 70% of rainfall samples.
Very little exists in groundwater because it binds so tightly to soil.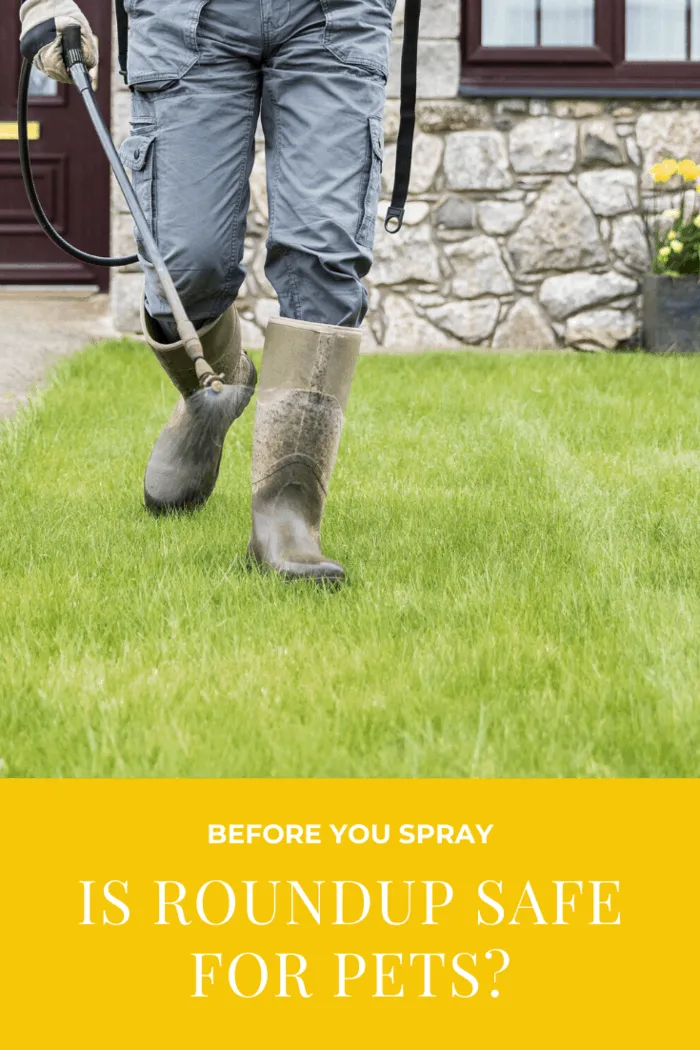 How Does Glyphosate Affect Humans?
The Environmental Protection Agency's (EPA) stance is that glyphosate has "low toxicity for humans," says online library.
In most cases, it is not harmful to humans unless we are exposed to much of it. They believe it to be no threat to public health.
However, combined with other ingredients (as it is in herbicides such as Roundup), it may be more toxic.
For this reason, there have been numerous class-action lawsuits filed against Monsanto.
Diquat dibromide, the other active ingredient used in Roundup, damages plants' cell membranes.
Scientists have linked diquat dibromide to cataracts in dogs and rodents and developmental effects in rodents and rabbits.
Researchers documenting the health consequences of Roundup discovered that people who are sick had been exposed to more glyphosate than healthy people.
More research shows it kills good gut bacteria and even damages human DNA.
There are several potential health problems linked to glyphosate exposure, including:
-Alzheimer's Disease
-Autism
-Birth defects
-Brain cancer
-Cancer
-Heart disease
-Liver disease
-Reproductive problems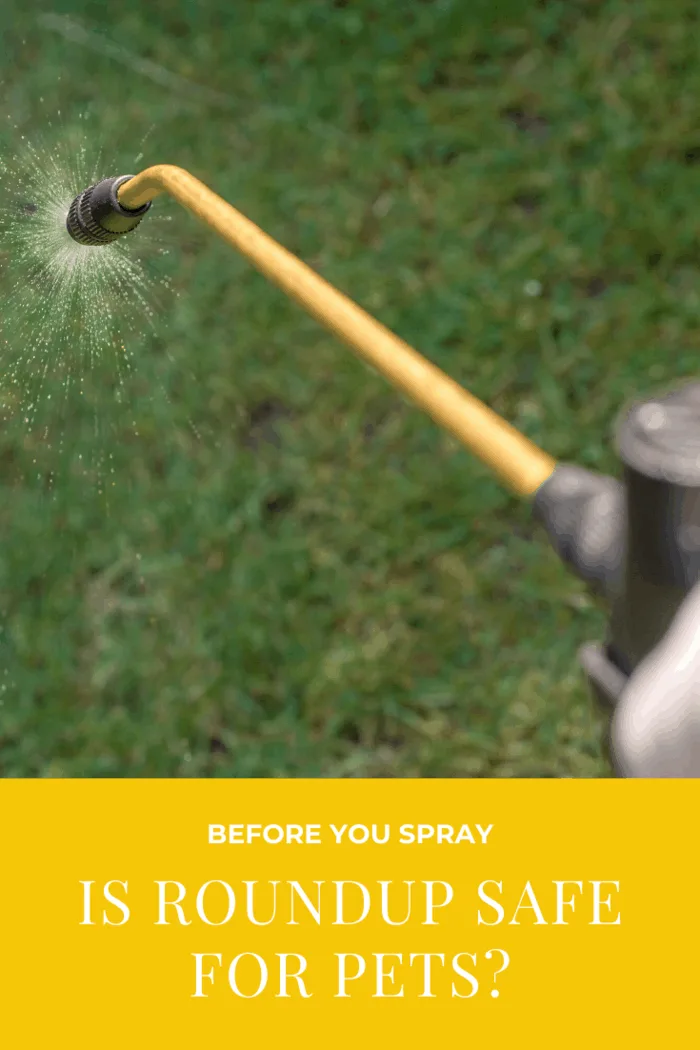 But Is Roundup Safe for Pets?
If Roundup is linked to so many health issues for humans, how can it be safe for your pets?
One study discovered that dogs had glyphosate levels that were 50 times higher than a human's level on average.
And research shows harm to health at these high levels and lower exposures.
Pets may be exposed to higher levels of glyphosate because they are lower to the ground.
They also walk on the ground with unprotected paws and often eat grass or food laced with the chemical.
Can You Use Roundup If You Have Pets?
According to its label, Roundup is safe for you and your pets to walk on once it has completely dried.
But this suggestion isn't for your safety or your pets. Monsanto suggests this to prevent tracking Roundup to other areas of your garden or lawn.
To be safe, if you're worried about pet safety when using Roundup, it's best not to use it at all.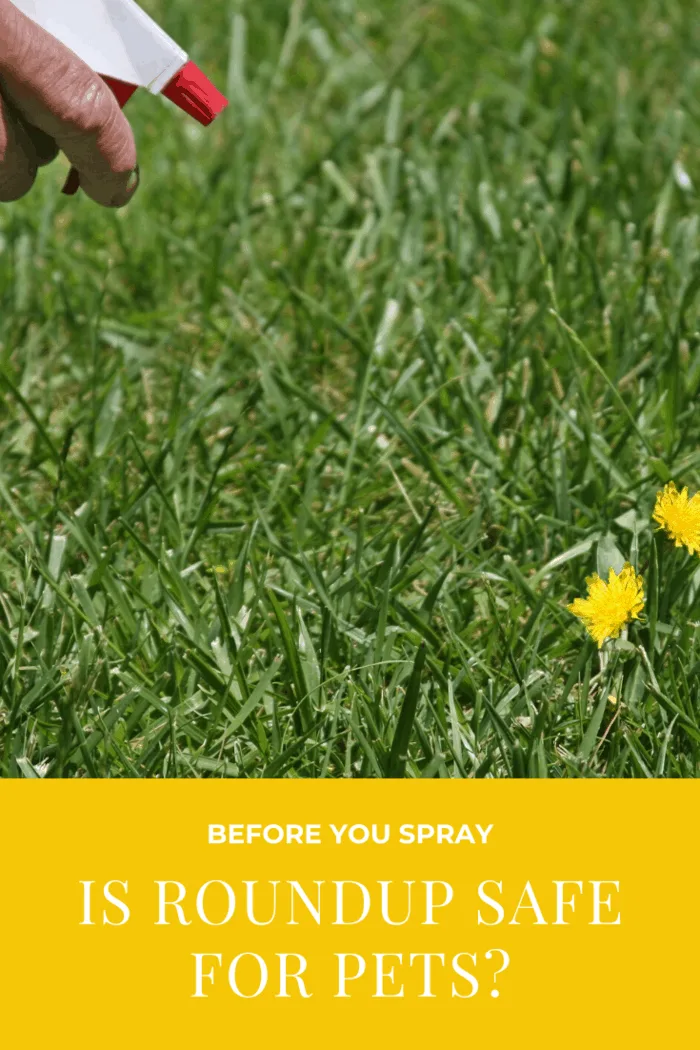 Alternatives to Roundup
You don't have to give up on herbicides if you're concerned about the safety of Roundup. There are alternatives to consider in conjunction with helpful gardening practices.
You must choose a contact herbicide as an alternative to glyphosate, which is a systemic herbicide. Systemic herbicides kill plants by entering their vascular systems, while contact herbicides only destroy plant tissue that comes into contact with the chemical.
Contact herbicides will only kill existing weeds. They are not absorbed into the plant or soil, so they have no effect on plants that emerge after being applied to an area.
Gardeners have the choice of alternative herbicides in the following categories:
Herbicidal soaps
Natural acids (such as vinegar and/or citric acids)
Iron- or salt-based herbicides
Essential oils (such as clove, peppermint, pine, or citronella)
Corn gluten
Many gardeners use a combination of these approaches and experience great results.
Better Safe Than Sorry
So, to answer the question, "Is Roundup safe for pets?" you have to decide how comfortable you are with the research.
The general consensus is yes; Roundup is safe once thoroughly dried.
However, drying times will vary depending on your area's environment and weather.
Double-check that your lawn and garden are dry before letting your pets roam the area.
And if your pets like to eat plants, it's best to skip applying Roundup altogether.
Choose a natural alternative to keep your four-legged friends safe.
If you're looking for more information on keeping your pets safe and happy, check out the Pets archive of the blog!
---