Cinco de Mayo is approaching and that means tons of one of my favorite foods, tacos! We enjoy Mexican food in some variation at least once a week and
Ortega
is a brand I grew up on. It's a brand that's been around for 150 years and continues to introduce new, quality products into their line of shells, tortillas, seasoning and sauces.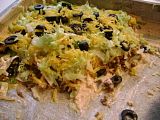 After looking through the
Mexican food recipes
on the Ortega sight, I had big dreams, but kept it simple and went with my tried and true
Taco Layer Dip recipe.
I love this recipe because it works with broken taco shells, chips or tortillas and my family eats it up!
I did make a few changes to the recipe. I used Ortega
40% Less Sodium Taco Seasoning
. It was super easy, added some color to the beef and it was a healthier choice without the added sodium. My family didn't know I used it and no one reached for the salt shaker when it was served. What a great way to make some changes!
I also used Ortega Taco Sauce in place of the salsa. I was a little apprehensive as I like the chunks of tomato and onion. Ortega Taco Sauce is smooth and has a great color to make the meal festive. Turns out, this was one of the best Executive Chef decisions I've ever made. My husband was especially fond of the flavor and couldn't stop picking the bottle up and saying, "This is good stuff!"
We were also sent Ortega's new
Whole Grain Taco Shells
and Whole Grain Tortillas. The taco shells did arrive broken, however, we've never let that stop us. They were perfect for scooping up the dip. With 16 grams of whole grains that compliment 6 grams of fiber and a delicious crunch, they kicked traditional corn shells to the curb!
We pigged out and there was still dip left, so the family piled the dip into the Whole Grain Tortillas for snacking. I love the texture of these and appreciate that my family is getting whole grains without making a big deal about it.
Ortega offers a great selection to make your Mexican Night an authentic flavor fiesta, from shells to toppings Ortega is the perfect host!
At the next Taco Night at your house, try building the tallest tower made of Ortega Taco Shells, snap a picture and enter to win their Tower of Taco Shells Contest.
To add variety to your Mexican-inspired meals, register for Ortega's Taco Club and receive recipe ideas, and coupons via email and be entered to win a Taco Night Party Kit!
I received Ortega products mentioned in this post from Ortega and Family Review Network in order to facilitate and honest review. The opinions, where expressed are my own, and were in no way influenced by the sponsor. Others experience may vary.