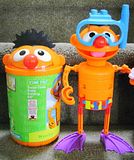 Your child can build Sesame Street's friendliest resident, Ernie, dressed in his bathing suit and ready to take a swim! This 14 piece set includes parts to build Ernie, complete with snorkel and flippers, on his way to the pool, lake or beach! "Play & Learn" activity sheet filled with collaborative and educational fun for parent and child is also included along with additional building ideas. When playtime is over store the parts in the handy canister for a quick and easy clean-up.
Swim Time Ernie retails for $11.99.
Swim Time Ernie is one of the cutest toys I have ever encountered. He's adorable in his speedo and those purple fins!
Li'l Man found him easy to assemble and, like Kick It! Elmo spent over an hour playing with him.
Ernie has large pieces for easy manipulation. I'm loving that these pieces are too big to be sucked up by our vacuum cleaner!
The storage container is added fun and helps Li'l Man identify this set easily when it's on the shelf.
Disclosure: I received no monetary compensation for this post. I received the product mentioned in this post from the sponsor to facilitate my review. The opinions are my own and were in no way influenced by the sponsor.