I was sent ResVitale Collagen Enhance in order to facilitate an honest review.
We share our unbiased ResVitale Collage Enhance Review.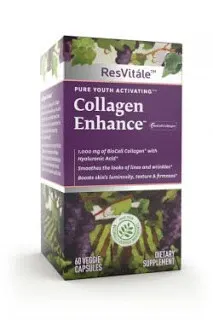 I continue to read about collagen.
It seems it's the "fountain of youth".
It keeps us looking young and our skin vibrant.
I've been taking ResVitale Collagen Enhance and while I have read mixed things about taking collagen for the skin, I do think it has helped keep my hair and nails healthy.
ResVitale Collagen Enhance offers three beauty proteins that are essential for hair, nails, and skin: Collagen, Elastin, and Keratin.
Collagen helps form the fibrous network that is the foundation layer of skin. Elastin is a protein that helps skin maintain its tone and texture.
Keratin makes up as much as 98% of your hair and 90% of your nails.
There are two convenient ways to take Collagen Enhance: in a capsule or in a chew.
I was sent the capsules, which are easy to swallow, and I love that they contain no preservatives, artificial colors, or flavors, and gluten-free.
The product claims to smooth the look of fine lines and wrinkles, boost skin's luminosity, texture and firmness, and help support joint comfort.
Collagen Enhance contains 1,000 g of BioCell Collagen with Hyaluronic Acid.
This formula will have you embracing youth and supports unparalleled protection against the effects of aging.
Some of the stars of the formula are organic french red wine, red grape and seed, wild natural Japanese knotweed extract, turmeric extra strength, and BioCell collagen.
Research conducted at Harvard University indicates that trans-Resveratrol may support the activation of the sirtuin gene, also known as the SIRT1 'longevity gene.'
Activating this gene, it is thought to slow the cellular aging process.
Resveratrol has also been shown to help increase the efficiency and energy production of mitochondria in cells and help support cardiovascular health by helping to increase nitric oxide production and blood flow.
I've read mixed things about being able to restore collagen in the skin.
Since taking Collagen Enhance, I can tell you that my monthly visits to the hair salon have had my stylist commenting on how healthy y hair is.
I also notice my fingernails grow much more quickly and are far stronger than they have been in the past.