A home renovation is always something to think carefully about, especially when you throw a busy life and children into the mix. The bigger the job, the longer it will take, and, crucially, the more mess and chaos it will create. It's important to consider everything before going ahead with your project to ensure that you can get through it in as stress-free a way as possible.
You will get frustrated, and sometimes things don't go according to plan, but if you've thought about all the options, and you know what you're doing; a home renovation can be a wonderful way to add value to your property, to give yourself extra space, or simply to be able to update it and enjoy it more.
Here are some of the things you should be thinking about before starting a home renovation.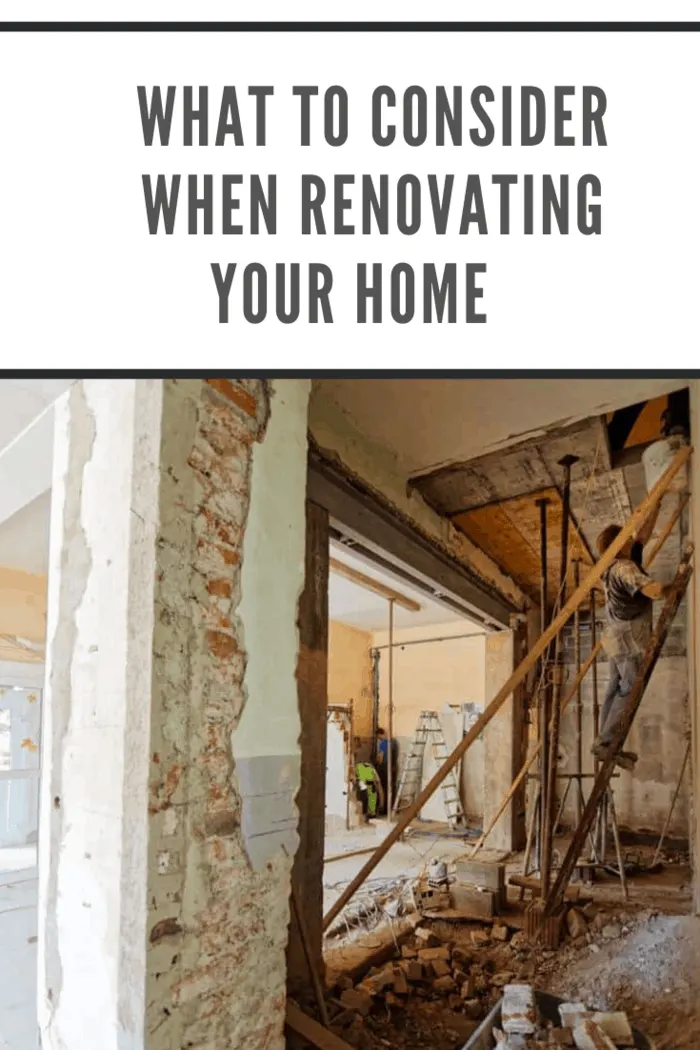 Know Your Budget
Perhaps the most important thing of all, no matter how big or small the job at hand may be, no matter whether you are planning to do all or most of it yourself, or you're getting experts in to help you, is to know what your budget is and stick to it says Investopedia.
Buying all the materials and then running out of cash to pay the building team, for example, will cause you no end of problems, including angry contractors and a half-finished house.
A realistic budget means that the costs won't spiral out of control, leaving you with financial problems that easily could have been avoided.
The experts at Bonsai Finance say, If you know your budget, you can quickly search for online installment loans to cover the work, knowing that you won't need to borrow anymore and that you are comfortable with the amount you will be paying.
Of course, sometimes unforeseen events mean that prices will increase, so it's helpful to have a contingency fund as well.
It's better to have this money and not use it than not have it and need it.
To work out your budget, you need to price up the materials you will need, and you should speak to contracts about labor costs.
This way, you can determine when you should do the work yourself or whether your budget will cover a professional.
Remember, if your renovating skills aren't great, it will always be better to wait until you can afford an expert to get the job done right the first time.
Choose A Trustworthy Contractor
If you have decided that you want a professional contractor to do the renovation work in your home, you need to choose one that can do a good job, is within your budget, and is professional and trustworthy.
The problem is there are so many contractors out there that it can be a daunting task trying to find one that suits you and that you are sure will do a great job in your home.
Reviews are always a good place to start, says thebalancecareers.com.
Read as many online reviews as you can about the contractors you are considering, and you will soon get a good idea of what they are like to work with.
You will be able to see if they stick to their costings if they leave homes tidy and clean if they work long hours or are only there for a short amount of time each day.
Read both good and bad reviews (assuming there are any), and you will have an excellent overall view of what they are like.
Word of mouth is also a good way to find excellent contractors reminds Invespcro.com.
Ask family and friends for recommendations, and you will be given the contact details of good people to work with.
A recommendation like this is great because no one is going to want you to have bad service from it, so you should only get excellent contractors out of it.
Be Realistic
You may have a stunning design in your head, and you may know just how you want your home to look once the renovation is done, but if your budget, the space, and the time allowed don't match up to that idea, you may need to make some compromises.
Being realistic is so very important when it comes to a big job, such as redecorating or remodeling a home, because it ensures that the job can actually be done.
It's important to have dreams and ideas, and this is what your contractor will start with when you sit down and discuss your plans with them.
It would be best to listen to what they say about what is possible and what isn't, especially when it comes to the costs allowed.
It could be that what you want to be done is entirely possible, but that it could double your budget.
This is what you really need to consider before deciding what to do.
If you cannot change your plans because you are absolutely in love with them, then it might be worth thinking about having your renovation done in stages so that each part can be completed and paid for before moving on to the next.
It will take longer, of course, but it will at least mean you aren't left with an unfinished area of the house.
Can You Cope?
Finally, Business Insider asks, can you cope with the mess and the chaos about being produced?
There may be rooms in your home that can no longer be used, at least in the short term.
Dust and debris will be everywhere.
Strangers will be in your home taking things apart and working hard, and you will need to look after them and ensure they are happy as well as carrying out your day-to-day activities.
Then there are the children. Are they going to deal with the changes being made in their home?
If they are particularly sensitive to change, says verywellfamily.com, it could all be too much for them, and even if they aren't sensitive, they may find it disconcerting to be no longer able to play in the lounge or the backyard when they want to.
It can be bizarre for them to find new people in the house.
In most cases, the disruption will be worth it; the home you live in once it has been done up will not only be beautiful but just as you want it.
However, you need to think of the interim and ensure that you and everyone else living in the property can successfully deal with it.
The smoother the process, the happier everyone will be.