A Fiesta of Flavor awaits with this easy slow cooker taco soup recipe!
I love this crock pot taco soup because it's pretty much a dump-and-go easy recipe with beans, green chiles, and southwest flavors enveloped in a delicious tomato-based broth and garnished with your favorite taco bar toppings.
We had it tonight. It took minutes to prepare and filled the house with an aroma that had compliments from family coming home from working in the crisp fall weather.
I love this crock pot taco soup because it's pretty much a dump-and-go easy recipe.
The best part is in addition to being a delicious soup, you can garnish it with your favorite corn chips, and taco bar ingredients.
It's one of my favorite recipes for busy weeknights.
I think it's one of the best taco soup recipes.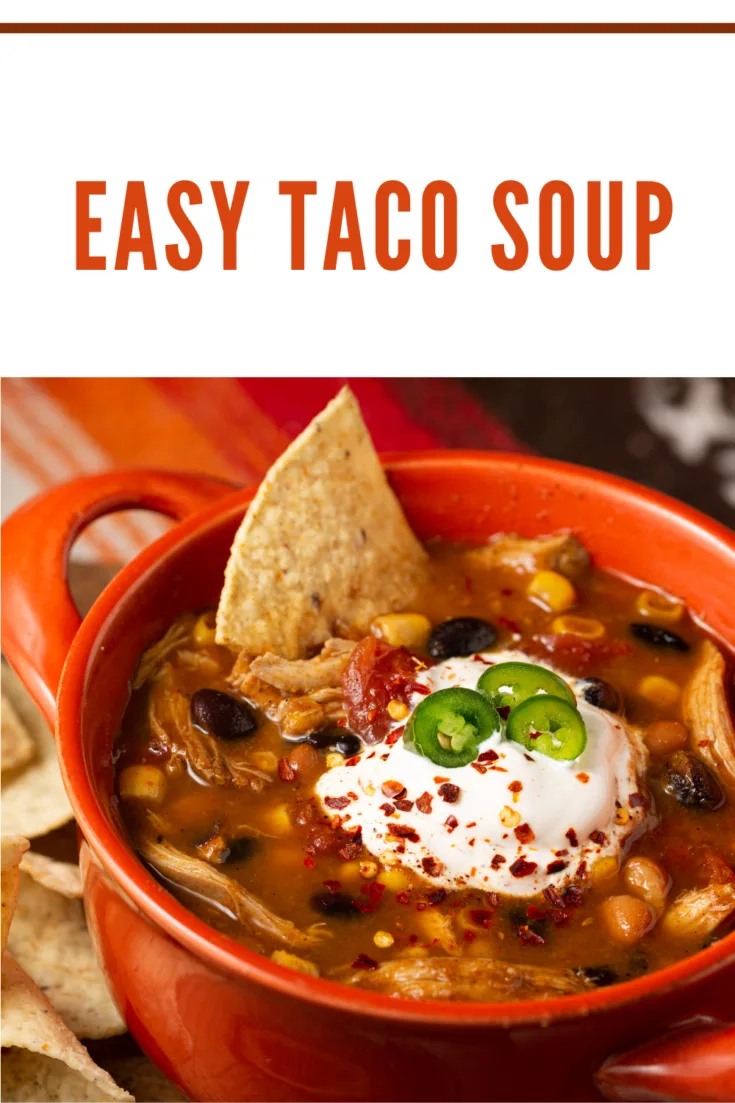 Recipe: Taco Soup
Recipe Type: soup
Cuisine: Mexican
Ingredients
1 can of garbanzo beans
1 can kidney beans
1 can black beans
1 can corn
2 cans of diced tomatoes
1 can (4 oz.) green chiles, diced
1 pound shredded chicken or ground beef
1 package of taco seasoning
1.5 cups water or beef broth
Optional: tortilla strips, sour cream, shredded cheese, taco sauce, black olives, sliced green onion, additional green chilies, a squeeze of fresh lime juice, and other taco favorite toppings
How to Make Slow Cooker Taco Soup
Open all canned items and pour them into the Crockpot. Add meat, taco seasoning packet, and water.
Allow simmering for at least 1.5 hours.
Serve topped with shredded cheese, sour cream, and tortilla chips.
Enjoy!
Store leftovers in an airtight container.
You can also switch out or add pinto beans to the mix.
Ground beef can be replaced with ground turkey.
Kick up the heat by adding chili powder–I add 1/2 teaspoon but more or less can be used depending on how much heat you like.