Fruit Preserves Bars: A Delicious Dessert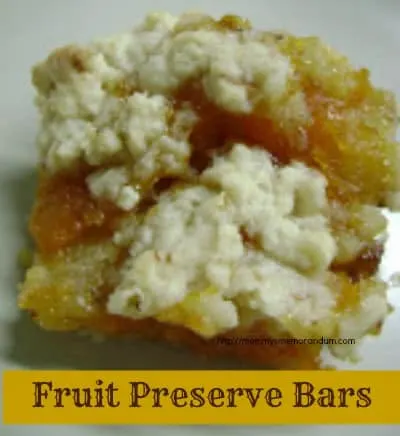 This dessert is a taste topper! It makes up quickly and brings rave reviews.
Ingredients:
3/4 cup butter
1 cup sugar
1 egg
2 cups flour
1/4 tsp. baking powder
1-1/3 cups shredded coconut
1/2 cups walnuts
1/2 tsp. vanilla extract
12 oz. fruit preserves (we used apricot this round)
How to Make Fruit Preserves Bars
In a large mixing bowl, cream butter and sugar. Add egg; mix well. In a separate bowl, combine flour and baking powder. Gradually add to butter/sugar mixture.
Add coconut, walnuts, and vanilla; mix thoroughly.
Press two-thirds of the dough into a greased 13″x9″ pan.
Spread with preserves; crumble the remaining dough over the preserves. Note: dough will have a cookie dough-like consistency so it won't crumble.
Bake at 350 degrees for 30-35 minutes or until golden brown.
Cool pan on wire rack.
Cut into squares.
Yields: 36 bars