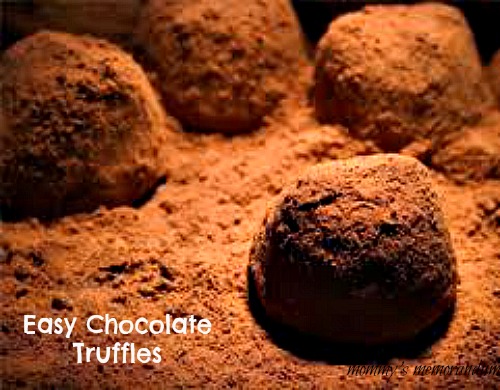 Handmade chocolate truffles are easy and elegant.
Named for their resemblace to truffle fungus, chocolate truffles are a chocolate confectionery traditionally made from chocolate ganache.
Created by M. Dufour in Chambéry, France in December 1895, it wasn't until 1902 in London when Antoine Dufour sold them in his Prestat shop that they gained public recognition.

Easy Chocolate Truffles Ingredients:
1 cup heavy cream

8 oz. bittersweet chocolate chips

8 oz. semisweet chocolate chips

2 Tbsp. coffee, orange or hazelnut liqueur

2 tsp. vanilla extract

1/2 tsp. kosher salt

1 cup unsweetened cocoa powder
Easy Chocolate Truffles Directions:
In a medium saucepan, bring cream to a simmer.
Remove from heat.
Add the chocolate and stir until it's melted and the mixture is smooth.
Stir in liqueur, vanilla and salt.
Pour the mixture into a shallow bowl and let stand for 15 minutes.
Cover with plastic wrap and refrigerate until firm, at least 2 hours and up to one week.
Place cocoa in a small bowl.
Using a 2-tsp. cookie scoop or 1-inch melon baller, scoop enough chocolate to make a one inch ball.
Roll the ball in cocoa, shaking off excess, and place in an airtight container.
Repeat with the remaining chocolate, placing wax paper between each layer of truffles.
Refrigerate for up to three days.
Serve at room temperature.
For added variety:
Roll in finely chopped nuts, shredded coconut, crushed toffee or powdered sugar.
Makes 50.