These Chocolate Peanut Butter Cheerios Bars are a great anytime snack. They use the brand that played a big part of my childhood Cheerios.
We hate a lot of Cheerios growing up. The brand was introduced on May 1, 1941, as CheeriOats, but the name was changed to Cheerios in 1945, the year my dad was born.
Sometime after that yellow box became so familiar at our breakfast table, Cheerios introduced Cinnamon Nut Cheerios in 1976. Three years later came Honey Nut Cheerios. The latter was so popular, due to marketing, they sold 1.8 million cases of Honey Nut Cheerios in its first year!
In 2015, Cheerios celebrated its 75th birthday. I like a brand that's been around awhile.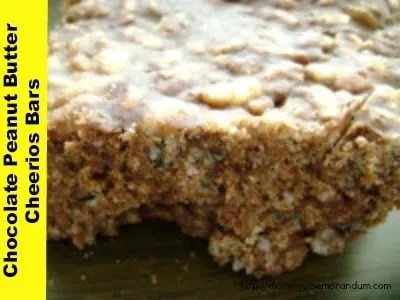 This Chocolate Peanut Butter Cheerios Bars Recipe features the Chocolate Cheerios. Chocolate Cheerios are made with cocoa and arrived on grocery store shelves in 2010.
Chocolate Peanut Butter Cheerios Bars Recipe Ingredients:
1/2 c. corn syrup
1/4 c. brown sugar
1/2 tsp. salt
1 c. peanut butter
3 c. Chocolate Cheerios
1 (6 oz.) pkg. chocolate chips
1 tsp. vanilla
Chocolate Peanut Butter Cheerios Bars Recipe Directions:
Butter 9″x9″x2″ pan.
In a large pan heat syrup, sugar, and salt to boiling.
Stir in peanut butter, remove from heat and add vanilla.
Pour over Cheerios and chocolate chips.
Refrigerate for 1 hour.