Purify the Air You Breathe- Rabbit Air BioGS SPA-421A Ultra Quiet HEPA Air Purifier Review
Did you know that the air in your house can be ten times more polluted than the air outside? That's a frightening thought. Here in Salt Lake City, we get what we refer to as "THE INVERSION." If you've ever been to Salt Lake City, you know we are a city inside a "bowl." Majestic mountains encircle us, and the result is pollution gets trapped in the Valley.
If you've been a follower of my blog, you also know that I have children and a husband who suffers from allergies. As their eyes swell up and itch, their noses drip, and they become congested. It's terrible.
For six weeks, we have been reviewing a Rabbit Air BioGS SPA-421A.
This model is available in three color choices: Chrome Silver, Pearl White, Lime Green, or Metallic Blue. We selected Chrome Silver.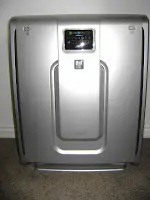 If you're unfamiliar with Rabbit Air, allow me to introduce you to a company recognized for its environmental commitment.
Their products are "high tech and low impact." One of the ways Rabbit Air demonstrates this low impact is with their Brushless Direct Current Motor.
It naturally absorbs and destroys harmful germs and bacteria. Simultaneously, the Rabbit Air signature Toxin Absorber Filter destroys VOCs (Volatile Organic Compounds) and other harmful chemicals before you breathe them into your lungs.
We set up the Rabbit Air BioGS SPA-421A with ease.
It took literally five minutes, and it was running, cleaning our air.
My children love the display. It shows the allergens/air quality and odor and chemical levels in the air.
My kiddos thought it was a hoot to smack the carpet in front of the Rabbit Air, watch the sensor change from green to red, and then work its way back down as the air was cleaned.
The Rabbit Air BioGS SPA-421A is quiet.
It purrs slightly, but it's not at a level that interrupts the conversation or daily activities. In sleep mode, it is silent.
Within 45-minutes of the Rabbit Air being on, the sniffles and watery eyes ceased.
My husband has not had to take a single allergy pill in six weeks!
My kiddos are breathing easier–if they play outside, allergies sometimes attack, but in less than an hour in the house, they are back to normal…no drowsiness from allergy pills!
My dusting work is done in the room that holds the Rabbit Air.
Where I had to dust every other day, there's hardly any dust in a week. I love that!
The Rabbit Air is attractive, and here's a feature that I love…it has a sensor that tells me it's time to change the filter.
It's that simple. No wasting money on a monthly filter change.
The Rabbit Air is helping our budget and improving the air we breathe.
From the Rabbit Air website:
Q: How does an air purifier clean air?
Viruses, fungus, bacteria, and hundreds of other germs are always carried in the air. If inhaled into the lungs, germs can cause cold, flu, pneumonia, and other respiratory infections. When these germs lodge in your lungs, your breathing can be disrupted and become ill. American Lung Association
A: Air purifier cleans the indoor air by drawing the polluted indoor air into the unit and trapping the particles, allergens, and contaminants onto a filter.
Rabit Air BIOGS SPA 421A MRSP
The Rabbit Air BIOGS SPA-421A has a manufacturer's suggested price of $329.95.
It has ZERO ozone emissions, works best in a room 600 square feet or less, weighs 17 pounds, and measures 22.5H x 18W x 9D.
Are you ready to experience life with clean air?
Disclosure: I received no monetary compensation for this post. . I received the product mentioned in this post to facilitate an honest review. The opinions are my own and were in no way influenced by the sponsor. Other's experience may vary.
We appreciate your subscription to Mommy's Memorandum.