Growing up with the melodies of Willie Nelson and the timeless tunes of Country Music in the background, it's no wonder that the excitement is palpable as the Pure Country franchise gears up to release the much-anticipated third film in the series, "Pure Country: Pure Heart," on August 1st. The franchise already boasts two successful titles, "Pure Country" and "Pure Country 2: The Gift."
With the release date approaching, the anticipation only intensifies as "Pure Country: Pure Heart" garners rave reviews and receives the prestigious Dove seal. This film promises to be a fun and heartwarming experience for families to enjoy together during this summer season.
I had the privilege of sitting down with the talented Kaitlyn Bausch, who plays "Ada Spencer," and the gifted Cozi Zuehlsdorff, portraying "Piper Spencer," who are the two lead sisters in the movie. In the film, their harmonious voices create a mesmerizing duet that leaves audiences in awe. When asked if they plan to continue singing together, Cozi joyfully shares that they are real-life friends and love singing together, whether it's professionally or just for fun.
Kaitlyn opens up about the filming process, reflecting on their favorite scenes. She mentions "Nobody's Stranger" and "Slide" as the two standout moments. The "Slide" scene was one of the first they shot in the entire film, and it solidified their bond as sisters on and off-screen. Scenes where they act like sisters and connect on a deep level hold a special place in Kaitlyn's heart.
However, the journey to create such an enchanting film did not come without challenges. Kaitlyn reveals that one of the most difficult aspects of filming was trusting her choices and believing in her rightful place on the set. Overcoming this obstacle required embracing self-assurance and forming close bonds with the phenomenal director Damon and the entire cast and crew.
Cozi, who has a musical background and even wrote a song for "Dolphin Tale 2," had the unforgettable experience of performing with the legendary Willie Nelson on screen. When asked if Willie offered her any songwriting tips, Cozi playfully says, "If I told you, I'd have to kill you." She goes on to share that the most valuable lesson she learned from Willie and other big names she worked with, including Morgan Freeman, was to watch them and learn from their example.
One of the unique aspects of the film is its strong female leads, with very few male characters. Surprisingly, this fact did not register for Cozi during filming, proving the film's empowering nature and the normalcy of strong female representation in leading roles.
The camaraderie on set was remarkable, with Kaitlyn expressing her gratitude for learning from generations of talented women like Myra Turley, Amanda Detmer, and Laura Belle Bundy. Working with such brilliant, strong, independent, and beautiful women was a pleasure for both Kaitlyn and Cozi.
As for the similarities between the actresses and their characters, Kaitlyn finds that Ada's sincerity and big heart resonate with her own personality, while Cozi shares a sense of right and wrong with her character, Piper, though she admires Piper's directness in speaking her mind.
For Kaitlyn, playing Ada felt like a role she was destined to portray, considering her lifelong love for country music, singing, and playing the guitar. Cozi, who doesn't naturally have a Southern accent like her character, stayed in character throughout filming to ensure authenticity.
The on-screen chemistry between the two actresses translates into a heartfelt friendship off-screen, forged during their many shared scenes, except for a few instances. Kaitlyn and Cozi take immense pride in their work and the final product they have created.
Behind the scenes, Cozi, a college student, balanced her college studies in biology in between filming. Despite the challenges, the passion and dedication of the entire team shone through, resulting in a beautiful and inspirational family movie that feels genuine and relatable.
Recipe from the Movie:
One of the bonus features on the Blu-ray and DVD is "Me Oh My-Meemaw's Pecan Pie!" which includes a recipe from the film for Pecan Pie – a country favorite!
Pecan Pie is one of the easiest pies to make and this recipe is not only easy but delicious!
Make Mee-Maw's Pecan Pie for Movie Night!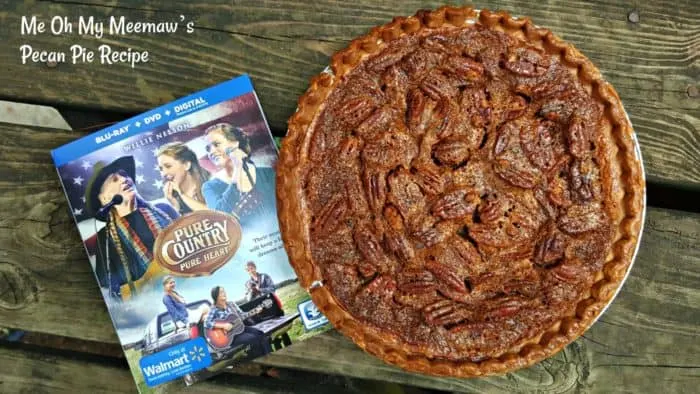 Pure Country Pure Heart
The film is a true celebration of family, friendship, and the power of music. Audiences can look forward to an unforgettable cinematic experience that will leave them uplifted and humming along to the soul-stirring melodies of Pure Country: Pure Heart. So, kick up your boots, gather your loved ones, and immerse yourself in this heartwarming tale, releasing on August 1st on DVD, Blu-ray Combo Pack, and Digital HD. Don't forget to try out "Me Oh My-Meemaw's Pecan Pie!" – a delicious country favorite featured as a bonus recipe on the Blu-ray and DVD.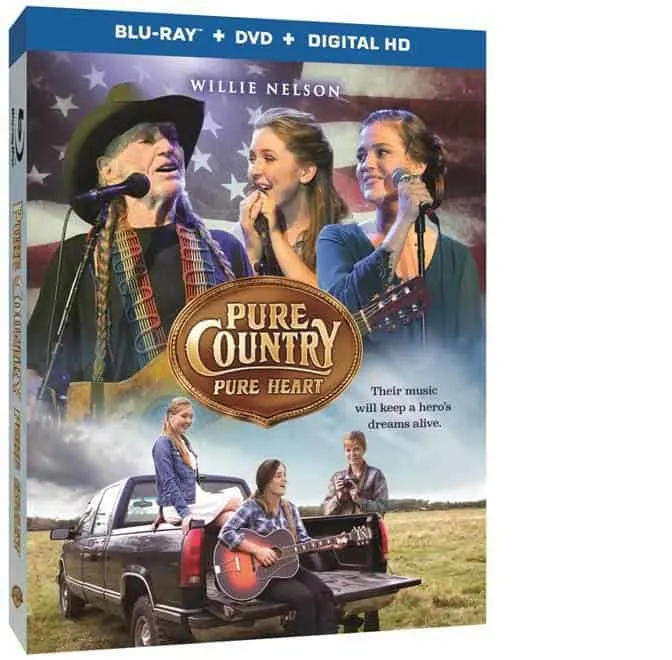 Pure Country: Pure Heart boasts 23 songs, including 16 new songs making their debut in the film.
Among the featured songs is:
Willie Nelson's beloved "We Don't Run"
Laura Bell Bundy's all-new "Grass Ain't Greener"
Ronny Cox penned-and-performed "Silver City"
There's also a bevy of songs from award-winning country-music songwriters – including:
Trent Dabbs & Jabe Beyer
Jon Kenzie
Maren Morris
Dallas Davidson & Natalia Starzuynski
The songs are performed in the film by Bausch, Zuehlsdorff, Barnes, Bundy, Cox and Nelson.
The soundtrack will be released on July 28 by WaterTower Music.
Pure Country: Pure Heart is rated 'family-approved' by The Dove Foundation and is the third film in the Pure Country series.