I grew up with Willie Nelson singing in the background and Country Music. It might be why I am so excited to share with you that the Pure Country franchise will be releasing the third film in the series, Pure Country: Pure Heart on August 1st. Other titles include Pure Country and Pure Country 2: The Gift.
Pure Country: Pure Heart is already getting rave reviews and has been awarded the Dove seal.
I was fortunate enough to see it and it's a fun summer movie to watch and sing along to with your entire family.
I had the opportunity to sit down and discuss Pure Country: Pure Heart with Kaitlyn Bausch (
One Life To Live
) – "Ada Spencer" and Cozi Zuehlsdorff (
Dolphin Tale
,
Dolphin Tale 2
) – "Piper Spencer" who play sisters in the movie.
In the movie, Ada and Piper, sing together. Their voices are a beautiful duet. It begs the question of whether the two have plans to continue singing together.
"We are friends in real life, so we love singing together whether it's professionally or just for fun." shares Cozi.
Kaitlyn opens up about filming and their favorite scene.
"We have two top scenes. Nobody's Stranger and Slide. Slide is one of the first scenes we shot in the whole movie. Cozi and I bonded right away and really any scene where it's the two of us acting like sisters and bonding that way are my favorite."
It segues into the most difficult obstacle Kaitlyn experienced in filming this movie and she opens up about how she overcame it.
"I think, honestly, just trusting my choices and knowing that I deserve to be there was probably the most difficult thing about filming. Overcoming it and learning to trust myself and making friends. Our director Damon is so phenomenal. Letting myself be comfortable with the experience of filming. The whole casting crew is so incredible in overcoming it. "
Cozi, who has a musical background, during the filming of Dolphin 2, she wrote a song, that was played during the movie's ending credits.
There is a scene where she is on stage with the legendary Willie Nelson. It's a moment where acting fades into real life and her face is filled with such joy and awe.
Being a songwriter herself, I asked if Willie offered any songwriting tips and if so, could she share?
There is a pause and then she says,
"Well. If I told you, I'd have to kill you."
She laughs and continues:
"Really our time with Willie, it's true with all the big names I've worked with, including Morgan Freeman. They all share the same mentality, which is "watch me and that's how you'll learn" rather than "I'm going to give you advice".
"I'm usually chatty, but I was my most quiet the day we filmed with Willie because I wanted to just watch and learn from his example."
"My mom actually took this amazing picture of me standing next to him behind the scenes, where he is just fooling around on his guitar and I am just watching him. It will probably be my one of my most favorite pictures of my whole life because it's just sharing the stage and a moment in time with a legend."
The film has very strong female leads. There are actually very few men in the movie.
Cozi has never been in a film that has been so predominately female, but points out, "I didn't really notice. A lot of time women are asked questions, when it's a strong female lead film if they were intimidated, was it incredible? I think it speaks most to women that I didn't even notice. It was just another day in my character's life."
Kaitlyn points out, "It's incredible because it's generations of women. To learn from Myra (Turley) and Amanda (Detmer) and Laura Belle (Bundy) was incredible to be part of the support and learn from all of these different, incredible, brilliant, strong, independent, beautiful women was such a pleasure every day to get to be a part of and work with. They are really sweet people."
Both Kaitlyn and Cozi have similarities to their characters.
For Kaitlyn, her character "Ada takes everything seriously, which is something I tend to do a lot. She has a big heart and love for everyone she meets."
Cozi, who plays a 14 year old in the movie, feels "Piper and I both have a strong sense of right and wrong. One of the things I love is that I am more cautious with my words, but Piper just says what she's thinking, which I kind of love."
It's a role Kaitlyn has been working towards throughout her life, a long-time country music fan, "I feel life prepared me for the role. I've always loved to sing and play the guitar. As a small girl I always practiced a Southern Accent."
For Cozi, she does not have a Southern Accent so she just stayed in character and didn't let the accent slip while filming.
Kaitlyn recalls the first time she read the script and loving it. "Every time I read through it, I found something else that I connect with and loved."
Cozi, "It was great being part of a family movie that is beautiful and inspirational and wasn't overly sentimental. It was very real. Kaitlyn and I were so excited to be able to use all the tools in our acting toolbox; we got to experience every emotion. We trusted the process and it created something beautiful."
The biggest take away from the movie is the friendship that developed between Cozi and Kaitlyn.
The two were in every scene of the movie, "except maybe four" adds Kaitlyn. "There was a lot of work that went into it and we are really proud of ourselves and the finished the product."
Behind the scenes, Cozi was a college student and in between scenes was studying biology.
One of the bonus features on the Blu-ray and DVD is "Me Oh My-Meemaw's Pecan Pie!" which includes a recipe from the film for Pecan Pie – a country favorite!
Pecan Pie is one of the easiest pies to make and this recipe is not only easy but delicious!
Make Mee-Maw's Pecan Pie for Movie Night!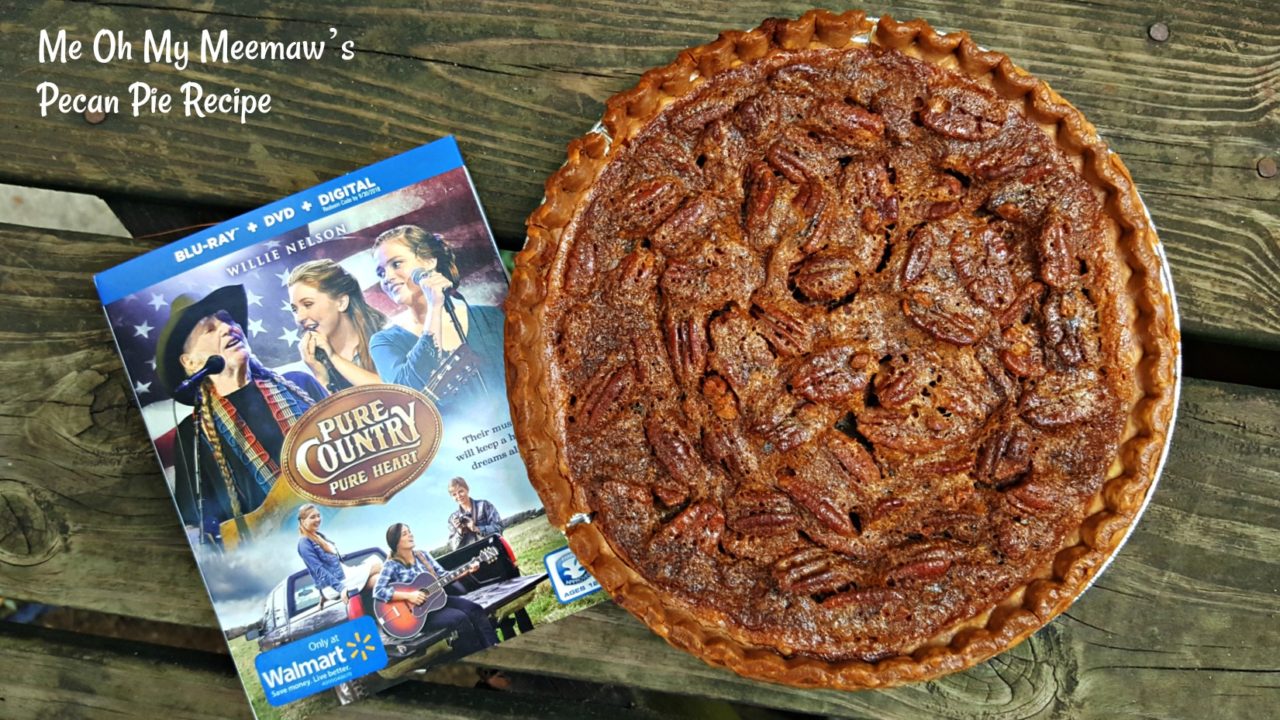 Pure Country Pure Heart
Kick up your boots and get ready to sing your heart out as Warner Bros. Home Entertainment brings you an all-American tale following a family who comes together to keep a hero's dream alive. Pure Country: Pure Heart will be released on August 1 and is priced to own on DVD ($18.94 SRP), Blu-ray Combo Pack ($24.98 SRP) and Digital HD ($19.99 SRP).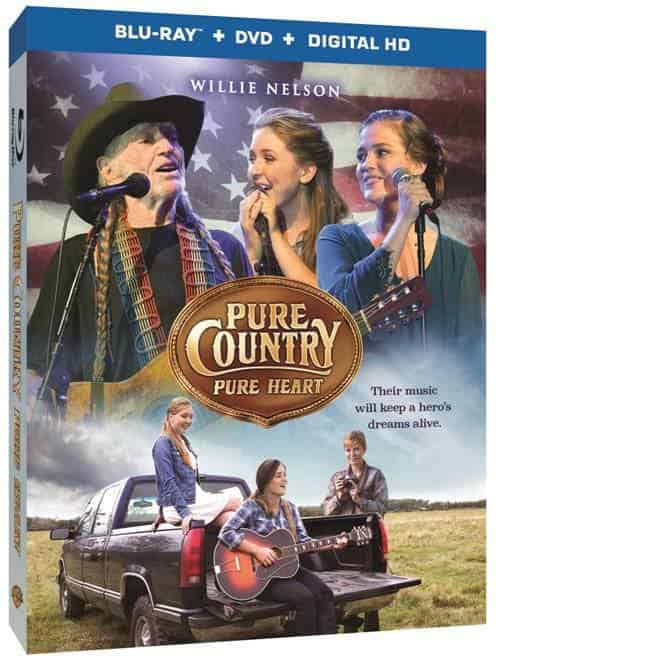 Pure Country: Pure Heart boasts 23 songs, including 16 new songs making their debut in the film. Among the featured songs is:
Willie Nelson's beloved "We Don't Run"
Laura Bell Bundy's all-new "Grass Ain't Greener"
Ronny Cox penned-and-performed "Silver City"
There's also a bevy of songs from award-winning country-music songwriters – including:
Trent Dabbs & Jabe Beyer
Jon Kenzie
Maren Morris
Dallas Davidson & Natalia Starzuynski
The songs are performed in the film by Bausch, Zuehlsdorff, Barnes, Bundy, Cox and Nelson.
The soundtrack will be released on July 28 by WaterTower Music.
Pure Country: Pure Heart is rated 'family-approved' by The Dove Foundation and is the third film in the Pure Country series.