Introduction: Unveiling Pumpkin Poop – A Playfully Spooky Treat
Get ready to embrace the Halloween spirit with a mischievously delightful treat bound to raise eyebrows and giggles – Pumpkin Poop! This playful recipe takes a fun twist on traditional pumpkin-inspired creations, presenting a sweet and crunchy snack that's sure to add a touch of whimsy to your festive celebrations. As you dive into the history, preparation, and tips for making this quirky concoction, you'll discover how Pumpkin Poop has become a lighthearted favorite among kids and adults alike. So, grab your apron, gather your ingredients, and let's delve into the world of Pumpkin Poop!
Pumpkin Poop Recipe
Prep Time: 15 minutes
Servings: Makes about 12 servings
Cooking/Refrigeration Time: 30 minutes (chilling time)
Pumpkin Poop Ingredients:
For this whimsical treat that's as fun to make as it is to enjoy, you'll need:
1 cup (240 ml) white chocolate chips
2 cups (about 200 g) pretzel sticks
1 cup (150 g) mini marshmallows
1 cup (125 g) candy corn
1 cup (150 g) orange and black M&M's or other small candy of your choice
1 teaspoon vegetable oil
Optional: Halloween-themed sprinkles for an extra pop of color and excitement
Metric measurements provided for your convenience.
Now that you have your ingredients lined up, it's time to dive into the delightful process of creating Pumpkin Poop!
How to Make Pumpkin Poop
Instructions:
Melt the White Chocolate: In a microwave-safe bowl, combine the white chocolate chips and vegetable oil. Microwave in 20-second intervals, stirring well after each interval, until the chocolate is completely melted and smooth. Be cautious not to overheat.
Combine Ingredients: In a large mixing bowl, gently combine the pretzel sticks, mini marshmallows, candy corn, and orange and black M&M's. The pretzels will serve as the "poop" while the candies add pops of color and flavor.
Coat with Melted Chocolate: Pour the melted white chocolate over the mixed ingredients. Using a spatula, gently fold the mixture until the pretzels, marshmallows, and candies are evenly coated with chocolate. This will give them a sweet and crunchy exterior.
Shape and Chill: Line a baking sheet with parchment paper. Take spoonfuls of the coated mixture and drop them onto the parchment paper, forming clusters resembling pumpkin poop. If desired, sprinkle Halloween-themed sprinkles over the clusters for a festive touch.
Chill and Set: Place the baking sheet in the refrigerator for about 30 minutes, or until the chocolate has completely set. This will ensure that your Pumpkin Poop clusters hold their shape and texture.
Serve and Enjoy: Once the chocolate has set, carefully remove the Pumpkin Poop clusters from the parchment paper. Arrange them on a serving platter or package them as gifts. Serve them at Halloween parties, share them with friends, or keep them on hand for snacking whenever the mood strikes!
Expert Tips:
Avoid overheating the chocolate: Microwave in short intervals and stir well to prevent burning the chocolate.
Customize your candy: Experiment with different candy colors and shapes to match various themes or holidays.
Storage: Store Pumpkin Poop clusters in an airtight container at room temperature, away from direct sunlight, to maintain their crunchiness.
Gift Presentation: Place clusters in clear cellophane bags, tie with ribbons, and attach the Pumpkin Poop poem for a fun and festive gift.
Turn ordinary candy corn into a playful Halloween treat with this Pumpkin Poop recipe. The blend of textures and flavors is sure to bring smiles to both kids and adults alike!
Creating Playful Pumpkin Poop Favors: A Budget-Friendly Holiday Delight
When it comes to holiday favors that are both budget-friendly and brimming with amusement, the hunt is always on! And what could be more captivating than a treat that not only tickles the taste buds but also comes with a hilarious twist? Let's dive into the world of Pumpkin Poop, a favorite among the kiddos for its clever name and scrumptious appeal. Trust us, you won't find an easier and more entertaining favor to put together!
Simple Steps to Craft Pumpkin Poop Favors:
Gathering the Supplies: To embark on this creative journey, you'll need snack-sized Ziploc baggies, 50 candy corns, and a printed poem. For the poem, you can choose a template like the CardsDirect Orange Plaid design, adding an extra touch of charm.
Counting the Corns: Start by counting out precisely 50 candy corns. These little bursts of color will be the "poop" in your Pumpkin Poop creation.
Personalizing the Poem: The heart of this favor lies in its whimsical poem. Feel free to customize the verse or use the following original Pumpkin Poop Poem:
Pumpkin Poop Poem:
I started to carve a pumpkin
With my carving knife and scoop
But the pumpkin got so scared
He took a little poop!
It looked so cute and funny
Just like a candy treat
So I'm sharing it with you now
Because you are so sweet.
This delightful poem adds a playful narrative to your favor, setting the stage for the giggles to come.
Creative Card Embellishments: Take the presentation up a notch by adorning the poem card with stickers. Imagine cute pumpkin stickers gracing the card, giving a visual nod to the pumpkin-themed festivities. Stickers are a fantastic way to infuse even more whimsy into your favors.
Assembling the Favors: With your poem beautifully printed and adorned with stickers, simply staple it to the Ziploc baggie. This final touch brings the entire concept together and ensures that the recipient will have a laugh-filled delight waiting for them.
A Token of Festive Amusement: Pumpkin Poop favors combine humor and delectable treats in a charmingly unexpected way. These lighthearted tokens are sure to be a hit with your little ones, adding a memorable touch to your holiday celebrations. Whether you're sharing them at Halloween parties or as surprise treats for your friends and family, Pumpkin Poop favors are the perfect blend of sweetness and silliness. Get ready to spread laughter and joy with this delightful creation!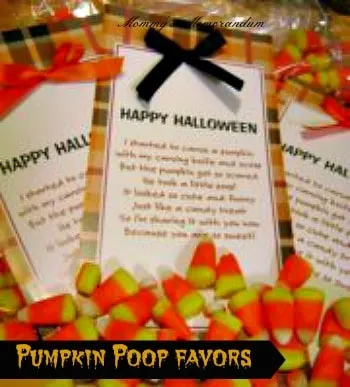 FAQs – Pumpkin Poop Recipe
1. Can I use different types of candy in this recipe? Absolutely! While candy corn is the classic choice, feel free to experiment with other small candies like gummy worms, mini chocolate chips, or even jelly beans for a unique twist.
2. Can I use dark chocolate instead of white chocolate? Certainly! While white chocolate provides a bright contrast, dark chocolate can add a richer flavor. Melt it with a teaspoon of vegetable oil for a smoother consistency.
3. How long does Pumpkin Poop stay fresh? When stored in an airtight container, Pumpkin Poop can stay fresh for about 1-2 weeks. Make sure to keep it in a cool and dry place.
4. Can I make Pumpkin Poop ahead of time? Absolutely! This recipe is perfect for prepping ahead. Just ensure proper storage to maintain its crunchiness and flavors.
5. Can I add nuts to this recipe? Certainly, if you're not dealing with nut allergies. Chopped nuts like peanuts or almonds can add an extra layer of texture and flavor.
6. How can I make this treat gluten-free? For a gluten-free version, swap the pretzel sticks with gluten-free pretzel rods or your favorite gluten-free crunchy snack.
7. What's the best way to package Pumpkin Poop as gifts? Place the Pumpkin Poop in clear cellophane bags, tie them with festive ribbons, and attach the poem card. It makes for a delightful and memorable gift!
8. Can I use store-bought candy with this recipe? Absolutely! While making your own candy corn is fun, store-bought candy works perfectly fine and saves time.
9. Can I make a larger batch for parties? Definitely! Simply adjust the quantities of ingredients according to the number of servings you need. It's a fantastic treat for parties and gatherings.
10. Are there alternatives to the poem for the card? Certainly! Get creative and come up with your own playful poem or phrase that suits the theme. The goal is to keep the laughter rolling.
11. Can I refrigerate Pumpkin Poop? It's not necessary and might impact the crunchiness of the pretzels. Store in a cool, dry place for the best texture and taste.
12. Are there variations for different holidays? Absolutely! Adjust the colors of candy and decorations to suit various holidays like Christmas or Easter. Let your imagination run wild!
13. Can I involve kids in making Pumpkin Poop? Absolutely! Kids will love counting candy corn, helping with stirring, and decorating the poem cards. It's a fantastic family activity.
14. Can I use vegan chocolate for this recipe? Yes, you can use vegan white chocolate for a dairy-free version of Pumpkin Poop. Make sure it's suitable for melting and coating.
15. Is this treat suitable for shipping? Definitely! Pack the Pumpkin Poop in airtight containers, cushioned with tissue paper to avoid breakage, and ship away for a delightful surprise.
Have a question not covered here? Feel free to ask and keep the Pumpkin Poop creativity flowing!