Healthcare is no longer limited to the four walls of traditional public hospitals or private clinics. Now, one can find enormous healthcare campuses in most metropolitans, supplemented by a growing number of 24-hour emergency clinics and easily accessible medical pharmacies. All the facilities mentioned above have made the provision of medical care possible outside the conventional settings.
However, there's still some room for improvement. Medical professionals' most significant concern is to figure out a way to guarantee quality healthcare for all patients, with great emphasis on value-based care.
For that purpose, the article below will provide some valuable tips for care providers to deliver quality care to patients. Contrary to popular belief, healthcare administrators, patients, and doctors can all play their part in improving our healthcare system in their capacities. So let's jump to the point!
Collect and analyze data
The first step towards a more value-based care approach is identifying existing opportunities for improvement. Then, one can develop the right tactics and strategies for targeted outcomes. This step also entails analyzing digital patient records and outcome studies to observe statistical and data trends. Such data sources can help pinpoint the exact areas that require improvement.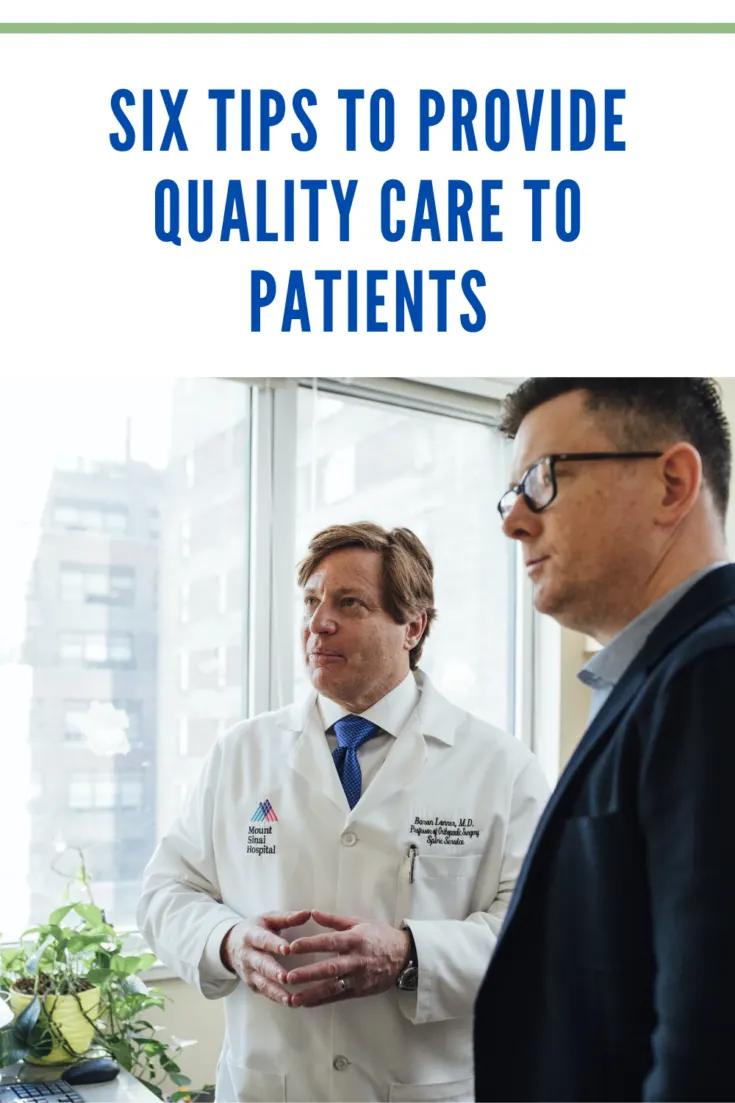 Define and set goals
Setting clear, precise, and quantifiable goals from the get-go can bring out the patient care aspects requiring the most attention. Avoid setting goals that are too far-fetched or immeasurable. Try establishing goals with the six dimensions of quality healthcare, as outlined by The Institute of Medicine (IOM). Building upon these fundamental pillars can result in more effective goal-setting. A master's in healthcare leadership can also equip health executives with the knowledge of these pillars and the right tools to enhance patient experience and deliver better outcomes, explains Wake Forest University.
The Institute for Healthcare Improvement (IHI) divides quality healthcare into the following dimensions:
Safe: ensuring patients remain injury-free during their care or treatment
Patient-centered: providing mutual respect in interactions and allowing individuals to make their own choices
Effective: ensuring the delivery of continued effective care and that ineffective care isn't overused
Equitable: ensuring efforts to bridge ethnic and racial gaps in patients' status and care
Timely: keeping waiting time for caregivers, clinicians, and patients as low as possible
Efficient: using resources in a way that minimizes waste
Reduce patient wait times
Even though waiting is standard in many institutional settings, lengthy delays can lead to undue frustration. Patient surveys indicate that patients consider it disrespectful when there are excessive wait times.
Most people consider the usual wait time a critical factor in their patient experience at a healthcare facility, shares QMinder. A medical journal reports that around 20% of patients have changed doctors because of their wait time durations.
Clear and transparent communication is beneficial to everyone. Be honest about communicating any delays to your staff to inform the patients with the exactitude of how long they must wait.
Build a strong team
What makes a solid and capable team? For starters, an effective team must include members from diverse backgrounds. A good team will have people with unique skills and qualities that enhance the overall patient experience. The IHI reports that establishing a resourceful squad of professionals is one of the fundamental steps in the improvement process.
A healthcare team usually includes a senior leader to guide and advocate for the entire team. Secondly, it requires a clinician or clinical professional to make informed and ethical medical decisions. Lastly, medical teams need a project manager to complete daily tasks and remain aligned with the set organizational goals.
Engage the patients
Before medical professionals do their job, they are the sole caretaker and advocates of our health. Care providers must focus on engagement and awareness among healthcare consumers for that purpose. Surprisingly, most care providers train well enough to excel at this task. A primary care physician can better assess the patient's healthcare journey, including the pros at hospitals, emergency, and special care facilities. Therefore, it's rightly said that primary care providers might be the most pivotal factor in quality healthcare. Even though primary physicians keep all the other areas working like a well-oiled machine, patient engagement goes beyond just them and the patient, says Health Affairs. And health executives must drive towards a more holistic approach. For instance, healthcare personnel should foster connections and communications between senior care providers, staff, patients' families, and social services as their healthcare journey.
Partner up with similar organizations
For genuine improvements in the quality of care, healthcare providers should always be open to learning and collaborating with others. For instance, look for domestic and international healthcare organizations relevant to the industry and collaborate with them for improvements. Remember those critical areas of improvement and goals at the start? Seek out other health facilities that have succeeded in those areas. Networking is the best way to determine which healthcare organizations are excelling at their game. One can research them, go to events and conferences, or even read up on the current literature. Once you know which organizations to pursue, reach out and ask to learn from them. As with any other industry, most health organizations will be willing to lend a helping hand to improve healthcare consumers' quality of care.
Also, it's a good idea to find out organizations looking for mutual partnerships, so improving healthcare quality becomes a more collective effort.
Conclusion
Several factors contribute to the overall quality of patient experience. Healthcare professionals can improve these factors by defining goals, reducing waiting times, and collaborating with other organizations.
Following these tips to enhance patient experience will boost an organization's patient satisfaction exponentially.