Learning and advancing skills are the two options everybody strives to upgrade to remain competitive in this fiercely dynamic world. Suppose you are among those who wish to gain a competitive advantage in your career. In that case, a graduate certificate is an option available at your discretion.
What is a graduate certificate, and is it worth the time and money to obtain one? Continue reading to get hold of how to get your graduate certificate that is worth your time and effort.
Graduate Certificate
Graduate Certificate is a postgrad degree in a particular field of study. These programs are typically market-driven and can provide personal enrichment for those who want to broaden their career horizons.
It is a quick way to learn about hot industry topics and give you a competitive advantage in your chosen career area. A graduate certificate may be the next logical step for those exploring their options for the future.
Graduate certificates are pursued both technical and academic purposes by students. They can use a graduate certificate to supplement their expertise in a specific subject. It offers the same graduate-level classes without the time and financial investment that a master's degree would entail.
Earning a graduate certificate has become more convenient for anyone with the advent of online platforms. Likewise, the students and professionals can earn an online graduate certificate from world-class universities for a fraction of the price, explains Damore-Mckim Northeastern University. In addition, there are a variety of online universities offering graduate qualifications, so doing some homework can help you save money while still advancing your career.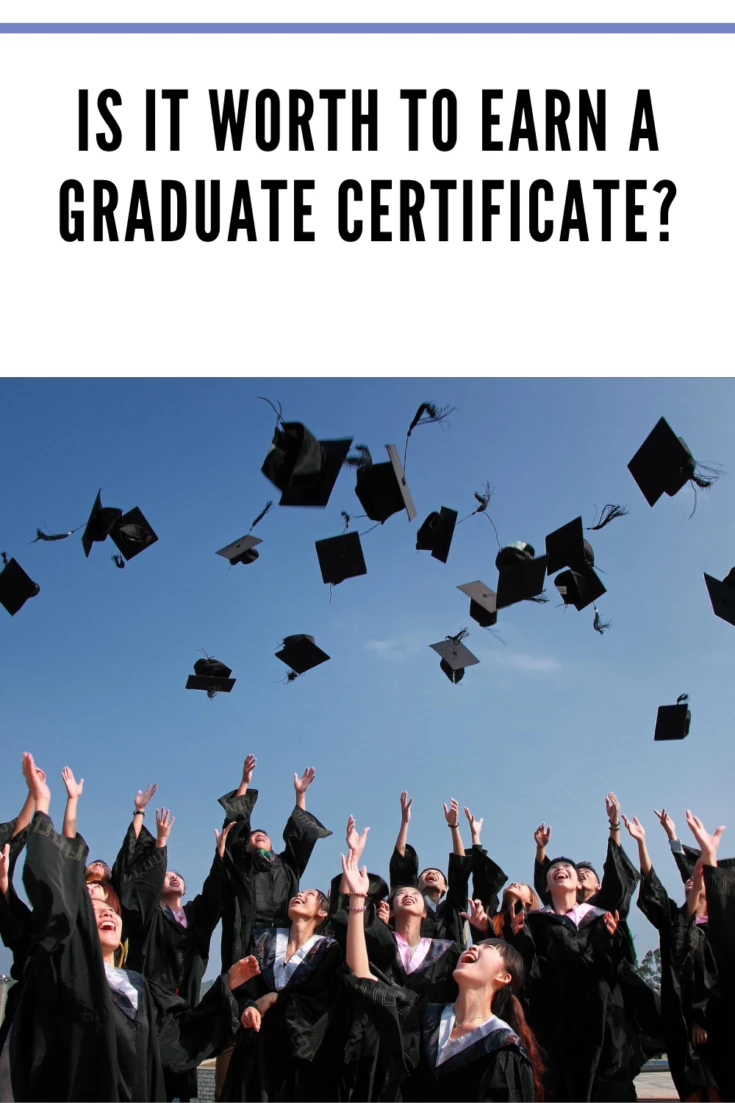 The Advantages & worth of a Graduate Certificate
A graduate certification comes with a slew of advantages that make it attractive to individuals looking to further their studies. The following are a few of the most essential:
A raise in compensation
There have been numerous research studies explaining the correlation between pay and education. According to the U.S. Census Bureau, there is a robust relationship between the two variables. An individual with a graduate certificate can make almost twice as much as anyone with just a high-school degree.
Whether you want to claim a high wage or see your salary raised, earning a graduate certification can undoubtedly help you.
Skill development
A graduate certificate takes less time to complete and is less expensive than a master's degree. As a result, it's a feasible choice for people who need to develop appropriate, practical skills in a relatively shorter time.
Graduate degree programs aim to concentrate on a single subject or course rather than studying and building advanced skill sets. As a result, students registered in these programs can develop skills and abilities vigorously sought after in the workplace. If you already have a job, a certificate program can help you enhance your career and earn the promotion or bonus you desire.
Competitive edge
Students who complete a graduate certificate get better positions for success in their careers. They are considered more suitable applicants than their peers in a position hunt. It could give them a leg up on the competition for more desirable and higher-paying work.
Updated knowledge
A graduate certificate can help you stay competitive as an employee by keeping your qualifications up to date. Although your present abilities and talents might be excellent, markets are rapidly evolving. It doesn't take long for your skills to become obsolete, mainly if you haven't earned your degree recently. A graduate certificate keeps you up to date with all of the new developments in your profession, allowing you to keep your skills and knowledge updated.
Assist career alteration
Graduate certificates are indeed a perfect way to learn new skills. If you are diving into a possible profession, a graduate certificate can surely help. Whether you're involved in a job transition or refocusing your current one, it can aid in smoothing the errand.
Jumpstart
Just because you desire to pursue a graduate diploma now doesn't mean you can't seek a master's degree later. On the contrary, graduate certification can be an excellent stepping stone, particularly if you're fresh out of college or want to explore different fields. In addition, if a master's degree is potentially off your financial control, it can improve your employability, making it well worth your money.
Networking opportunities
Graduate certifications allow you to meet professors and other students you would not have met otherwise. These duplicate contacts can lead to helpful mentorship or peer opportunities in your current or future field. They can also provide a prospect for a new job or company opportunities.
Final Thoughts
Many individuals want to expand their education after receiving a bachelor's degree. But quite a few make it. This hindrance may result from the investment, cost, and time a student or professional encounters. A graduate certificate can help you gain specialized expertise and skills to help you start a successful career, and that too with a minimum investment. It's never too early to consider specialization and future-proofing your skills to remain competitive. A better-educated, better-prepared workforce results from a broader range of qualifications combined with a more relaxed way of earning them through online capabilities.