My girls are and have always been Polly Pocket fans. Pocket-sized, Polly Pocket is oversized on the fun at our house and the go.
They were created by Chriss Wiggs back in 1983 for his daughter, Kate. A few things have changed; once the house and doll were made using a powder compact, the doll is a tad larger. My girls love the Polly Stretch garments, but really, they love the playtime with them.
I'm sure your ears told you the exact moment the Polly Pocket Hangout House and Stick N Play Room Assortment and Patio Set arrived at our house. My girls can scream in giddy delight!
The girls spent a few minutes looking at the boxes. Now and then, I'd hear a squee and things like, "It has an elevator, Mom!" or "I call dibs on being the red-haired girl!"
Then I gave them the okay to play.
The Hangout House is by far the niftiest Polly Pocket Kit I've encountered. The pieces have suction cups to keep everything in place. The girls loved this feature because Li'l Man couldn't easily tease them by taking the pieces or making off with them.
The patio connects easily to the side or front of the Hangout House, making it a playset for any imagination. The girls love this set so much that once they had it set up, they played with it for two and a half hours before we saw them again.
They even let Li'l Man join them for a bit.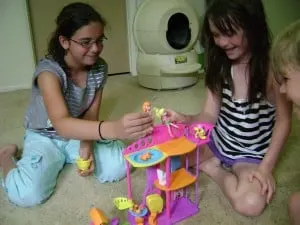 One of the great things about Polly Pocket is that she is mobile. She adapts to our often on-the-go lifestyle. Polly Pocket has gone with us to doctor's appointments, in the car for road trips, helped pass the time while we waited for a show or event. She's pint-sized, making her the perfect size to fit in my purse or the girls' pockets for any time play.
The suction cups are making Polly Pocket even more mobile. The girls can play with her in the car. Everything has suction cups, including the shoes!
The Hideout House offers many great features, from an elevator that works to a pool that flips up and turns into Polly's bed! There are sliding walls that transition the playset from night to day!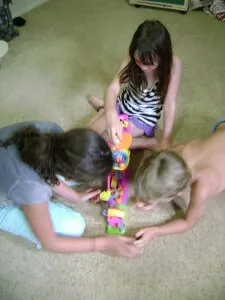 This set is not the size of a powder compact, but the suction cups allow everything to stick together, making it easy to clean up, transporting, and enjoy the play. It's genius and inspires creative play.
"I participated in a campaign on behalf of Mom Central Consulting for Mattel Polly Pocket. I received product samples and a promotional item as a thank-you for participating."