If you're expecting your very own bundle of joy, it's time for you to start thinking of baby nursery décor ideas. Tons of unique and interesting décor ideas are worth considering for your baby's nursery. You can opt for a gender-neutral baby nursery, or you can go in for a modern and contemporary style nursery, and so on. To make it easy for you, we have put together a list of best décor ideas to help you plan your baby nursery.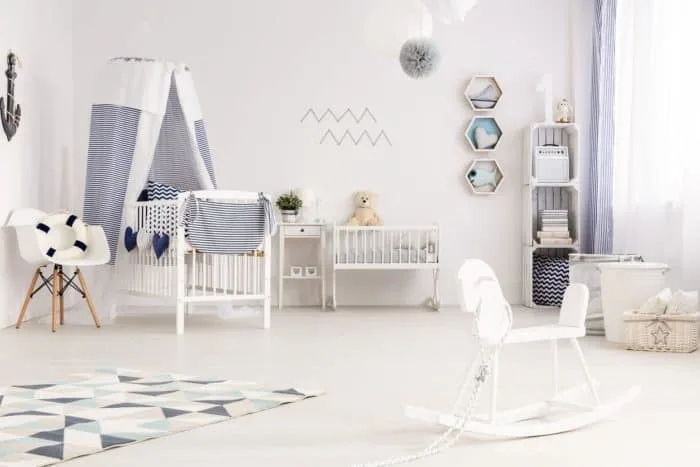 Here's everything you need to know to Plan For The Perfect Baby Nursery:
Gone are the days when parents stuck to shades of blue or pink for the nursery décor. Modern-day parents prefer gender-neutral nursery decor. For a gender-neutral décor, you can paint the walls of the nursery in neutral shades like white, grey, beige, off-white, olive green, and so on. Even the toys you put on the shelves must be such that both a baby girl and a baby boy can play with them.
Opt For A Modern Contemporary Décor
Just because it's a baby nursery doesn't mean it can't have a stylish and sophisticated décor. A modern contemporary baby nursery décor will require you to place printed carpets or rugs on the floor, decorative and patterned cushions on the armchairs, quirky digital print frames on the walls, and so on. Choose bright colors for the carpets and rugs, select cushion covers with bold and bright geometric prints, and so on for the perfect modern style baby nursery décor.
A Minimalistic Décor For The Baby Nursery
Another excellent and unique idea for the décor of your baby's nursery is opting for a minimalistic theme. You don't need to have a nursery that's overflowing with toys and stuffed animals. You can put up a single but tall shelf that can hold your baby's toys. Further, to give the nursery a spacious vibe, the cot should be placed in the center of the room. You are going in for an all-white baby nursery theme along with the minimalistic décor to give the nursery an airy and peaceful vibe.
Create An Artificial Landscape In The Nursery
Adding a little burst of green to your baby's nursery can give the room a stunning and classy appeal. Use silk plants or trees as corner showpieces—silk floral arrangements in beautiful vases on the side table or the shelf of your baby's nursery. Artificial plants and trees are best suited for your baby's nursery because they don't attract mosquitoes and are also pollen-free. If your baby is allergic to pollen, installing real plants and flowers in the nursery can result in a disaster. The best part about the silk plants and trees is that they are affordable, durable, long-lasting and easy to maintain.
Wall Art For The Baby Nursery
Getting creative with wall art for the baby nursery can transform the space. You can get a professional artist to paint a beautiful and dreamy picture on one of the walls of the nursery. A picture of the night skies with clouds and stars and the moon or pictures of adorable farm animals can be considered. Alternatively, you can also put up digital frames of animal pictures, pictures of cars and toys, and other such options.
Wall Paper For Your Baby's Nursery
Another excellent way to give the baby nursery fun and colorful appeal is by decorating the walls with wallpapers. Some wallpapers that are worth considering include ones with bold geometric patterns or abstract prints, and other such options are best suited for the nursery. You can also stick wallpaper on the ceiling to give the nursery a taller and more spacious vibe.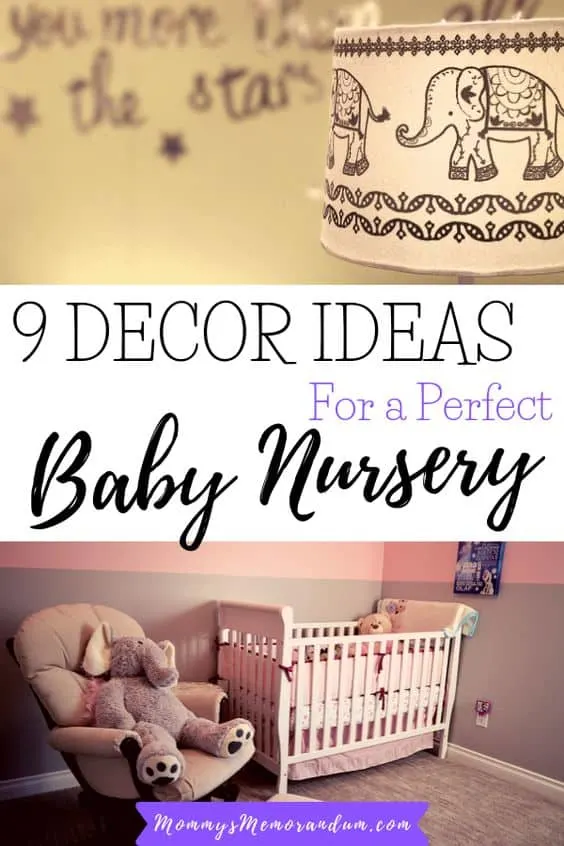 Tapestries Of All Kinds To Liven Up The Nursery
Whether it is a vibrantly painted wall hanging, or a crocheted armchair throw, you should definitely decorate your baby's nursery with all kinds of beautiful tapestries. Sheer curtains that allow just the right amount of sunlight to flow in are also highly recommended. When selecting tapestries for the nursery, opt for colorful ones to add life and cheerfulness to the décor.
Wooden Décor For A Warm And Nurturing Baby Nursery
Wooden floors, wooden wall panels, and wooden furniture can give the nursery a warm and nurturing appeal. If you want that rustic and natural vibe for the nursery, an all wooden décor is highly recommended. If you're on a limited budget, you can also opt for faux wood floorboards and wall panels. Choose a tan or light brown shade of wood to give the nursery a subtle but visually appealing décor.
Ensure That The Lighting Is Appropriate
When it comes to a baby nursery, the lighting needs to be perfect. Let natural light flow into the room by expanding the windows or installing skylights. However, ensure that you install thick and sheer curtains to prevent the light from streaming through while your baby is asleep. Artificial lighting options shouldn't be too bright nor too dull. Use LED light bulbs for the perfect brightness, suggests CNET. Install night lamps in the nursery so that your little one feels safe and secure at night. There are tons of adorable baby night lamps that are available in animal shapes and star shapes and other options too.
There you have it, nine unbeatable décor ideas to transform a regular bedroom into the perfect baby nursery. These tried and tested ideas have been a great hit with parents from across the globe. You will fall in love with the outcome of the décor when you incorporate any of the ideas that we have put together for you. Your baby nursery will be the envy of all the parents from your neighborhood. So roll up your sleeves and start making these décor changes today. Most of these amazing and fun ideas we have put together are affordable and budget-friendly.