We received a NOGU Mermaid Glass Bracelet in exchange for a review. All opinions and our love for jewelry remain our own.
Experience the magic of the sea with NOGU Mermaid Glass Bracelet – the perfect accessory for any ocean lover! This stunning bracelet is made with genuine mermaid glass beads, each one unique and full of iridescent, shimmering colors that capture the essence of the ocean.
With its adjustable design and comfortable fit, their Mermaid Glass Bracelet is the perfect addition to any jewelry collection. Whether you're dressing up for a special occasion or simply adding a touch of elegance to your everyday look, this bracelet is sure to turn heads and spark conversation.
But that's not all – the NOGU Mermaid Glass Bracelet is also designed to give back. For every bracelet sold, NOGU donates a portion of the proceeds to support marine conservation efforts around the world. So not only will you look and feel beautiful wearing our bracelet, you'll also be making a difference in the fight to protect our oceans.
Since my girls were young, they have believed in magic.
They specifically believe in mermaid magic.
When we received the NOGU Mermaid Glass Bracelet, a spark returned from when they were smaller and their imagination was more vivid.
Lore says that mermaid glass is actually the tears of mermaids when the sailors they loved died at sea.
Here's the legend of Mermaid Glass:
The mermaid maidens could change the mighty course of nature but were forbidden to do so by Neptune, the stern, watchful god of the sea.
One dark, storm-ravaged night, with sails ripping and masts cracking, a schooner fought to find safety in Friendly Cove off Nootka Island in the San Juans.
The ship was familiar to the mermaid who swam along its side . . . she had weathered many crossings with the ship and its captain.
As the ship heeled in the violent wind, the captain lost his hold on the wheel, tumbling perilously close to the raging sea.
In an instant, the mermaid calmed the wind and tamed the waves, changing the course of nature and saving the life of a man she had grown to love from afar.
For her impetuous act, Neptune banished the sobbing mermaid to the depths of the ocean, condemning her for eternity never to surface or swim with the ships again.
To this day, her gleaming tears are transformed into mermaid glass . . . crystalline treasures in magic sea colors, an eternal reminder of true love and magic.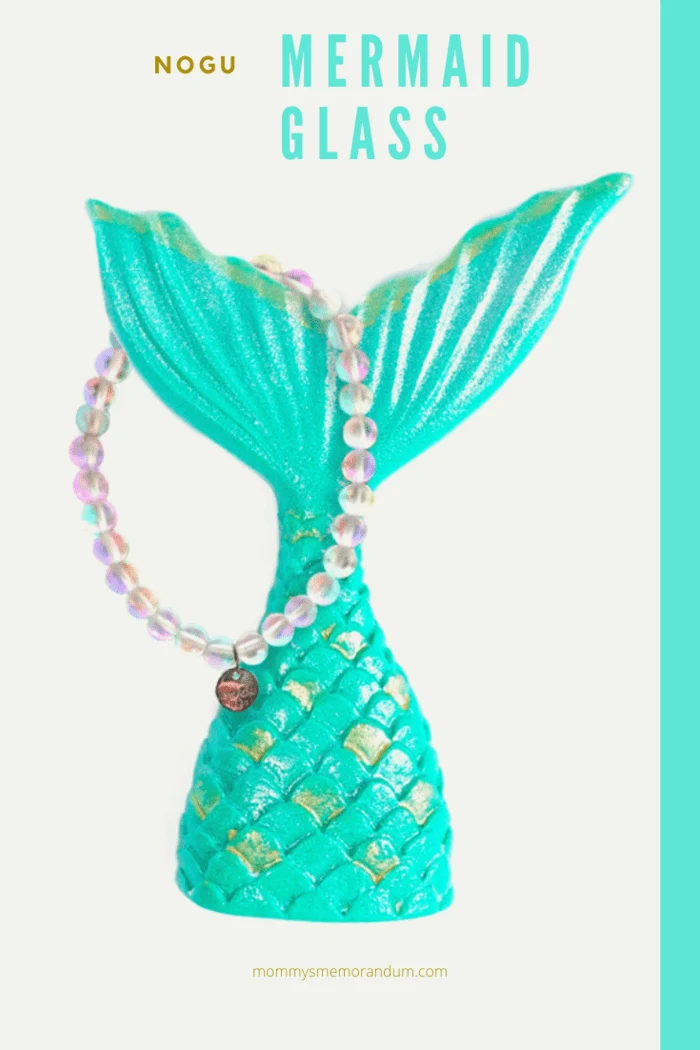 NOGU Mermaid Glass Bracelet Review
NOGU by Joseph Nogucci is a jewelry brand created by Mario Christian and Luca Daniel Lavorato.
At birth, they were both diagnosed with Cystic Fibrosis.
It was a diagnosis, not an end to their dreams.
The brothers also have backgrounds in architecture and engineering, and a passion for design and adventure; these traits are reflected in their jewelry brand.
The business pillars Joseph Nogucci Jewelry are:
-Unmistakably Unique
-Adventurous
-Accessible
-High Quality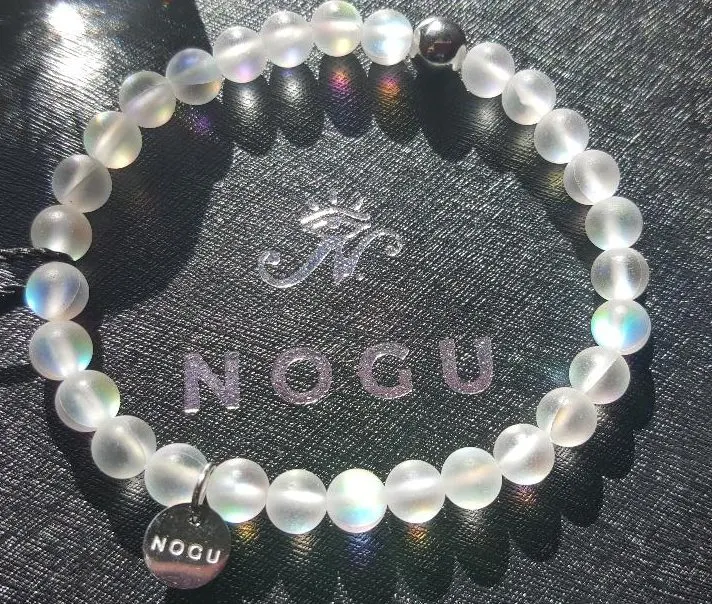 We recently received NOGU's Rainbow White | Silver | Mermaid Glass Bead bracelet, featuring the symbols of Beauty/Allure/Fantasy.
The bracelet features hand-crafted iridescent Nogu Mermaid Glass beads (6mm) and hand-strung beads that glow in daylight and reflects light on a clear elastic cord—one-size-fits-most.
You have to experience one to believe it!
The beads are magic with opalescent hues that are shimmery, naturally reflective and are enhanced by the single silver bead.
The beads seem to glow in the daylight and glimmer when light finds them.
The bracelet has a .925 sterling silver logo charm that adds to the elegance.
It's perfect for wearing denim and casual and elegant enough for more formal outings.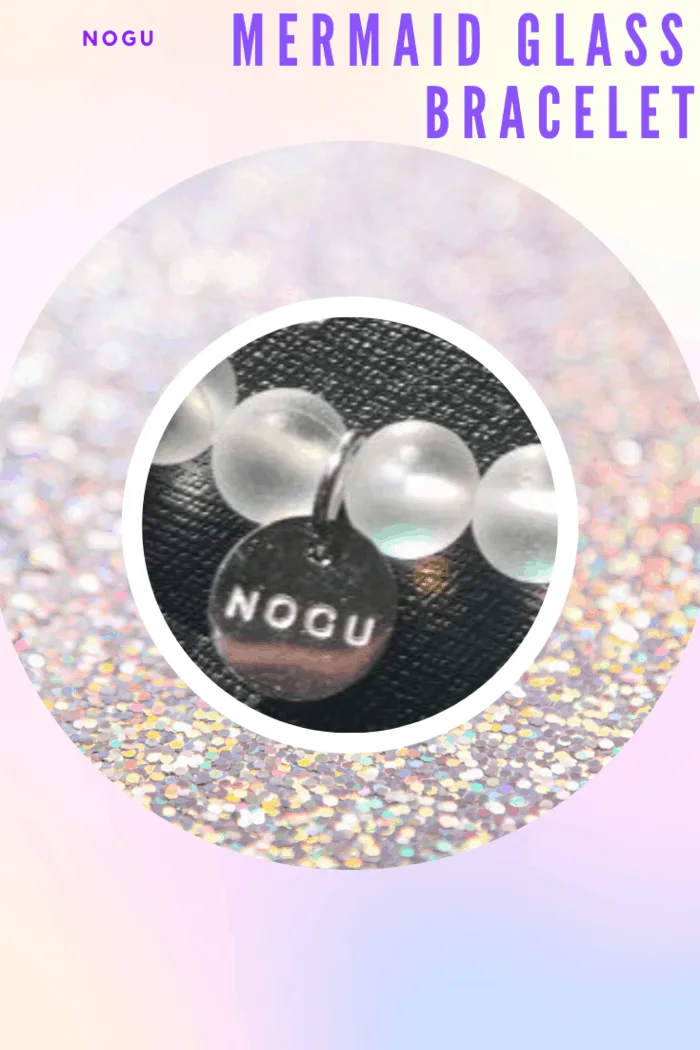 This Mermaid Glass bracelet comes with a gift pouch, and gifters can add the lovely gift box for a small cost to make the perfect presentation.
In addition to this bracelet's beauty, NOGU has partnered with Take3 and donates 5 percent of sales from the Mermaid Glass Collection to support the Take 3 mission to clean up the ocean and reduce plastic pollution. #TAKE3FORTHESEA.
I love this partnership.
My daughter says it makes her feel good people care about the turtles and whales and preserving the magic of the mermaid.
NOGU jewelry is designed in Toronto, Canada, and includes a lifetime warranty.
The Mermaid Glass bracelet comes in a variety of colors and adjusts to fit all wrist sizes.8032750697
Retail prices for the Mermaid Glass Bracelets start at just $44.
Trust me, you get a lot of magic in each bead, making it a magical price.
If you believe in magic, you'll want to check out their entire jewelry selection on the NOGU website.
Find a piece that inspires you and sparks your inner child's belief in mermaids and magic with a NOGU Mermaid Glass Bracelet from NOGU.
Don't miss out on this unique and beautiful accessory. Order your NOGU Mermaid Glass Bracelet today and dive into the beauty of the sea!