We received a NOGU Mermaid Glass Bracelet in exchange for a review. All opinions and our love for jewelry remain our own.
Since my girls were young, they have believed in magic. They specifically believe in mermaid magic. When we received the NOGU Mermaid Glass Bracelet, a spark returned from when they were smaller.
NOGU by Joseph Nogucci is a jewelry brand created by Mario Christian and Luca Daniel Lavorato. At birth, they were both diagnosed with Cystic Fibrosis. It was a diagnosis, not an end to their dreams. The brothers also have backgrounds in architecture and engineering, and a passion for design and adventure and these traits are reflected in their jewelry brand.
The business pillars of NOGU are:
Unmistakably Unique
Adventurous
Accessible
High Quality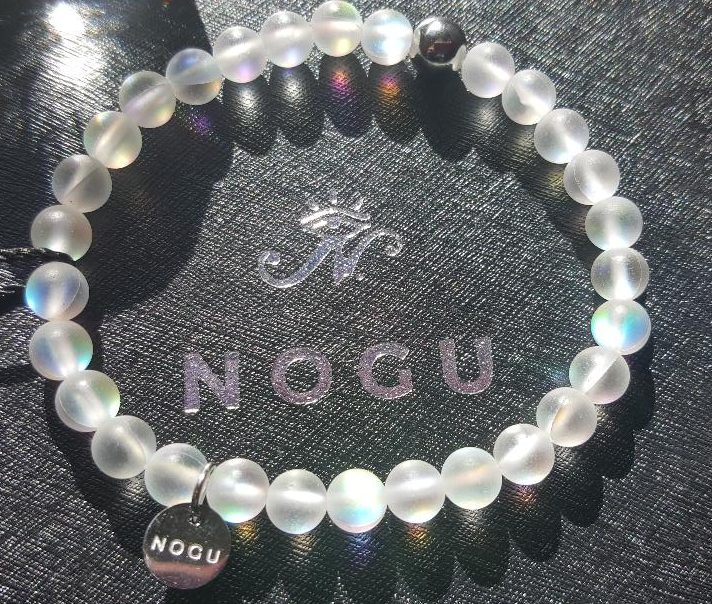 We recently received NOGU's Rainbow White | Silver | Mermaid Glass Bead bracelet, featuring the symbols of Beauty/Allure/Fantasy. The bracelet features 6mm and hand-strung beads on a clear elastic cord—one-size fits most.
The beads are magic with opalescent hues that are shimmery, naturally reflective, and are enhanced by the single silver bead. The beads glow in the daylight and glimmer when light finds them.
The bracelet has a .925 sterling silver logo charm that adds to the elegance. It's perfect for wearing with denim and casual and also elegant enough for more formal outings.
This Mermaid Glass bracelet comes with a gift pouch, and gifters can add the lovely gift box for a small cost to make the perfect presentation.
In addition to this bracelet's beauty, NOGU has partnered with Take 3 and donates 5-percent of sales from the Mermaid Glass Collection to support the Take 3 mission to clean up the ocean and reduce plastic pollution. #TAKE3FORTHESEA
NOGU jewelry is designed in Toronto Canada and includes a lifetime warranty.
The Mermaid Glass bracelet comes in a variety of colors and adjusts to fit all wrist sizes. Retail prices for the Mermaid Glass Bracelets start at $44.
If you believe in magic, you'll want to check out their entire jewelry selection on the NOGU website and connect with the company over on their Facebook page.
Find a piece that inspires you and sparks your inner child's belief in mermaids and magic with a NOGU Mermaid Glass Bracelet from NOGU.