There are three things I absolutely LOVE: Bon Jovi, My Kiddos, and jewelry. A variation of any of these makes the perfect gift for me. Thanks to PicturesOnGold.com, the epic gift has been received!
It all started with this:
PicturesOnGold.com Give Mom The Gift LOVE Review
Sterling Silver Sweetheart Heart Locket 2012
Alone, this Pictures on Gold is one of the most beautiful lockets I have seen. But it's about to get a lot of lovin' to make it a personalized keepsake.
Anyone who knows me knows Bon Jovi rocks my world. I have been an avid fan for almost 30 years. One of my favorite songs is Love's the Only Rule. The lyrics are simple, but those four words say a lot to me. I tell my kiddos this when they are hurting. I remind them when they are hurtful. It's a great sentence. PicturesOnGold.com made it even more impressive by engraving it on the outside of the Sterling Silver Sweetheart Locket: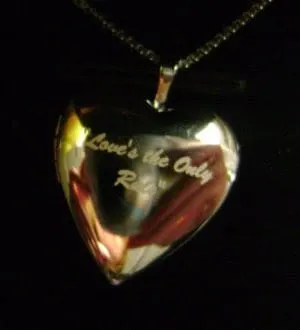 But I told you this was an epic gift, and while Bon Jovi does rock my world and the locket is precious, it got a lot better. I was able to have two pictures inserted into the locket. I knew exactly which two photographs I wanted to use.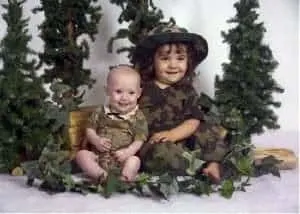 This picture of The Beauty Queen and The Divine Miss M when they were tiny is one of my favorite pictures. We hadn't planned on having pictures taken. The Beauty Queen use to wake up and pick out clothes for both HER and The Divine Miss M. She always found something that "match me."
The Beauty Queen is also my child who thought she was the center of the Universe. If we were out in public and there was clapping, she would stand up and take a bow in all directions, thanking everyone for noticing her. I took her pictures every month of her first year and every three months of her second year. She is NOT camera shy.
On this particular day, we were at the mall picking up a watch from repair. The Beauty Queen saw the "picture store," and we got this picture!
The second picture is one of my Li'l Man: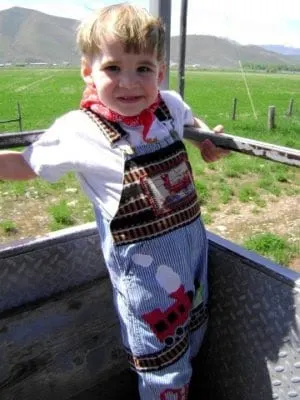 He went through the phase that all boys seem to where they love all things train. We surprised him this day with new train overalls and a magical trip on the Heber Valley Railroad from Heber to Provo. He loved it. This picture was taken, against his will, because he wanted to see where the train was going!
PicturesOnGold.com captured these two pictures that make my heart pity-patter in such a unique and special way. These two pictures are now part of the locket, etched with "Love's the Only Rule":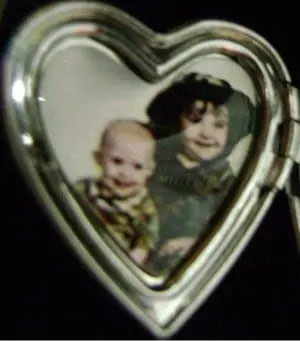 The girls make it adorable! But to their right is Li'l Man: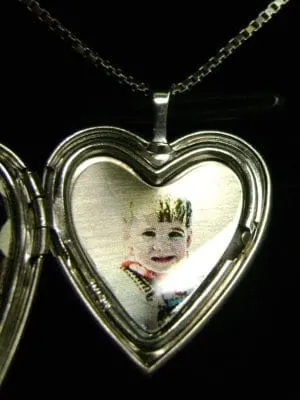 Truly a celebration of my love for these three little people. Together they make an epic gift that I am so thrilled to wear and show everyone.
The photo jewelry that Pictures on Gold offers would make any Mom or woman radiate.
The quality is outstanding, and the fact that it can be personalized with engraving and photographs makes it a gift Mom will remember!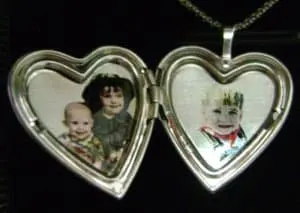 Disclosure of Material Connection: I received one or more of the products or services mentioned above for free, hoping that I would mention them on my blog. Regardless, I only recommend products or services I use personally and believe will be good for my readers. I am disclosing this per the Federal Trade Commission's 16 CFR, Part 255: "Guides Concerning the Use of Endorsements and Testimonials in Advertising.".